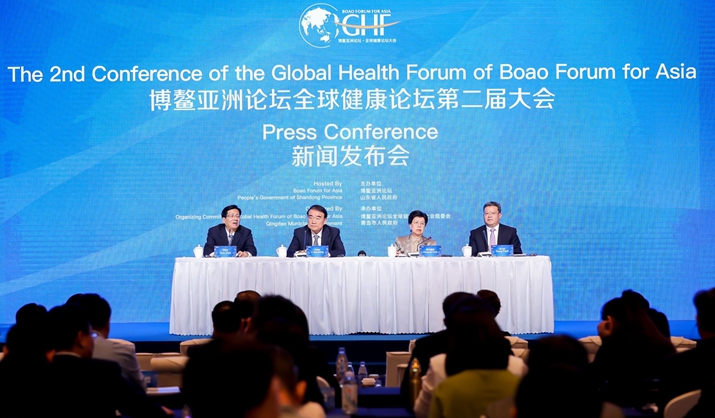 A press conference on the 2nd Conference of the Global Health Forum of Boao Forum for Asia is held in Beijing on October 22 (COURTESY PHOTO)
After presenting impressive high-tech medical treatment cases such as remote surgery and diagnosis based on big data this year, the 2nd Conference of the Global Health Forum (GHF) of Boao Forum for Asia (BFA) will again have a special focus on integrating technologies and medical care. According to organizers, the forum will be held in Qingdao, east China's Shandong Province from June 15 to 17, 2020.
"Emerging technologies such as artificial intelligence and the Internet will be further adopted to make healthcare more affordable and accessible for people," GHF Chairwoman Margaret Chan told a press conference held in Beijing on October 22.
As Chan stressed, health and sanitary facilities, notably vaccines, need to be promoted to all to enhance prevention of diseases.
Besides traditional issues on medicines, new issues relating to garbage sorting as well as promoting healthy lifestyles and physical exercises have been added to the agenda.
Initiated in 2018 by the BFA, the GHF serves as a long-term platform for health cooperation and exchanges among governments, industries, media and civil society, working jointly to achieve the United Nations 2030 Sustainable Development Goals.
As a long-term issue, health covers a wide range of areas ranging from education to green development, and requires trans-industrial cooperation. Collective efforts of government organs, non-governmental health organizations and industry insiders are needed to make the world a better place to live, Chan said.
Li Baodong, Secretary General of the BFA, highlighted that many health technologies, products and services have not yet reached the public despite progress in the health sector in recent years. Since health plays a key role in eradicating poverty and promoting social progress, international cooperation and exchanges are needed to improve remedies for health problems.
"The forum will better connect medical industries in Asia and the rest of the world, which can contribute to a community with shared future on health," Li said.
Copyedited by Madhusudan Chaubey
Comments to lixiaoyang@bjreview.com