Vice Premier Sun Chunlan delivers a keynote speech at the first Global Health Forum of the Boao Forum for Asia on June 11, in Qingdao, east China's Shandong Province (COURTESY PHOTO)
At first glance, the refrigerators showcased by Haier Biomedical Co. Ltd. seem commonplace and even out of place at a health-themed exhibition at the first Global Health Forum (GHF) of the Boao Forum for Asia (BFA) held in Qingdao City, east China's Shandong Province, on June 10-12. A closer look reveals that the humble-looking refrigerators are not only relevant to health but even a matter of life or death.
They are designed to store vaccines, blood and other biological samples and are armed with Internet of Things technology so that their performance can be remotely monitored. Moreover, they allow vaccines to be tracked from producers to end users, which helps ensure vaccine safety.
"Our aerospace refrigerators, installed on Shenzhou spacecraft, have entered space four times; our cryogenic refrigerators are used in China's national marrow and gene banks; and our innovative solar-powered refrigerators have been certified by the World Health Organization (WHO)," said Wang Guangsheng, Vice General Manager of Haier Biomedical, at a sub-forum on June 10.
"The GHF offers a platform for us to present our products to the world," Li Hongtao, a project manager at the company, told Beijing Review.
Initiated in 2018 by the BFA, the GHF is intended to be a long-term platform for health cooperation and exchanges among governments, industries, media and civil society jointly working toward the United Nations 2030 Sustainable Development Goals.
The maiden GHF, themed Health Beyond Health—In the Year of Sustainable Development 2030, drew more than 2,600 guests from 55 countries and regions. Chinese President Xi Jinping sent a congratulatory message to the forum, and Vice Premier Sun Chunlan delivered a keynote speech at the opening ceremony.
The forum focused on three topics, namely "achieving health for all people, promoting health through innovation, and integrating health into all policies," said Margaret Chan Fung Fu-chun, President of the GHF and Emeritus Director General of the WHO, at a press conference on June 10.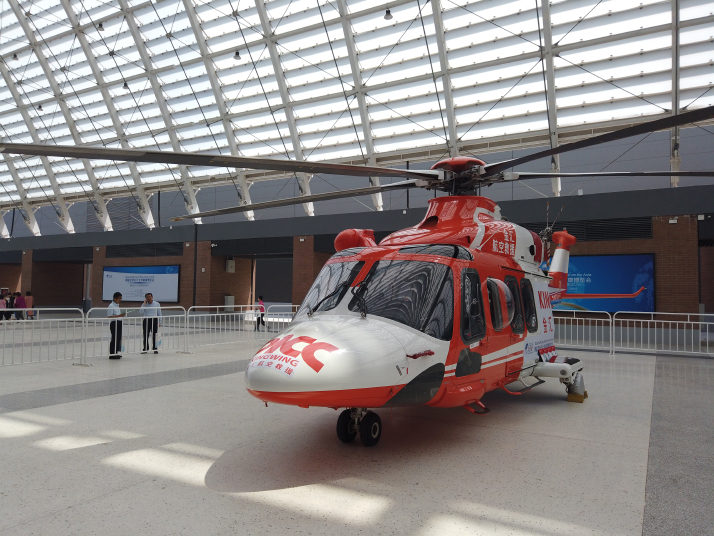 A rescue helicopter is on display at the Global Health Exposition held in Qingdao, east China's Shandong Province, on June 10 (WANG HAIRONG)
Boosting innovation
From its inception, the GHF has not been confined to the discussion of traditional medical issues such as pharmaceutical products and medical devices, but instead focuses on the cutting-edge and cross-disciplinary development of the health industry in a broad sense, said Li Baodong, Secretary General of the BFA at the GHF's opening ceremony on June 11.
"With the rapid development of big data, artificial intelligence (AI) and biological research, we should look at the health industry from a new perspective and give it new implications," he said. In the field of health, new value, industry and service chains keep emerging, along with innovative concepts, scientific and technological and management models, he added.
In her speech, Sun said China has given full play to the role of science and technology in improving health. It has strengthened basic research in the fields of life sciences, clinical medicine, and infectious disease prevention and control; promoted the application of technologies such as big data, AI and the Internet in the field of health; supported the development and application of new drugs and medical equipment; and increased the protection of intellectual property rights, she said.
During the forum, participants shared their experiences on carrying out innovation, and exhibitors showcased their latest products.
At Haier Biomedical's booth, Li Hongtao introduced the company's products to visitors. "This is a solar-powered refrigerator to store vaccines, with a solar panel mounted on the roof," he said. Pointing at an unassuming small box connected to the refrigerator, he explained that it was an energy harvesting control, which stored surplus electricity on sunny days for use on rainy days. He also said the energy stored in the box can keep the refrigerator powered for up to 10 days so that the vaccines will be safe under all types of weather.
Through a temperature and event monitoring system, a vaccine administrator can oversee the working status of a number of refrigerators installed at various localities. This kind of refrigerator has helped children in underdeveloped areas gain access to vaccines, Li Hongtao said.
According to United Nations Children's Fund, only 38.5 percent of Ethiopian children aged 12 to 23 months old had received the most basic vaccines. An important reason for under immunization is a lack of cold chain transportation and storage systems to keep vaccines properly.
Materials provided by the company show that more than 5,000 solar-powered Haier refrigerators have been delivered to and installed in Ethiopia to date, safely storing vaccines that have immunized 5 million children. The company has sold more than 120,000 such refrigerators to over 70 countries and regions, storing vaccines for about 200 million children.
A variety of products, from medicines for healing injuries to soft and hard tissues to 3D printed limbs, were displayed at the booth of Yantai Zhenghai Bio-Tech Co. Ltd. (ZH-BIO). The company's senior medical specialist Li Boyang told Beijing Review that its oral cavity repair membrane product, made with ingredients extracted from ox skin, is mainly used to treat injuries to soft oral tissues by supporting cell growth.
Founded in Yantai City in Shandong in 2003, ZH-BIO aspires to be a leader in the field of regenerative medicine. Information at the company's website showed that since its founding, the company has applied for more than 30 domestic and international patents, and the market shares of its soft tissue repair products have consistently ranked at the top of the industry.
Sylvia Kang, a young woman who founded a California-based company named Mira, introduced her company's innovative products at a sub-forum. She said they allow people to measure their hormone levels at home instead of going to the hospital. "Mira helps patients understand what diagnostic data mean," she said. The data can be automatically interpreted and tracked with a combination of digital health, machine learning and AI-based analysis. Kang said the company is less than three years old with offices in the United States and China.
President of European Biopharmaceutical Enterprises Ahmed Bouzidi offered a European perspective on health innovation. He said that Europe faces challenges to innovation, including lack of funding for small and micro enterprises. Thus he believes that a China-Europe strategic partnership will be instrumental in tackling healthcare issues.
Han Xiaohong, founder of Ciming Health Checkup Group, told Beijing Review that her company focuses on introducing cutting-edge technology. The company uses a capsule robot armed with a camera to detect gastric diseases including cancer. The tiny robot that can be swallowed as easily as a capsule is a ideal replacement for the invasive gastroscopy procedure, and it can complete a checkup in 15 minutes.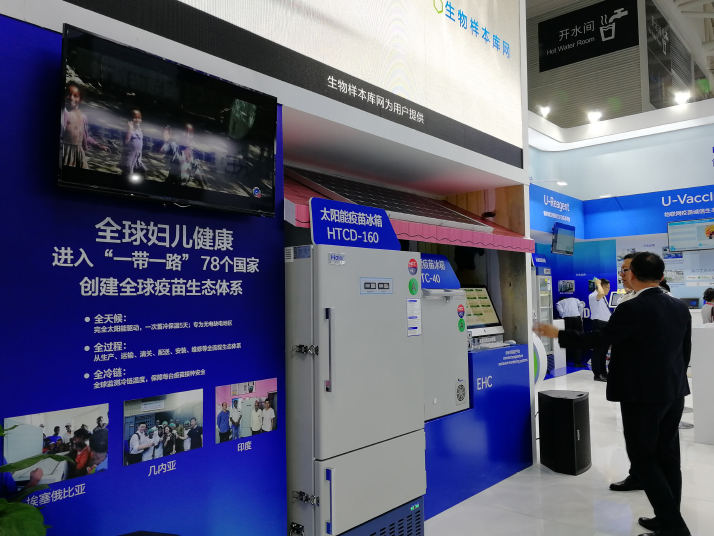 Solar-powered refrigerators are on display at the Global Health Exposition on June 10 in Qingdao, east China's Shandong Province (WANG HAIRONG)
Promoting cooperation
The GHF is an effort to implement the Astana Declaration, which promises to strengthen primary healthcare and promote the goal of "primary health services for all," adopted on October 25, 2018, by the WHO.
Health for all is a common aspiration of humanity and is crucial for building a community with a shared future for humanity and implementing the United Nations 2030 Agenda for Sustainable Development, Xi said in his congratulatory message to the first GHF.
He said he hopes that the GHF will be able to push forward the development of global health and the healthcare industry, and promote international cooperation in the field of health.
Health for all demands the participation of all individuals and all countries in the world, Chan said at the GHF's opening ceremony.
"In this globalized world, diseases are most likely to occur in countries with the weakest health systems and then spread to other nations," Chan said. "Thus a threat in one region can quickly become a threat to all, and no one country can be entirely free of major public health challenges."
"At a time when there are problems in the world and within China-U.S. relations, it is really good to have a point of connection. Healthcare is a good point of connection, for it has no borders," Roberta Lipson, founder of United Family Healthcare (UFH), told Beijing Review. UFH is an international hospital and clinic network that has provided private, premium healthcare in China for almost two decades. It has established hospitals and clinics in Chinese cities such as Beijing, Shanghai, Guangzhou, Tianjin, Qingdao and Hangzhou as well as the resort town of Boao.
China has actively advocated and practiced international health cooperation, said Sun. Over the past 70 years, China has dispatched medical teams of about 26,000 total members to 71 countries in Asia, Africa, Latin America and Oceania, treating nearly 280 million patients, she said. China has made important contributions to the fight against major epidemics such as Ebola, disaster relief in the Philippines and earthquake relief in Nepal.
At the first GHF, several government officials also briefed participants on health policies and outcomes in their respective countries.
Sun said China has made significant progress in improving people's health. Chinese people's average life expectancy increased from 35 years in 1949 to 77 years in 2018, the infant mortality rate dropped to 6.1 per 1,000, the maternal mortality rate dipped to 18.3 per 100,000, and the main health indicators of residents are generally on par with that of medium- to high-income countries.
China has launched the Healthy China initiative to prevent diseases, deepened health system reform, given full play to the role of science and technology, and promoted the innovation and inheritance of traditional medicine, she said.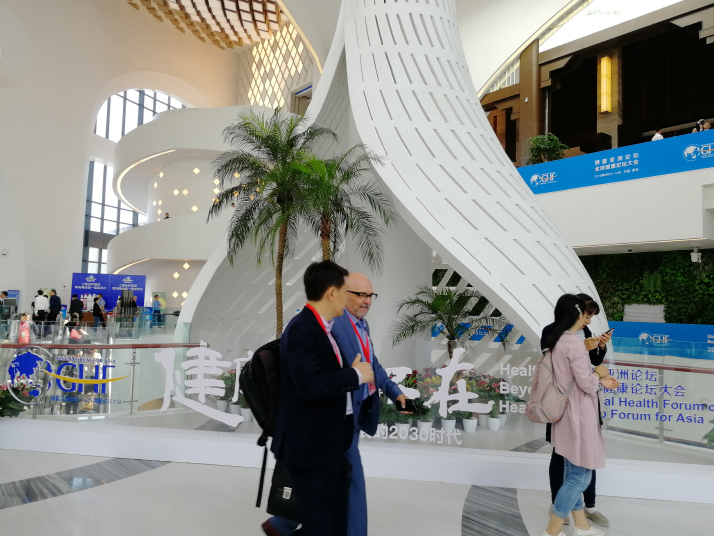 Participants head toward a sub-forum at the Global Health Forum of the Boao Forum for Asia on June 11 (WANG HAIRONG)
Mam Bunheng, Cambodia's Minister of Health, spoke about his country's health achievements and challenges at the opening plenary. He said that Cambodia has made great strides in peace, stability, economic development, healthcare and poverty reduction in recent years, has achieved universal health insurance coverage, and this June launched an initiative to help poor pregnant women access quality maternity care. He added that technological innovation has also become an important factor in promoting universal health, as mobile phones help patients find the right doctors and treatment methods and even the right ways to prevent diseases.
Singapore's Minister for Health Gan Kim Yong said that the GHF's theme of Health Beyond Health resonates with the country's health initiatives. Singapore encourages its citizens to adopt a healthy lifestyle, such as eating healthy foods, and has also stepped up its disease screening. Healthcare has moved beyond hospitals into communities so that people can enjoy services near their homes. The country has also made structural adjustments to improve the health of the healthcare system.
Despite progress, the world is still confronted with multiple global health challenges, said Chan. In her view, the first major challenge is the inequality of health on a global level, with at least half of the world's population still lacking access to basic health services, and even worse, illnesses have plunged nearly 100 million people into poverty.
The second major challenge is that several health crises continue to be globalized, she said. As the world ages faster, growing incidences of non-communicable diseases, cancer and mental health problems make healthy aging extremely difficult. In low- and middle-income countries, medical costs for tackling these diseases have climbed to more than half of medical expenditures.
The third major challenge is emerging infectious diseases, including Middle East Respiratory Syndrome, Ebola and the Zika virus, and re-emerging infectious diseases like cholera, hepatitis A and measles, which has further added to the global burden of diseases and threaten human health and life.
She called on countries to further their cooperation and coordination and pool more resources, capacity and political will to jointly resolve the health problems facing the entire world.
(Reporting from Qingdao,Shandong Province)
Copyedited by Rebeca Toledo
Comments to wanghairong@bjreview.com