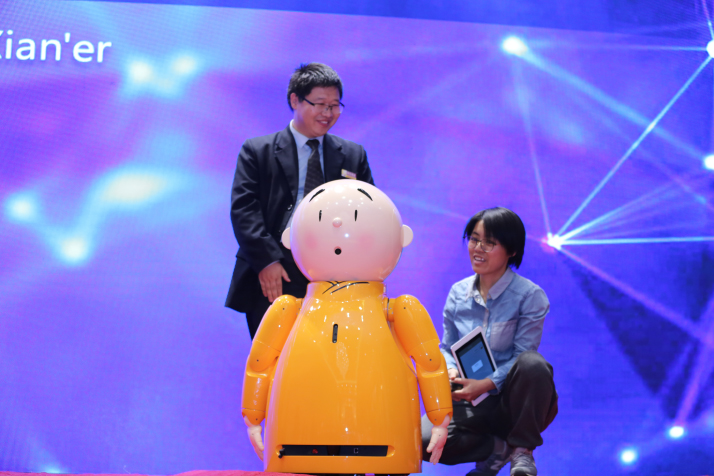 The robot monk Xian'er interacts with participants at a forum of the 2017 TAC Conference in Beijing on December 2 (COURTESY PHOTO)
Malatang, which literally means being numb, spicy and heated in the Chinese language, is a variety of street food adored by many Chinese. As the reputation of Chinese food continues to spread worldwide, malatang is gaining popularity among foreign epicures.
Recently, things have become more convenient for malatang enthusiasts who cannot speak Chinese, because the cuisine now has an official English name. In June, China's Standardization Administration, the Ministry of Education and the State Language Commission released Guidelines for the Use of English in Public Service Areas, setting new standards for the use of the English language in China's public service industries. Besides food names such as malatang, now officially "spicy hotpot," the guidelines also include principles on the use of English in 13 public sectors including transportation, tourism, entertainment, sports, education, health, telecommunications, post and trade financing.
The standardization procedure has attracted public attention because it addresses an urgent need as China further embraces the world and translation is used in different places to make life more convenient for foreigners in the country.
Mistranslations, especially on warning signs, can sometimes leave people confused. "Watch Your Steps" reads instead as "Be Careful Steps," "No wading" comes out as "Please do not the water," and "Slippery" quite conversely emerges as "Carefully Slide." These unorthodox English phrases can be laughable, even downright ridiculous, for those with knowledge of both languages, and in the worst of cases can be misleading for native English speakers.
"Although China is deepening its efforts toward reform and opening up, and intensifying international exchange, foreign language services for public sectors remain inadequate, which can be seen in the frequent misuse of foreign languages and ubiquity of mistranslation," said Tian Shihong, head of the Standardization Administration. "Upgrading our forms of language standardization is necessary for further opening up to the world."
A burgeoning industry
According to a report on China's language service industry released by the China Academy of Translation and the Translators Association of China (TAC) in 2016, there were about 72,495 companies providing language services in China by the end of 2015. The industry created an output value worth 282.2 billion yuan ($42.65 billion) in 2015, up 79 percent from 2011.
"The linguistic ability of a nation has already become a crucial part of national strength, and China's language service ability is a significant manifestation of the country's soft power," the report says, adding that the language industry serves as a bridge between China and the rest of the world by "enabling China to know more about the world, and the world know more about China."
China's endeavors involving language are enjoying significant progress. The demand for language services has been bolstered by the construction of the Belt and Road Initiative, since the program covers more than 60 countries, 60 percent of world's population and over 40 languages, and necessarily involves the interaction of peoples with different historical and cultural backgrounds.
The report delivered by Xi Jinping, General Secretary of the Communist Party of China (CPC) Central Committee, at the 19th CPC National Congress makes it clear that "China will actively promote international cooperation through the Belt and Road Initiative," which will be achieved through policy, infrastructure, trade, finance, and people-to-people connectivity, thus building a new platform for international cooperation to create new forces to drive shared development.
"Communication, with language as its vehicle, is a fundamental requirement," President of TAC Zhou Mingwei said at the opening ceremony of the 2017 TAC Conference and the Forum on Language Services for the Belt and Road Initiative held in Beijing on December 1. The event consisted of more than 30 activities including workshops and a job fair, attracting over 700 participants from research institutes, think tanks, universities, multinational corporations, and other organizations from within China and the rest of the world.
The annual conference was also a platform for the launch of several other databases and standardizations including a list of Multilingual Translations of Chinese Terms, the Multilingual Database of the Political Literature of the CPC and the Chinese Government, TAC's Credibility Information Platform for the Language Services Industry, Competences of Translator and Interpreter, and Guidelines on Procurement of Translation Services—Part 1: Translation.
The standardization system has enriched the public service industry and will be an indispensable tool for people in the field to perfect their professional skills. By adding accuracy and consistency it will prove equally beneficial in raising the quality of the translation and interpreting industry, and in doing so better promote international exchanges and cooperation.
Zhou added that there is still room for improvement in the quality of translation work, despite an increase in the number of practitioners in recent years, suggesting that there is a big need for skilled, high-caliber translators and interpreters in China. Similarly, the report on the language service industry draws the conclusion that the sector needs versatile practitioners that have a good knowledge of not only languages, but also other cultures and fields.
"There are too many translators and interpreters now. Some of them are quite good, while some are not competent for the job, yet they still trigger low-price competition," Xi Yue, an interpreter with 15 years of experience in the industry, told Beijing Review. "Many customers care a lot about the price."

Man and machine
Translators and interpreters not only face competition from their human peers, but increasingly from robots as well. The rapid development of science and technology has posed a serious challenge to the industry. The question of whether robots will take over and replace human translators is now frequently raised.
These concerns may in fact be well founded, as translation and interpreting machines have performed well in recent years. Xian'er, a robot monk who garnered much media attention for his talents as a "conversational wizard," was invited to the TAC annual conference to "show off" his fluent English and instant translation skills to the attendees. Besides robots, translation engines developed by Internet and technology giants such as Google and Baidu, and portable Walkman-shaped devices capable of switching between 28 languages, have been providing greater convenience to the world.
"Saying that machines will replace humans can be eye-catching indeed, but in reality, it is quite difficult," noted Shi Xin, Vice President of the Transn IOL Technology Co. Ltd., one of Asia's top three Internet-based language service suppliers. Shi believes that machines are currently capable of primary-level translation such as processing mass information in a short time, but for the high-end market, human translation is indispensable. "The ideal scenario is combining both together," Shi told Beijing Review.
The company is also trying to demonstrate how this can be achieved efficiently through what is being called the Internet of Languages (IOL). Put simply based on Shi's description, the concept of IOL is like a control and dispatch center backed by complex algorithms and artificial intelligence (AI). By analyzing and matching documents, it can accurately recognize the specific language service requirements of each case and recommend the most suitable solution for its translation.
"For example, the IOL knows whether a certain piece of text is suitable for human translators or translating machines, or both. If it is suitable for machines, the IOL can choose among the machine translation engine options and tell you which one is the best choice," Shi said. "We are still working on it. I think it's a good development for the entire industry."
In essence, no matter whether a translation is performed by a machine, a human, or both, each serves a bigger purpose and should not seek to undermine one another, said Zhou. "We should deepen the integration of the Internet, big data, and AI with the translation and interpreting industry, making innovative efforts to upgrade traditional practices," he said. "In this way we can better facilitate China to go global and enhance dialogues with other civilizations."
Copyedited by Laurence Coulton
Comments to luyan@bjreview.com