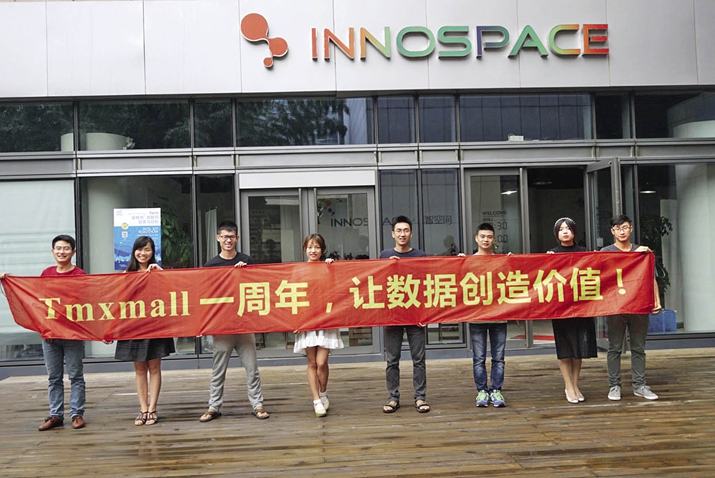 Zhang Jing (third left) and his team members celebrate their company's first anniversary in September 2015 (COURTESY OF ZHANG JING)
Internet search giant Baidu won a second -level prize at the China 2015 National Science and Technology Awards for its technological advancement of machine translation in early January. The company's translation system has been applied to or embedded in more than 7,000 products, including websites and apps, and has dramatically improved their competitiveness by giving them access to markets all over the world. It enabled, for example, 1.2 million domestic suppliers on DHgate.com, an online marketplace of wholesale products, to sell products to more than 10 million buyers in 224 countries and regions.
The award marked the first occasion upon which an Internet company was able to attain the nation's top scientific accolades—usually awarded to weightier projects, such as manned space flights.
Effective machine translation, one of the hardest tasks in computer science, has been an endeavor that generations of scientists have pursued since the end of World War II. It was not until 2006, when Google launched its free, statistics-based translation software, that a breakthrough occurred. This technology has since been used on a vast array of applications, from business to everyday life. In the last few years, other technological behemoths, such as Microsoft, have also entered this field, aiming to expand their global reach.
Baidu's attainment of the national scientific award highlights China's burgeoning technological innovation movement. Against the backdrop of the Internet Plus strategy—the application of information technology in conventional industries—Chinese translation companies have taken initiatives to utilize new technologies. In 2015, many of them released Internet-based products, such as crowd-sourcing translation platforms and language detection apps.
An increasing number of hi-tech companies are expanding their traditional business scope—while some even advocate abandoning their old modus operandi.
An industrial facelift
Zhang Jing is co-founder and CEO of the Shanghai Yizhe Info Tech Co. Ltd. The startup aims to provide language assets management with one-stop online solutions that include bilingual sentence alignment, a private and cloud-based translation memory, and the integration of computer-assisted translation tools.
Zhang's is one of the many similar "language services" companies that have burst into the market over the last several years. As more and more Chinese companies go global, they now need both translators and translation tools to facilitate communication. As these services are indispensable to departmental efficiency and consistency, they are becoming increasingly crucial to transnational companies. For example, Huawei, the world's leading telecom equipment manufacturer, has developed a set of language tools to ensure that its 170,000 employees throughout 156 countries and regions are able to adequately communicate with each other.
Even so, most companies rely on the market for such services—resulting in a strong demand that has attracted hi-tech companies and technological entrepreneurs like Zhang.
Upon graduation in 2013, with degrees in computer science and economics, Zhang joined Baidu and worked in its online payment department. Just one year later, however, good prospects in the language service sector prompted Zhang to start his own company in September 2014. He applied information technology to text retrieval and matching, a combination he says constitutes his company's core competitiveness.
Last year Zhang attended various conferences, symposiums and workshops throughout the country to promote his products and get a feel for the industry. He admits to having paltry experience in the translation industry, but he does not regard this as a disadvantage. "Our company's edge is in its strong software development capabilities," the young entrepreneur said. "My working experience at Baidu has given me a better understanding of the Internet and associated technologies." He added that this hi-tech background enabled him to transform his ideas into tangible products.
The startup has launched several tools in the year since its inception—the most popular of which is a service provided on private cloud networks. As many as 50 people can simultaneously retrieve information from, and add to, a translation memory database. It consequently streamlines efficiency and, as the database is saved on the cloud, reduces the storage issues.
Zhang's team is comprised of 10 employees and two interns, and focuses on Chinese to English translation—which accounts for more than 90 percent of market in China. "[The translation market] is a niche market," Zhang said. "We have few competitors either in the domestic or international market." Technological strength and a clear market position have garnered the company a firm market foothold.
Uber interpretation
The rise of mobile Internet has changed the way people connect in the past few years and has also affected conventional businesses. Uber, for example, is transforming the taxi industry throughout the world. The ride-hailing app connects drivers and passengers directly, thereby maximizing efficiency and saving resources.
Inspired by Uber, Zhang Liang and his partner He Ying sensed the opportunities inherent in online interpretation. They set about developing a new app, called "We translators and interpreters."
"This is an app-based interpreter-hailing platform," Zhang Liang said. The platform is composed of a pool of part-time interpreters who serve clients in need of their services. With just a press of a button, clients can send out an order which interpreters can receive and respond to. The interpretation of voice or video calls takes place on the platform.
The target demographic of this new app is mainly composed of businesspeople and outbound tourists—a burgeoning market. The default time span for answering a client's demand is five minutes, and common requests include explaining document details, map reading and ordering dishes from a foreign language menu.
To improve the matching system, the app encourages clients to input information pertaining to their requests, such as geographical locations, accent preferences and context. It also includes a rating system based on interpreters' education background, work experience and, most importantly, client evaluation.
"De-centralization is the core value of the Uber model," Zhang Liang said. "Passengers don't need a taxi company to call a cab, so why should I search for interpreters through translation companies?"
Zhang Liang ran a small translation company from 2006 to 2009. He believes that conventional methods currently being used cannot be sustained. "Translation companies keep lowering their quotes to woo clients, but meanwhile increase their commission rates, sometimes up to 50 percent, to profit from translators," Zhang Liang said. "Consequently, experienced translators often quit, and clients therefore complain about quality."
The Uber model will halt this vicious circle, he continued. By bypassing intermediary companies, the new app can help clients slash budgets and raise interpreters' earnings. Clients and interpreters can see each other's information through the open and transparent platform, which helps them strike deals which can satisfy both of them. Also, interpreters can work part-time via their smartphones. "They can grab an order as long as they have a spare five minutes," Zhang Liang said. "These interpreters deserve a higher income for their professional skills."
Several investment companies have contacted Zhang Liang and expressed interest in the new product. However, the company is particular about who it brings into the fold, wanting to find investors who have similar ideas about the economy as they do. "We did not develop the app for money," Zhang Liang said. "We believe that the Internet Plus concept will make the industry more open and fair, thereby creating benefits for everyone."
Copyedited by Bryan Michael Galvan
Comments to yushujun@bjreview.com