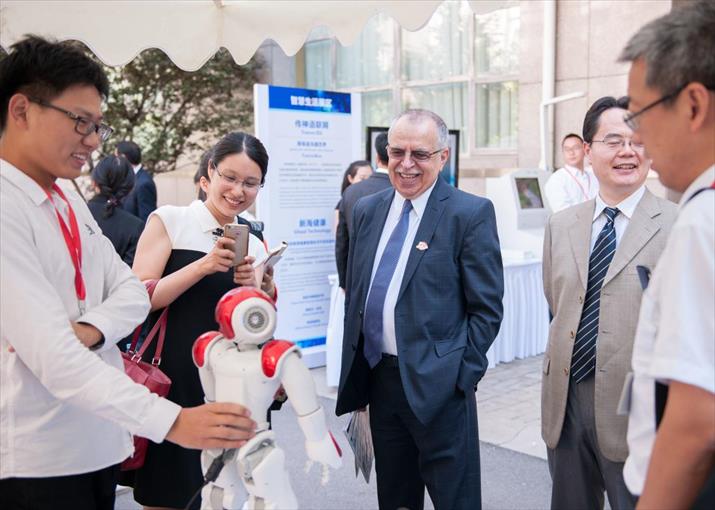 Participants attend a hi-tech product exhibition during the Stories of the CPC event hosted by the International Department of the CPC Central Committee in Beijing on May 25 (COUTESY PHOTO)
In front of a restaurant in Wuhan, central China's Hubei Province, on a hot summer night, people waited for more than two hours for its famous special dish—spicy crayfish, a kind of snack food that has gained increasing popularity in China in recent years. People usually get together to eat the spicy dish with beer, while chatting with each other as a way of relaxing and socializing.
According to statistics released in August 2016 by Meituan.com, one of China's largest group buying websites for locally found consumer products and retail services, the market volume of crayfish reached more than 100 billion yuan ($15 billion), while that of the entire catering industry was worth 3 trillion yuan ($442 billion).
Huang Jianxiong, Secretary of the Communist Party of China (CPC) Qianjiang City Committee, told Beijing Review at a recent seminar in Beijing that as a result of the comprehensive agricultural supply-side reform, Qianjiang in Hubei Province produces over 35 percent of the crayfish in China and exports $300 million worth of the creature every year.
The seminar, part of a promotional event of Hubei's reform practices, was held on May 25 by the International Department of the CPC Central Committee, together with the CPC Hubei Provincial Committee, to introduce Hubei's efforts in supply-side structural reform.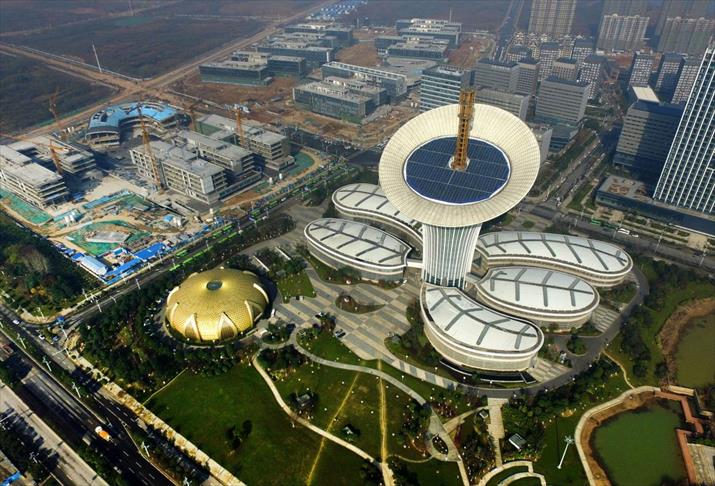 Donghu Hi-Tech Development Zone in Wuhan, capital of Hubei Province, on December 8, 2016 (XINHUA)
Hot business
While presenting Qianjiang's crayfish industry to the audience at a session during the seminar named "Hubei's Stories of Green Development in Building the Yangtze River Economic Belt," Huang hailed Qianjiang crayfish for being healthy and delicious. "Crayfish are cultivated in fresh water, rather than raised in the sea," Huang said. "The king of Belgium once tried Qianjiang's crayfish and he was full of praise."
When asked why Qianjiang's crayfish are in high demand, Huang cited the quality of the species being raised there, clear water and sound breeding methods. In Qianjiang, crayfish are cultivated in paddy fields. Huang noted that this model is part of the green economy through which Qianjiang ensures food safety and quality. And locals can increase their income six-fold.
Qianjiang regards the crayfish as a major industry in implementing a targeted poverty alleviation policy. Huang gave an example: A farmer named Li Dewang, who cultivated over 20,000 square meters of crayfish fields, made 204,000 yuan ($30,000) in 2016.
The total area of crayfish farms in Qianjiang exceeds 33,000 hectares, creating over 100,000 jobs and helping 20,000 people to escape poverty.
Other cities in Hubei have also made active explorations in pushing forward supply-side structural reform. Innovative development has been promoted in the Donghu Hi-Tech Development Zone in Wuhan. Huangshi has transformed itself from a city heavily dependent on mining by upgrading its industries and developing rural tourism. Honghu, which boasts 102 lakes, has restored its water environment through the conversion of fisheries back into lakes.
"The accomplishments are obvious. We have upgraded the economic structure, cultivated new drivers for growth, pushed forward green development, and improved the living standards of urban and rural residents," said Jiang Chaoliang, Secretary of the CPC Hubei Provincial Committee.
Reform promotes development
Song Tao, Minister of the International Department of the CPC Central Committee, said in a speech at the seminar that supply-side structural reform is a major innovation by President Xi Jinping, who is also general secretary of the CPC Central Committee. This idea has been put into practice across China and brought about positive results.
About 400 foreign political figures, senior diplomats in China and representatives of international organizations, including members of visiting political party delegations from India, Pakistan, Myanmar, Laos, Tunisia and Tanzania, attended the event.
How to tackle economic difficulties and restore economic vitality is a hot topic in communication between political parties, Song said. For political parties worldwide, the key to achieving a successful economic policy hinges on facilitating reforms that cater to national conditions and that have external effects on the development of neighboring countries and the world as a whole, rather than only benefiting the country itself, he added.
"Supply-side structural reform is not simply a stimulus policy or a shortcut to temporary high-speed growth. It was born with a view to finding a path of structural reform to achieve long-term win-win cooperation between China and its neighboring economies," Song said.
The CPC, China's ruling Party, has taken action to break down the institutional barriers which hinder development and optimize the economic structure. It is actively pushing efforts to cut excessive industrial capacity, destock, de-leverage, lower corporate costs and improve weak areas of the economy in order to foster new growth drivers, expand effective demand and liberate productivity.
The Palestinian Fatah delegation led by Tawfiq al-Tirawi had been on a tour of Hubei, which he said had deepened his understanding of China's reform. "We visited several cities including Wuhan, Qianjiang, and Xiantao, and witnessed the remarkable achievements made by the province in agriculture, science and technology, urban construction, and infrastructure. It showed that the CPC-proposed strategy is on the right track. Great success has been demonstrated in such fields as innovation, new industrialization, and balanced development. "Our delegation unanimously agreed that China has set an example for the whole world," Tirawi said.
In his speech at the event, Tirawi spoke highly of the CPC's core principle that all work aims to improve people's livelihood. "We're happy to have the CPC as our friend and a role model," he said. Tirawi added that the delegation would take China's successful practice back to Palestine to advance its progress in institutional construction, poverty alleviation, and tackling unemployment.
Zinaida Greceanii, Chair of the Party of Socialists of the Republic of Moldova, said China's supply-side structural reform would not only benefit China's development but was of international significance. "Now China's economic development doesn't just concern itself, but relates to the development of many other countries including those in Europe," she said. Despite being a small country with a population of 4 million, Moldovans are interested in cooperating with China and keeping a close eye on China's development, she continued.
Greceanii said, "Over the past decades, China has made remarkable achievements. It's inevitable for the country to encounter various problems. We can see that China is finding ways to deal with them. I think the supply-side structural reform is a successful practice."
When asked about her views on the CPC, Greceanii said, "The CPC is the world's largest political party and a role model for other parties around the world, which is testified through its past practices. We are very willing to have exchanges and cooperation with the CPC, which we believe will greatly benefit us. I believe our cooperation with the CPC will progress."
The event was the second in the Stories of the CPC series, which aims to introduce the work of local CPC committees in implementing major strategic policies made by the CPC Central Committee with Xi as the core. The first event, which focused on poverty alleviation, was held in April. The International Department of the CPC Central Committee will work with the CPC Shanxi and Jiangsu provincial committees to hold more events in the coming months.
(With reporting by Zhang Hui, China Today)
Copyedited by Dominic James Madar
Comments to yanwei@bjreview.com