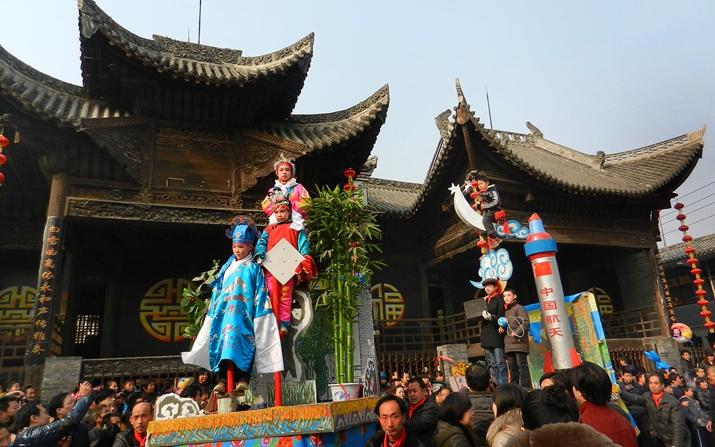 Local residents perform in front of the twin theater stages in the town of Manchuanguan in Shanyang County, Shangluo of Shaanxi Province. The local government is encouraging tourism to increase villagers' incomes (XINHUA)
Spring did not forget to visit the yard behind an old house in Xieyuan Village in south Shaanxi Province, even though the house is no longer inhabited. On March 23, a cherry tree was quietly blooming therein, and a bamboo bush in front of the gate grew sturdily despite the absence of the property owner. The rundown house, made of just clay and straw, provides a glimpse of the village's history.
"About 50 to 60 years ago we all lived in such houses," an elderly man confirmed. Today, the adobe house is surrounded by concrete and steel structures, mostly two to three stories high.
"Twenty years ago, the village was very poor," Wang Hongwei, Secretary of the Yangyuhe Township Committee of the Communist Party of China, told Beijing Review. Now, the village with 2,520 residents is much better off than it used to be. In 2015, the village's per-capita net income was 11,478 yuan ($1,763), compared with 8,800 yuan ($1,351) in income registered three years ago, he observed.
Xieyuan Village is governed by Yangyuhe Township of Shangzhou District in Shangluo, and the village is close to the city. The village's determination to fight poverty was made evident through a red banner hanging between two poles at its entrance, which reads, "Stick to the goal, work hard, be down-to-earth and win a decisive battle against poverty!"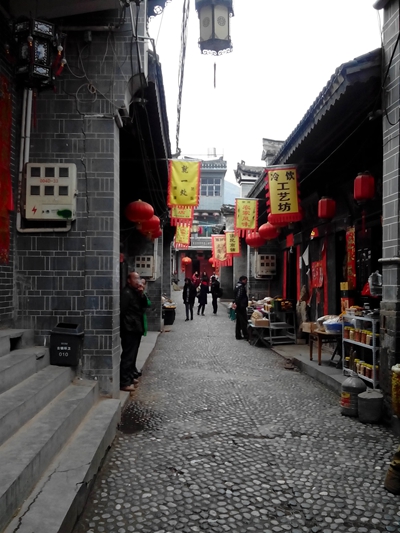 A street in Manchuanguan Town, Shanyang County. Several impoverished households live in houses along the street. The town develops tourism to increase local residents' income (WANG HAIRONG)
Over the years, the village has taken various initiatives to improve the quality of villagers' lives, including skill training. Villagers have increased their incomes by growing mushrooms and walnuts, and producing building materials such as bricks, Wang explained. Villagers are encouraged to assist each other, and better-off households are partnered with poorer ones to offer help.
Many villagers also work in Xi'an, the capital of Shaanxi Province, which lies a little more than 100 km away. Poor transportation conditions had long hampered the city's development. Back in 1993, it took a long time to travel from Xi'an to Shangluo along a road spiraling up and down mountain ridges, recalled Hu Biliang, Dean of the Emerging Market Institute at Beijing Normal University, who was revisiting the area in March. Now highways running through a string of tunnels and across bridges have shortened the trip to less than two hours. High-speed railways are also under construction, which will further cut the traveling time to just half an hour.
Today only 81 villagers, based in 45 out of the 872 households in the village, are still living under China's poverty line, said He Weiqing, an official in charge of poverty alleviation in Yangyuhe Township.
The 45 households either have chronically ill or disabled family members or university students to support, Li Qian, a village official, told Beijing Review. A college graduate, Li has worked in the village for five years.
Li said that the village helps poor families according to individual poverty cases: "For those who are ill, we help them get medical assistance, and for those with college students to support, we have obtained education assistance from the township government."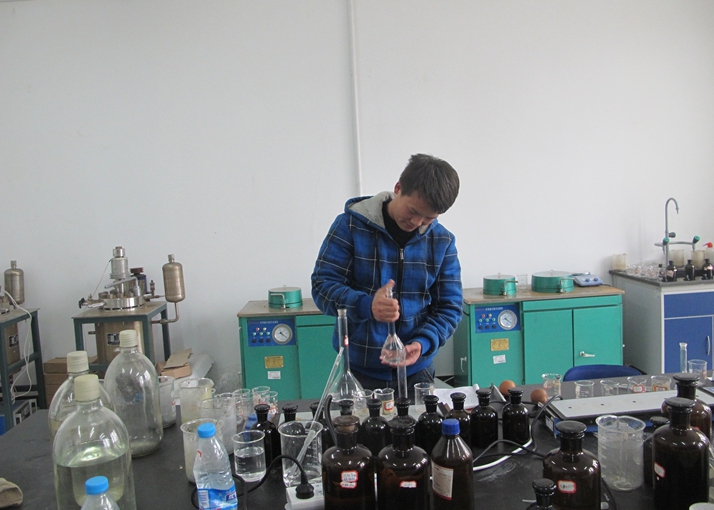 A staff member in Shangluo Academy of Materials Science does an experiment on treating tailings in Shangluo, Shaanxi Province, on March 23. The city is vigorously developing a circular economy (WANG HAIRONG)
Targeted poverty alleviation
In China, a nationwide initiative is underway to alleviate and eliminate poverty. On October 16, 2015, President Xi Jinping announced at the 2015 Global Poverty Reduction and Development Forum that the country will lift all of the 70 million plus people living below China's current poverty line out of poverty. Xi also used the forum as a place to set out a new strategy of "targeted poverty alleviation," which is to identify the root causes of poverty and administer targeted therapy.
These efforts have since been implemented in places like Shangluo. Situated in the heart of the Qinling Mountains, a major mountain range lying between south and north China and in the watershed between the Yangtze River and the Yellow River, Shangluo has long been an underprivileged place economically.
In 2015, a total of 592 counties were listed as national-level poor counties in China, including 50 in Shaanxi Province. Shangluo, a prefecture-level city, governs six counties and Shangluo District, all of which are listed as national-level poverty-stricken counties.
Local officials are well aware of the challenges they face in tackling poverty. "Shangluo has always placed poverty alleviation as a priority in its social and economic development," Wang Shenglin, deputy head of the city's poverty alleviation and development bureau, told students from more than 20 developing countries on March 23 during their visit to the city. The international MBA students at Beijing Normal University were on a trip to study its efforts to root out poverty on the local level.
Responsibilities have been specified for every level of government in Shangluo, with each government department in charge of helping a village eliminate poverty, Wang Shenglin explained. Moreover, each official is responsible for helping a household move out of poverty, he said.
The first step is to precisely identify those in need of assistance. "We have organized counties and districts to survey and identify the poor, village by village, household by household, and to record the information into a database," explained Wang Shenglin.
In March, Cheng Xue, an official with the Yangyuhe Township Government was dispatched to Minzhu Village in the township to identify poverty-stricken people there. She found that most young people in the village had gone to cities for work, and most of the poor are elderly or people with diseases and disabilities, some of whom live in dilapidated houses. Cheng said 564 people in 170 households in the village were labeled as poverty-stricken. The village has a total of 1,516 people living in 451 households.
Cheng also recounted that during her visit, she met a widowed man in his 50s who just lost his son in a traffic accident. The man was suffering from arthritis, and cannot do hard physical work. His son used to support him with income from doing odd jobs. Now, the man is living with an adopted son, who suffers from cerebral palsy. The pair was therefore identified as "impoverished" and given assistance.
By the end of 2015, Shangluo had identified a total of 490,200 impoverished individuals living in 161,900 households, according to Wang Shenglin. Of those in need, 158,500 were destitute either because of disease, disability or were supporting full-time students. Shaanxi's poverty line is defined as earning an annual income under 2,500 yuan ($397) and possessing no valuable assets.
Shangluo has made significant progress in alleviating poverty in recent years. From 2010 through 2015, Shangluo lifted 469,000 people out of poverty, Wang Shenglin said. "The incidence of poverty fell from 44.84 percent in 2010 to 25.2 percent in 2015," he added.
Over the course of the last five years, in Shangluo, rural residents' per-capita disposable income had almost doubled, reaching 7,732 yuan ($1,186) in 2015, he added. While the income level was still much lower than the national average of 11,422 yuan ($1,755) in 2015, the growth rate was higher.
In addition to identifying poor residents, another task is "to help the poor with precision, according to the cause of poverty for each individual village and household, and acting accordingly," Wang Shenglin said, adding, "This year, the city started the work of stationing task force teams in villages and households and the team will stay until poverty is eliminated."
So far, 885 work teams have been stationed in poverty-stricken villages in Shangluo. The teams are staffed by more than 3,000 people in total, who will work in the village for 22 days a month to help less well-off villagers.
Poverty alleviation measures are also tailored to ensure maximum impact. "For those with low income, we will develop specialized industries; for those who lack basic living conditions, we will move them to places with better environment for survival and development," Wang Shenglin explained. "For those who do not have skills to earn a higher income, we will train them to make them better employees and entrepreneurs; for those who are not in the labor force or sick, we will provide with medical assistance and other forms of social safety," he added.
Located at the foot of the mountains, Minzhu Village is vulnerable to landslides, so the government also plans to resettle villagers to safer areas where housing for them is under construction, Cheng said.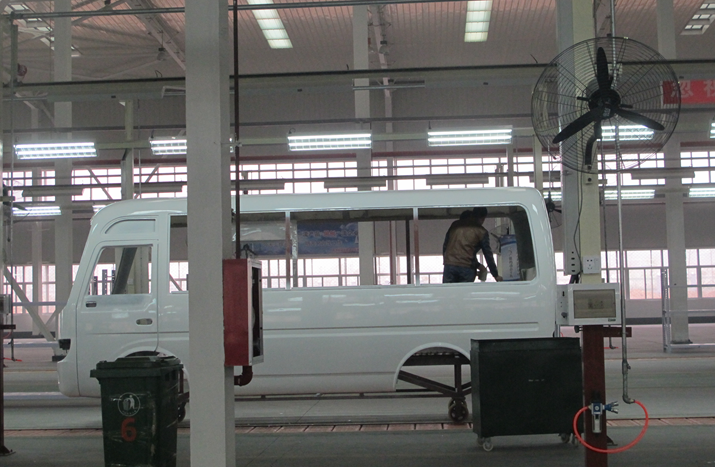 Local staff members work on a new-energy van in Yuedi New-Energy Automobile Co. Ltd. in Shangluo, Shaanxi Province, on March 23 (WANG HAIRONG)
Developing new industries
"The fundamental solution to poverty is development," Yang Wei, Deputy Director of the city's North-South Water Diversion Office, told Beijing Review, "The weakness of Shangluo is that its primary industry is not strong, its secondary industry is not optimal and its tertiary industry is not thriving."
Shangluo has historically had little fertile land to cultivate. Now its agricultural activities are also restrained as the region is required to conserve water and protect water quality for the South-North Water Diversion Project. The creeks flowing in the valleys in the area are headwater of the Danjiangkou Reservoir in central China's Hubei Province, which is the starting point of the middle route of the project.
To prevent soil erosion and ensure water quality, fields on slopes with angles of more than 25 degrees have been converted into forest land, Yang explained.
While Shangluo has relatively weak agriculture prospects, it is rich in mineral resources, and has 35 large mines, Yang said.
"The 46 minerals deposited in 108 locations have already been listed on Shaanxi's mineral reserve table," said Zhang Yongping, Director of Shangluo City's Development and Reform Commission. The reserves of alum, molybdenum, iron, titanium, gold, black lead and fluorite are relatively big: the total potential value of mineral resources is estimated to be more than 340 billion yuan ($52.2 billion), according to Zhang.
In fact, mining is a dominant industry in the region, accounting for more than 70 percent of some counties' total industry output value, Yang said. But due to poor technology, a large amount of tailings, or mine dumps, were produced by the mining industry, occupying land and polluting the environment. According to Zhang, the tailings in Shangluo account for 1 percent of the nation's total.
Zhang believed that the region must engage in innovative, coordinated, green, open and shared development. The city is already adjusting its industrial structure, and many polluting enterprises—including mines—have been shut down and water treatment plants have been built, he said.
"In 2015, primary, secondary and tertiary industry respectively accounted for 13.2, 52 and 34 percent of local GDP; in 2020, the percentages will be 10, 50 and 40," Zhang stated. That is to say that the share of the service sector will be increased.
Additionally, Shangluo is vigorously developing both green and specialty industries, an important poverty reduction strategy recognized worldwide. Shanyang County, for example, has established an e-commerce platform, Aiguangji.com, to market local produce, including wild vegetables, walnuts, chestnuts, as well as meat such as pork and chicken.
Some successful cases have already been reported. Luo Yiming was born in Anping Village of Zhen'an County in 1984. When he was 16 years old, his face was scarred by fragments from explosives used to open a road in the mountains. Luo used to work odd jobs, but could only bring in a meager income. In December 2013, with help from the county's poverty alleviation and development bureau, Luo went to Baoji City of Shaanxi Province to learn how to raise rabbits. In collaboration with other young persons, he then established a cooperative to feed rabbits. In the first year, they made 600,000 yuan ($90,909), recovering all of their investment. By the end of 2015, five households—including Luo's—had moved out of poverty through these types of cooperatives.
During China's 13th Five-Year Plan (2016-20) period, Zhang said that the city will focus on developing 10 industrial clusters, including pharmaceutical, new materials, new-energy vehicles, green food processing and tourism.
Across Shangluo's mountains grow 1,192 varieties of traditional Chinese medicinal herbs, including 265 frequently used ones, which have been an important source of income for local residents, according to data provided by the city government. Enterprises have also sprouted up, with Xiangju Pharmaceutical, Run Shaanxi Days of Biological Technology Co. Ltd. and the Shaanxi Bicon Pharmaceutical Group engaging in the researching, planting, processing and selling of traditional Chinese medicine.
Shaanxi BYD, a new-energy car producer, is now a big tax payer and employment generator in Shangluo. Not far from it lies another electric vehicle manufacturer, Yuedi New Energy Automobile Co. Ltd.
Banking on its long history and vicinity to Xi'an, the ancient capital city in several dynasties, Shangluo is also actively developing its tourism industry. Dihua Town of Danfeng County is using the hometown of famous writer Jia Pingwa as a marketing tool. The town of Manchuanguan in Shanyang County is also taking advantage of its history as a wharf to develop tourism.
Copyedited by Mara Lee Durrell
Comments to wanghairong@bjreview.com