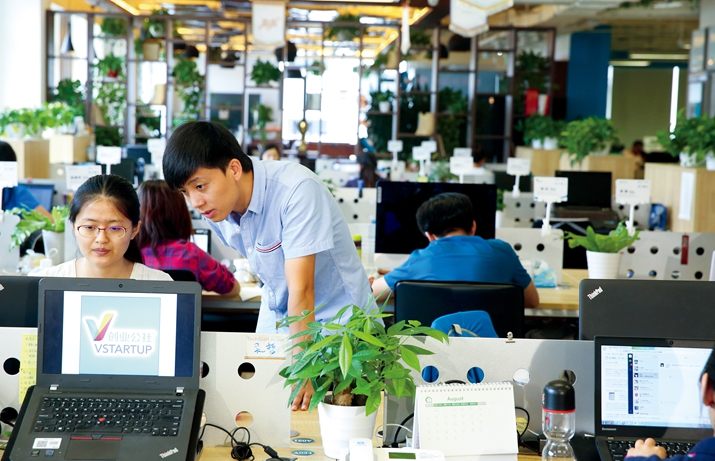 Residents of 37° Apartment enjoy shared work space (COURTESY OF 37° APARTMENT)
During day time, 24-year-old Wang Kun works with heart and soul with his peers in their startup. In the evening, he has a chance to let off some steam by putting on the hat of the host of his apartment building's film salon. By organizing movie screenings for his neighbors, Wang enjoys a 20 percent discount on his rent and—more importantly—a great opportunity to socialize with other entrepreneurs like himself.
"The residents here are mostly young people. By attending the screenings, we can brainstorm together or share our work resources," said Wang. "It's about both leisure and work."
Located in west Beijing, the apartment building won Wang's heart with its spacious and comfortable public area—each floor has an 85-square-meter space encompassing a café, a reading room, a film salon, an art corner, a gym and a public kitchen. Outside, the building also has a vegetable garden for the residents to enjoy some sunshine and fresh vegetables.
But such pleasant surroundings are not open to everyone; residency is limited to college degree holders under 40, according to Wang.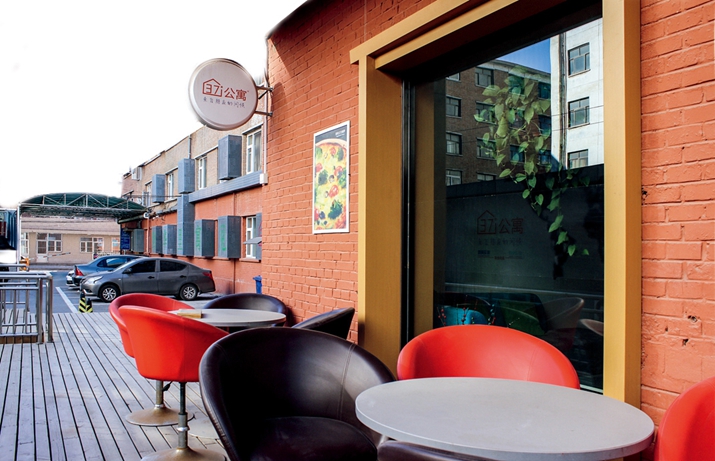 37° Apartment offers an integrated living and working environment (COURTESY OF 37° APARTMENT)
Better living environment
This apartment building's story began when a cooperation agreement was signed between Beijing Vstartup Co., a national technology startup incubator founded in 2013, and Shougang Group, a state-owned steelmaker in Beijing.
As a startup incubator authorized by the Ministry of Science and Technology, Vstartup was more ambitious than others. It wanted not only to provide young entrepreneurs with an office space, but also to bring them the cozy feeling of home in China's capital.
Their chance came when Shougang Group decided to relocate its steel factory from Beijing to Hebei Province. Vstartup took over the vacated employee apartment building and renovated it into a brand new living area for young entrepreneurs named 37° Apartment.
According to the apartment building's manager Wang Xu, when people are passionate about something, their body temperature is not lower than 37 degrees Celsius. Vstartup hoped that the apartment would become a communication platform between passionate souls. The education and age requirements would ensure the residents share additional similarities, explained Wang Xu.
"We have a deep understanding of the difficulties facing young entrepreneurs in Beijing. We hope the 37° Apartment can provide them with a romantic living environment and a creative lifestyle," said Zhang Jinli, Vice President of Vstartup.
Each 20-square-meter room is equipped with a washing machine, a refrigerator and a water heater. A folding queen-size bed and storage cabinets were designed to improve space utilization, and a wireless light switch enables the resident to control the lighting without leaving the bed.
The affordable rent of 1,800 ($259) to 2,400 yuan ($344) per month, in addition to the multi-functional public areas, soon attracted many young people.
According to Wang Xu, all of the 133 rooms have now been let and any new applicant would have to wait a year before moving in.
One-stop solution
The apartment complex project is only one part of Vstartup's bigger ambition—to become a one-stop solution provider for young startups.
Now a real star among Vstartup's residents, Poputar Inc. is committed to creating a more efficient method for consumers to learn instruments such as the guitar by integrating games and self-education. But the company's success did not appear so certain when it was first launched.
"We knocked on so many doors, trying to persuade the guitar manufacturers to help us commercialize our design," said Luo Shichuan, founder of Poputar. "It was not easy at all."
Luo felt much more at ease after Poputar joined Vstartup. "It feels like we made a good friend who is rich and willing to support us when we need it."
For startups like Poputar, hardware and software development were never the problem, but technology alone is not enough for their products to succeed on the market.
"We had no marketing team or any experience at the time," said Luo. "Vstartup understood our problem and invited marketing professionals to guide us."
With Vstartup's guidance, the company is moving from strength to strength. Its project was a runner-up for the 2016 Creative Business Cup, a startup competition between more than 60 of the best projects around the world, as well as the winner of its Play & Learn Challenge section. In the same year, Poputar also swept top prizes at four domestic startup competitions.
"Traditional incubator companies only provide basic services like office space, but we are committed to providing entrepreneurs with a one-stop solution by creating an ecosystem consisting of offices, apartments, financial services, entrepreneurship training and big data resources," Zhang said.
According to Zhang, Vstartup has provided free training to more than 1,300 startups under its wings and invited professionals to answer their questions about business, tax, finance and laws. At the same time, Vstartup has recommended the startups to different competitions where they could rise to fame and garner the attention of investors.
This focus has proven helpful for young companies, whose limited resources are often overextended.
"We chose Vstartup among all the incubators because of the comprehensive services it provides in terms of office space, government policy, funding, training and marketing," said Lu Wangzuo, President of Juchen Television.
According to Wang Xu, Vstartup is planning to expand the 37° Apartment project. More young entrepreneurs will soon find their home in two additional apartment buildings.
"Vstartup was originally founded to support young people so that they don't have to go through all the hardship their predecessors did," Zhang said. "We hope to help startups grow quickly and help every dreamer find a home."
Copyedited by François Dubé
Comments to zanjifang@bjreview.com