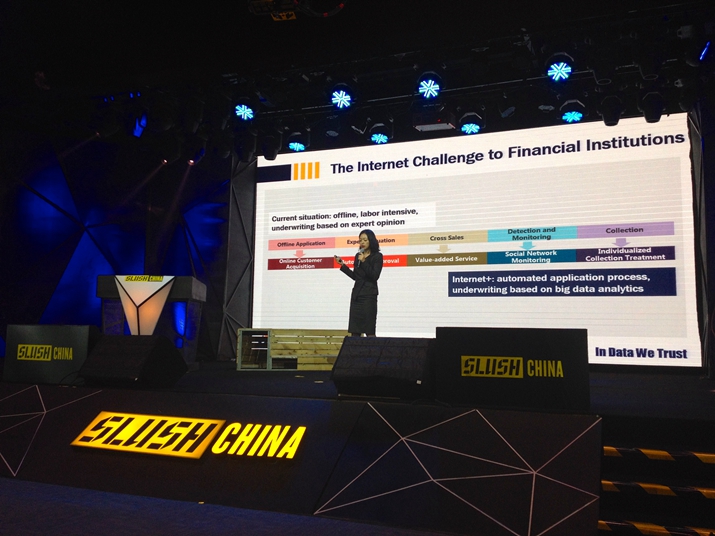 COO Sun Nan touts her company Data Finance during the final pitching round at Slush China. She won the competition along with a plane ticket and a spot in the pitching competition at the larger Slush conference in Finland in November (JORDYN DAHL)
Insect farming to end world hunger? An electric car better than Tesla? Flexible and portable solar panels?
Hopeful entrepreneurs had no shortage of gutsy ideas, nor the guts to pitch them, at Slush China, an offshoot of one of the world's largest technology and start-up conferences hosted in China for the first time this year. The new event highlighted foreign investors' growing interest in China and the importance start-ups hold for the Chinese Government, which has pinned its economic hopes on small-scale innovation to propel them forward.
The Chinese Government wants start-ups. Start-ups want cash. And so start-ups from all over China and some international ones from Finland poured into Zpark in northern Beijing on October 13 in the hopes of getting noticed by one of the 250 venture capitalists attending Slush China, a branch of start-up conference Slush that is hosted for two days in Finland every year.
Many of the ideas pitched by China's own start-up heads were as elaborate as the venue in which the opening ceremony featured a laser show and DJ and shouts of "let's rock" from event organizers, a sight more akin to a rave than a technology conference. Slush Board Chairman Ilkka Kivimäki says the pizzazz is necessary to attract attendees, but the event is still all about substance and the start-ups hoping to be China's next unicorn.
Stepping up to the plate
A handful of lucky companies were chosen for a pitching competition where one representative had six minutes to explain the company's business plan and why potential investors should choose them over the 340 other start-ups in attendance.
Luther Ma was surprised to find himself in the final pitching round with four other start-ups. The 28-year-old Oxford graduate was seeking 15 million yuan ($2.4 million) in funding for his company OraCleen, a smart toothbrush that connects to an app that gives instant feedback about each tooth's cleanliness to the user.
"We want to get more capital. We have all the plans, but we want to do things faster and more aggressively," he said.
Ma ultimately lost the final prize--a plane ticket to Finland and a spot in the pitching competition at the main Slush event in November--but judge Gregory Carson thinks he'll be just fine.
"My take on him is he's a really good entrepreneur, but his product is easily copyable, and he's going against big guys. He's going directly for Oral B and Phillips, which is more about distribution and marketing than it is about innovation," said Carson, a venture investor with OceanBridge Capital. "He's going to have some really hard times with his product, but his energy and his personality are going to make him succeed."
Data Finance, a company working with banks to develop credit scores, beat out Ma and the other companies and is headed to Finland in November.
"They seem to have a solid team and are solving a problem that is super real. We can easily see people willing to pay for that," said Kivimäki, who also sat on the final panel. "The market is gigantic. You don't have to take it all. Just take 2 percent of it and you're meaningful."
The finalists weren't the only ones to walk away with potential deals. Indeed, investors flocked to the pitchers once they walked off the stage to exchange business cards and talk business elsewhere. Kivimäki estimated around 200 to 300 backroom meetings were going on between CEOs and venture capitalists throughout the day.
Two potential investors approached Moon Gyung Lee after she pitched Medinstech Inc., a company that claims it can more accurately identify polyps during an endoscopy to improve treatment.
Dennis Chu, CEO of Swably, a software-sharing app for Android, wasn't part of the pitching competition but attended in the hopes of snagging a foreign investor. He failed to garner any interest but said the day wasn't a waste.
"The great thing is you get five to 10 seconds to pitch and explain what you're doing. I came back from (Slush) with a lot of insights, and I'm going to redo my whole pitch," he said.
A good number of the start-ups at the pitching competition were graduate and postgraduate student from China's top schools: Tsinghua University and Peking University. Most were still in the early stages of developing their product but had raised funding through Kickstarter and JD.com's crowdfunding platform, Coufenzi.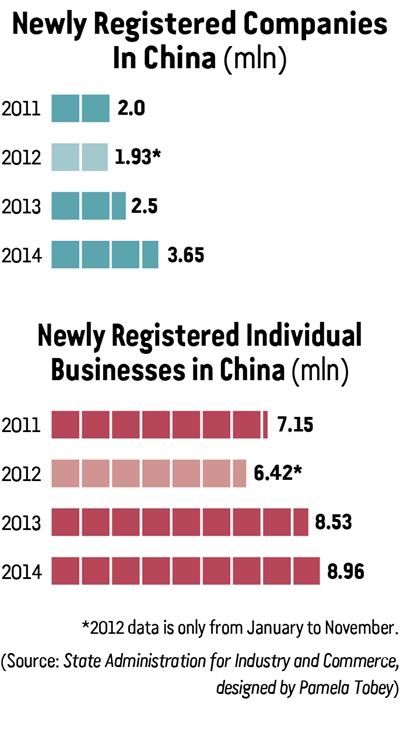 Encouraging entrepreneurs
Three Tsinghua graduates are working at Microduino, a company that manufactures stackable modules that can be used to create robots or helicopters, among others. The company raised $135,000 on Kickstarter this past summer. CEO Tiki Wang said during his pitch the company made 3 million yuan ($472,600) last year and expects 10 million yuan ($1.58 million) in revenue this year.
Zhao Chen, a regional manager in China with Plug & Play, an accelerator, said he expects to see more student entrepreneurs in the future.
"Student entrepreneurs are fully equipped with business skills when they graduate," he said during a panel at the event focused on the start-up ecosystem in China.
The push in student entrepreneurs is partly fueled by the Chinese Government, which launched a new policy this year to encourage students to create more start-ups as part of its effort to reform the economy from a manufacturing-based to a service-based one. China's GDP grew 6.9 percent in the third quarter this year: The slowest growth rate since the first quarter of 2009.
Chinese Premier Li Keqiang said students are "fresh troops" for the country's reform in an address at the National Week of Mass Entrepreneurship and Innovation opening ceremony in Zhongguancun in Beijing on October 19. More than 200,000 students from 1,800 universities across China attended the national college student innovation and entrepreneurship competition in Jilin Province on October 19 and 20.
The government also reformed its business registration laws in 2014 and eased restrictions on minimum registered capital and payment deadlines to encourage more start-ups. About 3.65 million new companies were registered in 2014, a 46-percent increase over 2013's 2.5 million.
But Kivimäki warns that oftentimes what start-ups and students really need are mentors and advice, not strictly funding.
"Giving a lot of money to unexperienced entrepreneurs is maybe not the wisest idea when they're first starting," he said.
Liu Bo, managing director of Tusstar, an incubator, has a similar perspective. She hooks start-ups with potential angel investors, mentors and collaborators to give the businesses new ideas and direction. She sees events like Slush as a learning opportunity for the companies.
"Most of the (conferences) are China-focused or China-oriented, but here we get to see international trends. Performing in front of international judges is a good opportunity to learn, especially about new technologies," she said.
A handful of international start-ups were also included in the pitching competition, such as Ento Cube, a Finnish company selling shipping containers that mass produce insects and can feed 10 people a day. Co-founder Perttu Karjalainen asked for a 500,000-euro ($78,730) investment during his pitch. He said Ento Cube is the number one company producing insect farming technology in the Nordics and hopes to expand into Asia.
"We have what it takes to crack this and have accelerated growth. We will revolutionize the industry," he said.
Copyedited by Kylee McIntyre
Comments to yushujun@bjreview.com