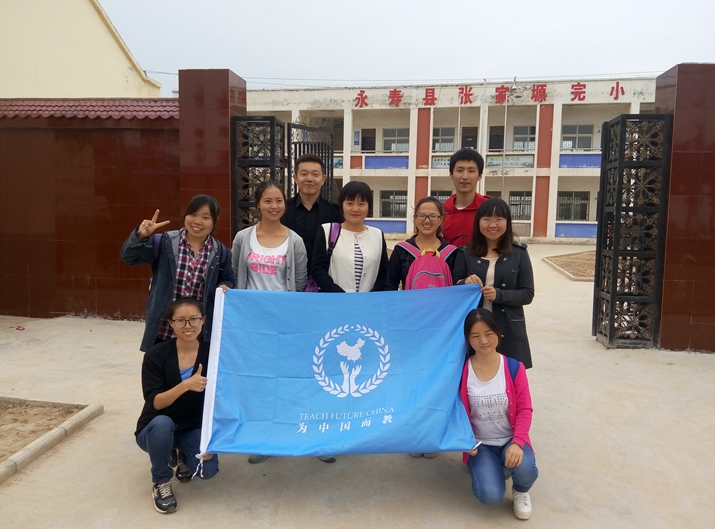 Ge Mingzhu (front left) and other volunteer teachers at the Zhangjiayuan Primary School in northwestern Shaanxi Province (COURTESY OF GE MINGZHU)
While many university graduates are inclined to choose stable and well-paid jobs, Ge Mingzhu opted to be a volunteer primary school teacher in rural areas when she graduated in 2014. This year, her two-year volunteer stint ended.
In the run up to graduation, Ge had no idea what kind of job she should look for. "I was struggling and confused about my future just like anyone else," she told Beijing Review. Ge had several internships while in college, including one in human resources at a real estate company in Shanghai as well as a part-time job at her university's student activity center.
"I believe many of us dream of being a volunteer teacher at the bottom of our heart," she said. "During my graduation season, that dream just came to me again, and I knew what I wanted to do."
Ge said that when she was a student she often wondered how people in the countryside made a living. Her later study of China's geography also piqued her interest in the vast rural land. "The lines, the curves on the map of the Yellow River were so mysterious to me, I dreamt of going there," she recalled.
Ge once took part in a campus event at her university staged by Teach Future China (TFC), a public interest institution affiliated to the UN Education, Science, and Culture Organization International Research and Training Center for Rural Education, which helped her to develop a deeper understanding of volunteer teaching. In October 2013, Ge accepted the offer of TFC to join a two-year teaching program.
"My parents supported my decision to teach in rural areas, even though I could find a well-paid job in Shanghai," Ge said, "My father told me that I should follow my heart and not care too much about others' opinions."
Ge, then 24, was assigned to the Zhangjiayuan Primary School in a village of Xianyang, northwest China's Shaanxi Province, after graduating in July 2014.
China's educational resources are distributed unevenly, and rural areas still lag behind. According to a report on China's rural education released by the 21st Century Education Research Institute, between 2000 and 2010, four rural schools closed nearly every hour on average due to the lack of teaching materials and qualified teachers. Though local governments had implemented the "one village one school" policy a decade ago, it is still hard for rural schools to last long because college graduates tend to pour into cities. In recent years, university volunteers have increasingly helped quench the thirst for teachers in China's rural areas.
The primary school where Ge worked had eight classrooms, a total of 130 students and 13 teachers. All three volunteer teachers during Ge's two-year stay were young women.
"I can still recall the first day I came to Zhangjiayuan. Another volunteer and I had to share a 10-square-meter bedroom, which was also our office, kitchen, and guest room," Ge said.
The biggest problem was that there was no bathroom in the village where they lived. They had to spend 30 minutes going to another village to take a bath in the settlement's only public bathroom. Going shopping also entailed a trip to the village.
Ge recollected a rather frightening stormy night. Power failures were a common occurrence. The very first time Ge experienced a blackout, she and her colleagues decided to try to fix the problem themselves, but they couldn't gain entry to the power supply room. So, the three of them spent the night in total darkness, while outside it rained cats and dogs.
Despite the hardships, Ge never thought of quitting. She told Beijing Review, "I felt at a loss when some boys were playing with fire, even though we had prohibited them from doing so, and when a slow boy was occasionally bullied by others."
"I never expected this, but I tried to stop it from happening again. There were occasions on which I felt helpless, but I never thought about leaving my students."
Later, Ge successfully put a stop to the bullying after several talks with the boys, which gave her a feeling of achievement. She smiled when recalling her students bringing her fruit and home-made food, because they knew it was difficult for her to buy food, and the boy who was bullied even saved his own allowance to buy her yogurt.
At the end of Ge's time as a volunteer, all of her students managed to enroll in middle schools. Ge could not have felt happier. "I found I couldn't leave them when it was time to go," she said.
Ge now teaches English at a private institution in Beijing, but the volunteer experience has undoubtedly left an indelible impression on her. Besides working, she also studies education and child psychology.
"I have chosen to start a new life now, but it is still hard to say about my future. I work in Beijing because there are so many opportunities. But maybe one day, I will go back to volunteer teaching in rural areas," said Ge. "I think the millennial generation focuses more on self-fulfillment—we want to try everything we have in our mind, and we want to experience different kinds of life."
Nothing to fear
"Life is a delicate and interconnected web, formed by different dots that you join at different stages," said Li Chunyang, a 22-year-old entrepreneur, when asked about his experiences in starting up his own business.
The young man is the founder of Wormhole Translation, a platform for translators, interpreters and cross-border e-commerce companies in need of multilingual translation services.
The idea of starting his own business came about in Li's first year of university, when his favorite lecturer, who taught a course on World Cultural Heritage, offered him an opportunity to create a Spanish version of the website of Shandong Luneng Taishan Football Club based in Ji'nan, east China's Shandong Province. Together with two people from Spain and one from Argentina, whom he coincidently met in a restaurant, Li managed to complete the task, for which he won recognition from the club. "That is when I came up with the idea of starting my own translation business," Li recalled.
"The translation market at that time was not mature. Businesses had a great need for translation but they have limited channels to find translators. I think I can do something in this area and maybe I will become the Taobao in the translation industry," said Li, referring to the world's largest e-commerce platform.
He forecasts that the market demand for translation may be worth 2 billion yuan ($299 million) in 2016. "Making language no longer a barrier of communication" is Li's personal slogan on his social media account.
Wormhole Translation, established in June 2015, is gaining increasing attention and recognition in the industry. Companies like JD.com, one of China's e-commerce giants, and Baidu, the country's largest search engine, have engaged the services of the company, which has less than 20 staff.
"We started from scratch. By providing quality services, we are gaining more trust and resources," Li said. "Up to now, I've received help from over 1,000 people including venture investor Kai-Fu Lee, who gave me valuable advice and encouragement when I made up my mind to do this."
But Li's entrepreneurial journey hasn't all been plain sailing. "Many of my schoolmates thought I was crazy or a show-off," Li noted, shrugging his shoulders. "My parents are average people from a third-tier city, and they didn't even know what entrepreneurship is. Now, after seeing me being interviewed on television and being very busy and happy, they told me they are proud of me."
"I don't really care what other people think about me. I'm a dreamer and a doer. As a backpacker, Li learned how to face challenging conditions. "It's the same as starting up a business. Even if all I heard is 'no,' I still believe in myself. Even if I fail, so what? I'm only 22, and there's a long way ahead of me. So right now, I'm not trying to be successful, but to chase my dreams and see what will happen."
After a long day of work, Li still devotes a lot of time to reading, sometimes until one or two o'clock in the morning. "Learning from great minds is a shortcut to growth," he said. Mentioning difficulty, Li said that for an entrepreneur, there's no real difficulty. When you face problems every day, they become a regular part of your life."
"Cease to struggle and you cease to live," he said, "I think this is something the millennial generation can all agree on."
Hard work
Unlike Ge and Li, living a less adventurous life is not a bad choice in the eyes of some young people born in the 90s.
According to a report jointly released by online job platform Xiangcao Employment and human resource consultancies in Shanghai and Beijing in May, people born in the 90s have already formed a majority of lower-level white-collar employees in China's large cities. The report also shows that white-collar workers born in the 90s tend to be rational about their career choices. Apart from salary, important factors affecting their decisions include industry, position and personal interests.
Zhang Yaping, a 26-year-old accountant at one of the world's top 500 companies in Shanghai, leads a fairly conventional life: she works eight hours a day and usually spends 40 minutes commuting.
"I'm pretty satisfied with where I am right now," Zhang said. "When I studied for my second degree in accounting, I had already mapped out a rough plan for my future career, and now I feel like I'm on the right track."
"I'm also working hard toward my dream of becoming a senior accountant. Accounting is very complicated, and it takes years of practice and experience to grasp the knowledge," she said. "I'm constantly pushing myself to become better at work. Right now, I'm preparing for the upcoming Certified Public Accountant Examination in October, which is very difficult and can take years to pass."
When asked how she feels about young people of her generation starting up a business or living "unconventional" lives, Zhang said, "I admire their courage. There are so many possible ways of life, and they are making their own choices."
"Different from previous generations, I think the millennial generation tends to make choices for themselves instead of being affected by their parents, or by society," Zhang noted. "We have independent thinking and hope to live our life the way we want."
Copyedited by Chris Surtees
Comments to luyan@bjreview.com