Students learn to use rhythm and natural elements to create music (COURTESY OF BAES)
The new concept "beautiful China," a more evocative and thematically expansive interpretation of the political buzz phrase "ecological civilization," is at present being imbued in the minds of students across Beijing's classrooms. Ongoing reforms seek to reshape education throughout basic primary and middle school curricula, ensuring that the young will develop the self-motivation and skills to reach their potential, as well as contribute to a healthier and ecologically-informed city, country and world.
Evidence of the success of relevant efforts was on display at a Spring Exchange Day event in an apartment compound in Chaoyang District on May 9, where old newspapers and used plastic bottles could be exchanged for a green plant or some organic beans.
Participants were predominantly seniors, the one exception being a middle school boy who, after removing bottles from his knapsack, went back to his apartment and brought down a large bag, containing even more plastic receptacles. "We all need to do what we can to protect the Earth," he said when asked why he had done this.
A new paradigm
Under Beijing's curriculum reform program, students are encouraged to adopt a problem-solving approach to classwork. Working in teams, they discuss and test proposed solutions before sharing their findings with other teams. Many students have voluntarily opted to work on problems related to environmental pollution.
At Fangcaodi Primary School, this method was used to tackle the issue of indoor pollution. Many germane questions were raised, among them, "Does it make a difference what kind of water families put in their humidifiers?" Teams of students tested different kinds of water and then compared and analyzed their results. Their conclusion? A resounding yes!
Beijing's education authorities expect students who can think and develop their interests, who want to help their city and the planet at large, and who can articulate this both verbally and in writing. How effective the new curriculum is remains to be seen, but the Beijing Academy of Educational Sciences (BAES), tasked with this initiative, is taking important steps to achieve success.
This experiential approach is not only limited to environmental education but also is part of a broader push. Back in September 2014, Beijing launched a new program for primary and middle school students known as Beijing City Resources for Experiential Learning (BCREL), which specifies that 10 percent or more of class hours across all disciplines be taught outside of the classroom environment in the rich resources of the city.
Classes will be held in Beijing's museums, enterprises, laboratories, universities and environmental centers located in parks. Community resources will also become classrooms for district schoolchildren. This new program is now an integral part of the public school curriculum and its deliverables.
A research center has been set up composed of teachers and venue professionals who are working together to train educators to use the venues effectively, develop venue materials that can be used across the different disciplines and ensure that what students learn can be used in daily life. This center is also responsible for the application and evaluation of the program, in addition to teacher and student performances.
At present, BCREL venues are being established, and teachers are undergoing professional development in order to create concrete classroom activities they can use as models for their own teaching. Researchers are investigating how best to inspire a spirit of innovation in students. Teachers are considering how to support students' creative thinking and how to develop in them the practical skills needed to contribute to their communities.
Some of this new curriculum material is already in place and being evaluated in schools. Students undertaking this year's middle school examination in June, the zhongkao, were asked about how they felt rather than what they knew about certain subjects. Feedback about the change from mothers of schoolchildren has been positive by and large.
Jia Meihua, Director of Basic Education at the BAES, explained the thinking underlying the BCREL program. "While Chinese students do very well on tests, now we want them to come out of the education system with the capabilities necessary to use their education in practical ways that fulfill their potential." In short, the BAES wants to provide education that makes a student's intangible potential tangible.
Part of the program derives from American educator John Dewey's concept of "living as learning." As Dewey himself once put it, "Education, therefore, is a process of living and not a preparation for future living."
Contributing to society will inculcate in students a sense of appreciation, self-respect, local pride and responsibility, according to education experts.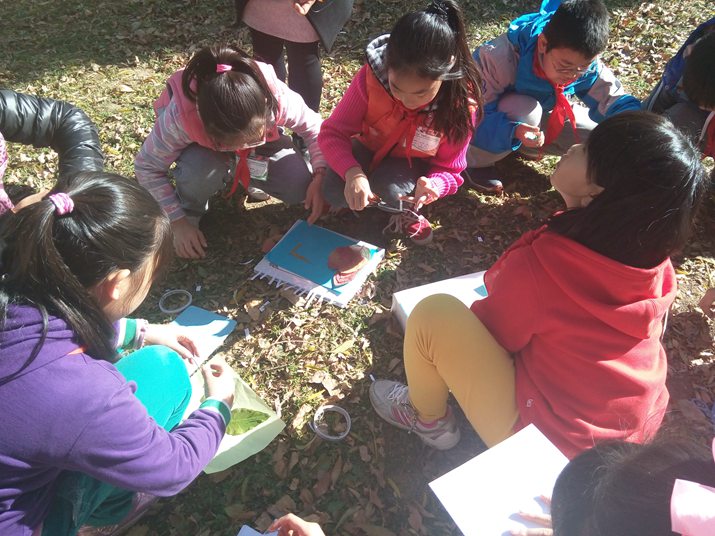 Students create handworks with fallen leaves in the Olympic Forest Park in Beijing (COURTESY OF BAES)
Professional development
In November 2014, the BAES asked schools in Chaoyang to carry out a case study at the Olympic Forest Park, a large nature preserve that occupies a large part of the Olympic Park for the 2008 Games. It began with a workshop with the theme "Using Your Five Senses to Create Symbiosis." The workshop, with the participation of American and Chinese teachers, was based on the Chinese principle of harmony between human beings and nature.
Could connecting with this Chinese principle help students reconnect with the natural world, and thus inspire them to contribute to their community?
The American teachers created an exciting exploration of the five senses in nature and the pros and cons of symbiosis. Though Chinese teachers appreciated this fresh approach, as the project was a yearlong case study, they organized their program differently, using the Beijing Education ESD Curriculum Guide. Students were free to choose whatever medium--painting, poetry, music or science--they wished in order to connect with nature. The program proved to be a big success, producing profoundly moving poems, artistic works on the forest floor and an enchanting concert on the water. Students were clearly moved by the experience.
In May, another professional training session took place, in which six teams of teachers acting as students were asked to create a classroom moment. Each team was made up of people from various disciplines. Their class objective was to select a particular display, discuss it from the perspectives of their specializations, and then create a presentation capturing its interdisciplinary value but also elements that would interest students.
Key to this process was the following question: "How might a student use it in a practical way to help their own life and contribute something to others?" Finally, the six teams would make presentations and share their perspectives.
The soil exhibit group did a remarkable job of educating themselves about their subject, coming to the realization that soil is something that no living thing can do without. So inspired, they realized that the crux of how to encourage students to reconnect with the matter that lies practically speaking, under their very feet where they are standing. This group captured the essence of the new curriculum: encouraging innovative thinking by being inspired themselves and practical applications the student can take home and remember in daily life.
"Beijing has a wealth of natural and human resources. We want to open the school gates and integrate the resources inside and out," explained Liu Ling, a member of the coordinating team.
This 2014-15 period is seeing more and more of the program introduced in schools and educational venues. This is a practical way to ensure all students experience an education that inspires and guides self-motivated learning. If 4 million students experience this for 10 months a year for 12 years, could a new eco-civilization be created? Only time will tell.
The author is an American educator researching the development of environmental education in Beijing
(Qi Ping contributed to the story )
Copyedited by Eric Daly
Comments to yanwei@bjreview.com