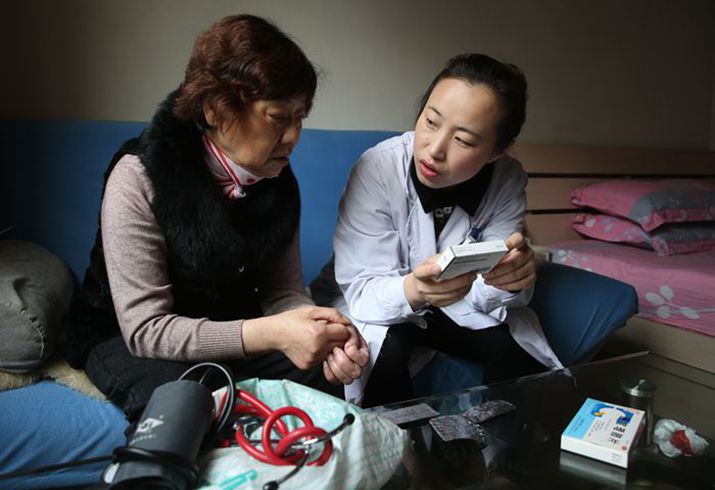 A family doctor in Jing'an District of Shanghai instructs a community resident on medicine dose on June 6 (XINHUA)
Liu Wei, a doctor from Gumei Community Health Service Center in Shanghai, named himself "Mr. Runner" in a WeChat group he set up for the community residents who have contracted him as their family doctor.
"The name means anytime they need me, I will run to help," Liu said. The 100-plus patients in his group are all from Gumei Community and have signed a home medicine contract with Liu. Liu, according to the contract, will take care of their medical needs and perform regular medical tests.
"Family doctors used to be regarded in China as a privilege for wealthy people, but it now goes into regular families," Liu said. "The service is inexpensive; every time, they just need to spend less than 10 yuan ($1.54) on average for the service."
Doctors nearby
The service is even cheaper in Donghong Village, Dafeng District, in east China's Jiangsu Province. After paying 100 yuan ($15.4), villagers can get regular physical exams, including blood pressure and blood sugar tests, for the whole year.
Cai Jinfeng, a 66-year-old resident, has been suffering from high blood pressure for more than 10 years and had to go to a comprehensive hospital in a bigger town for a physical exam. Things have changed a lot since she signed up for a family doctor service early this year.
"It is quite convenient, and my husband doesn't have to take me to the hospital anymore," Cai said. "The family doctor can also adjust the medicine dose based on the test result every time."
Cai's son, who works away from home, can receive a medical report from the doctor every month. "This has largely relieved our son from worrying about our health, and this is also why many villagers chose to get the service, as many of the young are working out of the village and want to get updated about the health conditions of their elders at home," Cai said.
In 2013, Dafeng became one of the 15 pilot rural areas for contracted family doctor services in China. Now, there are thousands of rural households in the district with their own family doctors.
"There is a growing number of aging people in Dafeng," said Xu Xiangdong, Director of the Health and Family Planning Commission in Dafeng District. "Most of the senior people have chronic diseases such as high blood pressure and diabetes."
On June 6, the medical reform office under China's State Council, the National Health and Family Planning Commission, and four other agencies issued a guideline on promoting family doctor services.
According to the guideline, Chinese cities that are piloting public hospital reform will introduce family doctor service contracts in 2016.
By 2017, more than 30 percent of the entire population, including over 60 percent of priority groups—seniors, pregnant women, children, the handicapped, patients with chronic diseases, and people with severe mental disorders—will be able to enjoy contractual services from family doctors.
By 2020, family doctor services will be extended to the entire population, and more convenient health services will be offered to residents who have signed contracts with family doctors.
"The goal of the family doctor service is to give every family access to a doctor, who is also a friend of the family. When residents need any medical help, they can easily find and ask the doctor first, instead of heading to large hospitals and waiting in long lines for treatment," said Fang Laiying, Director of Beijing Municipal Commission of Health and Family Planning.
"It is a crucial step forward for medical reform in China," said Zhu Hengpeng with the Chinese Academy of Social Sciences. "To set up a hierarchical medical system is the key for medical reform, and a complete family doctor system is a must-do project for it."
"Now, chronic diseases are the main problems in our country," said Zhu Kun, a researcher at the Chinese Academy of Medical Sciences. "One third of adults are suffering from high blood pressure, and about 100 million have got diabetes."
According to Zhu Kun, taking care of patients with chronic diseases needs continuous medical assistance and long-term care. "Family doctors are perfect for this."
"As we are more familiar with the community's residents, we can make a diagnosis based on their emotions, family issues or other elements that might cause the problem, rather than [based on] superficial symptoms judged by unfamiliar doctors," said Yuan Zhimin, a family doctor in Xinhua Community Health Service Center in Shanghai.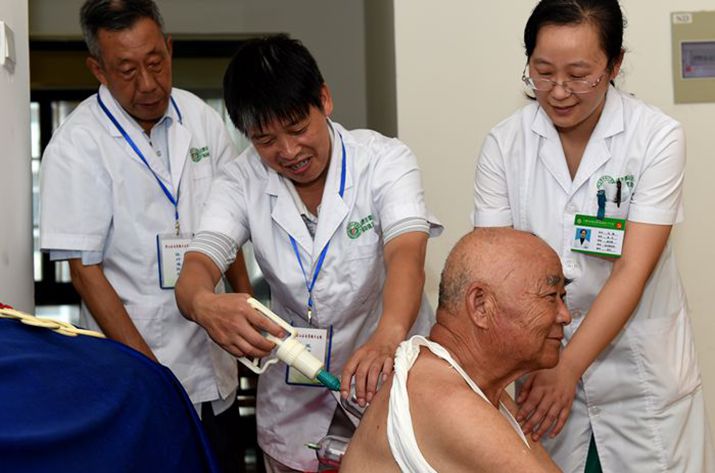 A senior in Wawu Village of Hefei City, Anhui Province, gets free treatment by family doctors on July 30, 2015 (XINHUA)
Tumbling On
Actually, contracted family doctor services were provided in Beijing in 2011. So far, though, only 33 percent of Beijing residents have signed contracts, and among them, quite a few never turned to their family doctors, according to figures from Beijing Municipal Commission of Health and Family Planning.
"There are two extreme attitudes toward family doctors. One regards family doctors as experts for anything and keeps asking them about any minor problem. The other simply ignores family doctors, as they don't believe the doctors are professional enough," said Zhu.
"Family doctors are also called general practitioners," said Cui Guangwei, a general practitioner from Puji Town in east China's Shandong Province. "When we explain the word to patients, many doubt our ability, as for them, general means not professional."
This misunderstanding drives patients to swarm to comprehensive hospitals in big cities. "It is a waste of medical resources, as it takes at least five years of professional education for a student to be a general practitioner," Zhu said.
Xie Jibo, a Chinese-British who worked in England as a family doctor for more than 15 years before he came to China in 2006.
"Working as a community doctor in China needs high career enthusiasm, as the pay is quite low and the work is very laborious," Xie said.
Xie now works in Shuangyushu Community Health Service Center in Beijing in addition to running his own family doctor clinic. "The relation between community residents and family doctors in China is easily the most harmonious one I've ever seen," Xie said. "The family doctors are treated like family members. They invite us to have dinner at home all the time and give us fresh vegetables they plant themselves. It feels so warm."
Despite this, the low salary has made it an unappealing career and a field that can hardly retain talent. This is one of the reasons why Xie opened his own clinic and gave high pay for the employed doctors in his clinic. "I want to prove through my efforts that this is a worthwhile career and deserves financial reward," said the doctor.
For Zhu Kun, a researcher at the Chinese Academy of Medical Sciences, the key to solving this problem is to make medical staff become "free agents" instead of being bound to a specific hospital.
"When doctors start to move, the medical system will be activated," said Zhu Kun. "Some doctors from comprehensive hospitals can also work in community health centers as long as time allows. This will largely bring convenience to both doctors and community residents."
Beijing's Chaoyang Hospital has taken the lead in this regard. It has assigned doctors to provide medical assistance at seven community healthcare centers in the city's Chaoyang District.
"In the past, when we received patients with severe symptoms that we couldn't deal with at the community level, we could only send them to a bigger comprehensive hospital. But now, the doctors from Chaoyang Hospital have helped a lot with this [type of case]," said Jin Wei, a family doctor at Liulitun Community Health Service Center.
Copyedited by Chris Surtees
Comments to yuanyuan@bjreview.com