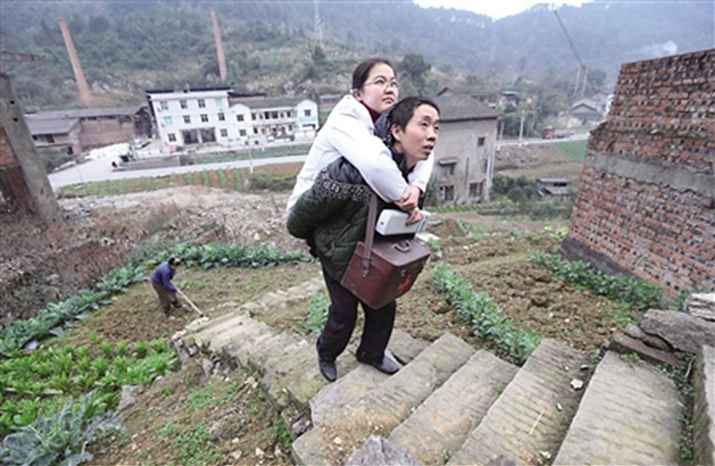 Li Juhong's husband Liu Xingyan carries her to see elderly patients unable to leave their homes (XINHUA)
Li Juhong, 37, who lost her legs in an accident when she was just four years old, now practices medicine in a clinic in Wadian Village, her hometown in southwest China's Chongqing Municipality. Whenever she needs to move around, Li manages to "walk" through the use of both her hands and a wooden stool which supports her body.
Villagers are accustomed to the unusual sight since Li has treated over 6,000 patients in and around Wadian Village for the past 15 years.
A doctor's resolve
Li lost her legs in March 1983 when she ran out onto a road and was caught under the wheels of a truck while on her way to kindergarten. Both legs had to be amputated. But by the age of eight she had once again learned to walk with the help of her hands and a wooden stool.
Growing up, Li was determined to become a doctor in order to help people. She eventually studied at the Chongqing-based Jiangjin Special Vocational Education College for four years and got an associate diploma in medicine. In 2001, a year after graduating, she was introduced to work at the village clinic.
Nonetheless, Li still encounters many difficulties in her work as a result of her disability. For example, the wooden stool that helps her move has to be replaced at least once a year. So far, 24 stools have been worn out throughout her 15-year-long career.
"Whenever I suffered setbacks, I would cheer myself up by silently repeating the saying that 'God helps those who help themselves'," Li said.
Li's workday
- 7:30 a.m. Setting out
The provincial route 110 bypasses Wadian Village into the distance. The village, which is is ensconced in the Huaying Mountains, is threaded with paths that snake up and down the village. Li's house, a two-story brick building, stands at the edge of the settlement.
At 7:00 a.m., Li washes and dresses herself up. After having breakfast, she asks her 12-year-old son Liu Liguo to clean up and waits for her husband Liu Xingyan to carry her out for work—it's tough for Li to go around the rugged village terrain by wheelchair.
Li married the two-years-older Liu in early 2002. Liu had to quit his job at a glass factory in order to tend to his family's needs.
Although the village clinic is 500 meters away from Li's house, it would take Li about half an hour to get to the clinic if she were to go by herself.
At 7:30 a.m., the couple depart from their home.
- 8:30 a.m.-12:30 p.m. Treating outpatients
When sitting behind a table and wearing her uniform, Li is no different from other doctors. She is proficient at taking pulses, making diagnoses, and treating patients.
Wadain Village has more 300 households and accommodates over 1,000 villagers. Li has helped almost every one of them throughout the years.
Li received five patients that morning and accomplished all medical treatments without any assistance.
- 2:00 p.m.-5:00 p.m. Follow-up visits
The village has more than 250 senior residents over the age of 60. Some of them are immobile, and cannot travel to see their doctors. Therefore, making house calls is a routine part of Li's job.
After having lunch, Li is ready to go around the village to check up on elderly people. At 2:00 p.m., Li's husband carries her and the stool on his back as well as a medical kit on his neck, starting the tour.
"I am getting older now, so carrying my wife on my back is no longer an easy task for me. But whenever she has calls to make, I will be there," said Liu.
By 5:00 p.m., Li had visited four patients and offered check-ups to three elderly people, free of charge.
A doctor's legacy
Rong Shunqiong, 62, repeatedly expressed her sense of guilt toward Li, her firstborn daughter. She claimed that if she had escorted Li to the kindergarten that day, Li would not have been hurt. If her family had also been well off at that time, Li's legs might have been saved.
Rong wept in private whenever she saw Li suffering from pain or being laughed at in her youth. Fortunately, Li has always behaved well and is independent.
Rong lives next door to Li in order to take care of her when her son-in-law is not available. And although Rong's husband died several years ago, she refuses invitations to live together with her other children and prefers to live alone. Though Li is quite independent, she still needs help sometimes, Rong said.
"I want to be a doctor, too," said Li's son. Though he often suffered from bullying due to his mother's disability, he is proud of his strong-willed mother and wants to follow her footstep.
Li's monthly salary is 1,500 yuan ($230). She hopes that she can get access to further medical education in the future.
""To be honest, if I were her, I wouldn't have kept going for so many years," said He Daishu, Chief of the Qingping Town Hospital.
"I just did what I felt I had to do," stated Li. "Even if I'm not honored for my work, I would still continue to do my job as a rural doctor."
Copyedited by Bryan Michael Galvan
Comments to linan@bjreview.com