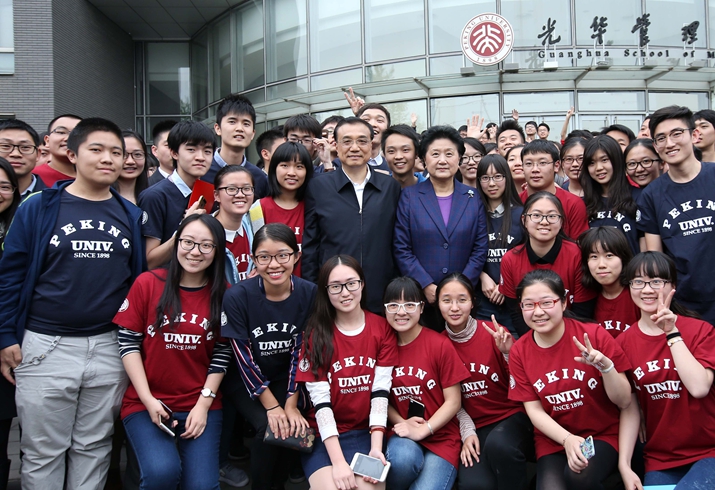 A group photo of Premier Li Keqiang and students from the Guanghua School of Management, Peking University, on April 15 (XINHUA)
On April 15, Chinese Premier Li Keqiang visited China's two most prestigious universities, Tsinghua University and Peking University, a week before the former celebrated its 105th anniversary.
During his trip, the premier emphasized the importance of establishing more first-tier research labs and expanding academia in the country.
At Tsinghua, Li inspected the School of Life Sciences and the Alzheimer's Treatment Research Center headed by Shi Yigong, Dean of the school and a world renowned biologist of protein X-ray crystallography. Shi gained his PhD at the John Hopkins University in the United States and is also foreign associate at the U.S. National Academy of Sciences.
Li pointed out that a chasm still exists between China and leading nations of higher education. "There is a lot China could learn from developed countries," he said, "our rules are still too rigid for granting research funds, making China less attractive to first-class talent."
He visited Peking University on the same afternoon; his first since becoming premier in 2013. He is an alumnus of Peking University, holding a bachelor's degree in law and a PhD in Economics, having been among the first cohort of university students to graduate after China resumed its national college entrance exam system in 1977.
When visiting the National School of Development at Peking, headed by Justin Yifu Lin and providing pioneering economic research related to key issues in China's development, Li specifically mentioned the school's New Economy Index, which reflects the proportion of the new economy compared to China's total.
"Development of the new economy requires more solid theoretical support, and better innovation," Li pronounced.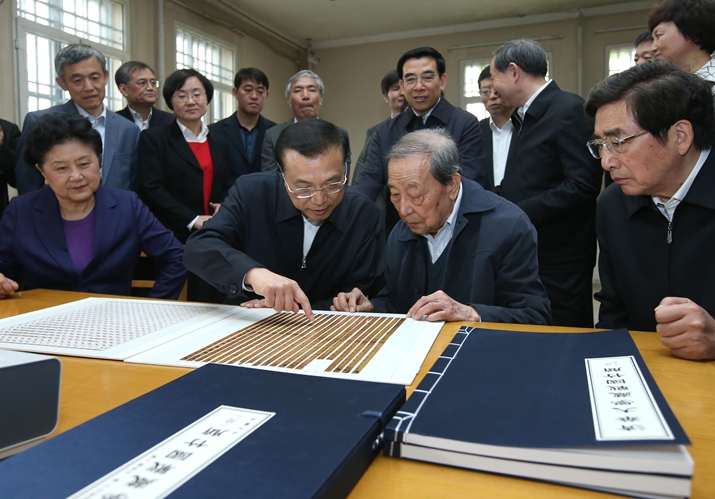 Premier Li Keqiang inspects the protection and research work done on valuable bamboo slips, which were made during the Warring States Period (475-221 B.C.), in Tsinghua University on April 15 (XINHUA)
Straight after the visit he held a two-hour symposium on higher education reform, telling the 53 university heads in attendance that innovation was paramount in driving the country's development and both state-run and private schools will receive government backing.
"Breakthroughs in establishing global reputations will enhance the competitiveness of Chinese universities in international academic circles, in turn bringing new momentum to economic growth and cultural prosperity," he said.
In the latest university world rankings by Times Higher Education (in the UK), published last week, Tsinghua and Peking gained 8 and 11 places respectively from last year to occupy 18th and 21st place, while in total five Chinese universities made the top 100, up from only two from last year. This underscores a promising trajectory for higher education in China.
"Higher learning institutions should have more decision-making powers for their own operations and cut outdated regulations," Li said. He added that, "scientists should also gain more of the proceeds from their discoveries, and have a greater say in how they are used."
During a later trip to Lushan County in southwest China's Sichuan Province, a region which suffered a devastating earthquake three years ago, the premier visited Sichuan University's Polymer Material Research Lab in Chengdu.
Pioneering projects on research and innovation took the lion's share of Li's attention, which is aligned with his emphasis on fostering new engines of growth and upgrading traditional industries for the Chinese economy.
Additionally, employment appears to be a pressing concern for Li: China will have 7.65 million new graduates by June and harnessing their potential in the labor market could prove challenging.
Employment statistics are considered a major indicator of China's economic wellbeing against fierce financial headwinds. Last year, a strong performance in the service industry was largely responsible for the creation of 13 million new jobs. This is on par with the previous year, albeit at a lower rate of growth. University reform has the potential to boost the country's economy.
The premier's recent visit to China's elite universities underlines the government's commitment to higher education and the quintessential role it will play in the nation's economic transition. The growth of China's number of world-leading universities is a good indicator of a nation's development, since they regularly inspire cutting-edge innovation capable of stimulating positive change.
Copyedited by Dominic James Madar
Comments to zanjifang@bjreview.com