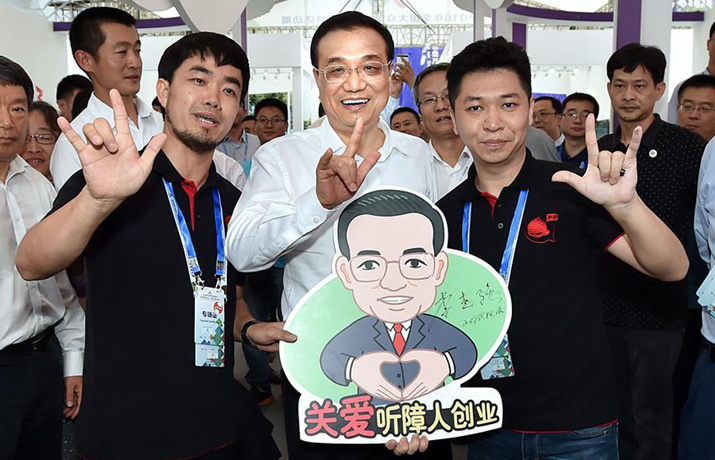 Chinese Premier Li Keqiang (center) poses for a photo with entrepreneurial team members at the main venue of the National Mass Innovation and Entrepreneurship Week in Shenzhen, south China's Guangdong Province, October 12, 2016 (XINHUA)
Premier Li Keqiang has called for more efforts to foster a friendly environment for innovation and entrepreneurship in a fresh show of support for the country's start-ups.
In a visit to the southern cities of Shenzhen and Dongguan from October 12 to 13, Li attended National Mass Innovation and Entrepreneurship Week activities and the Global Entrepreneurial Leaders Forum, where he encouraged bold imagination and solid work from businesses to translate their ideas into concrete outcomes.
During the tour, Li inspected a number of high-tech products such as monorail cars and precision moulds.
The premier also chaired the Global Entrepreneurial Leaders Forum, during which business leaders, including Apple CEO Tim Cook, Alibaba founder Jack Ma and Tencent CEO Pony Ma, shared their views on China's innovation.
Li hailed innovation and entrepreneurship as an important part of supply-side structural reform and a strong support for fostering new growth momentum.
In the Internet age, innovation and entrepreneurship can help produce novel and diversified supplies, entailing huge potential for China's development, Li said.
He said the government will further streamline administrative powers and improve services to ensure a fair business environment for market entities.
In a visit to Han's Laser Technology Industry Group, Li praised the company's efforts to upgrade equipment manufacturing and urged further breakthroughs to enhance the quality of Chinese manufacturing.
He called for further efforts to deliver China's "Made in China 2025" blueprint, which aims to shift the country away from low-end manufacturing to more value-added production.
"We need to accelerate the fostering of new growth drivers to gradually make them play a leading role in facilitating the transformation of traditional industries," Li said.
China has long been seen as the "world's factory," churning out vast quantities of low-quality goods. But with intensified government efforts, such as financial support and administrative assistance for start-ups, China is closing the innovation gap and is hoping it will invigorate the broader economy.
(Xinhua News Agency October 13, 2016)