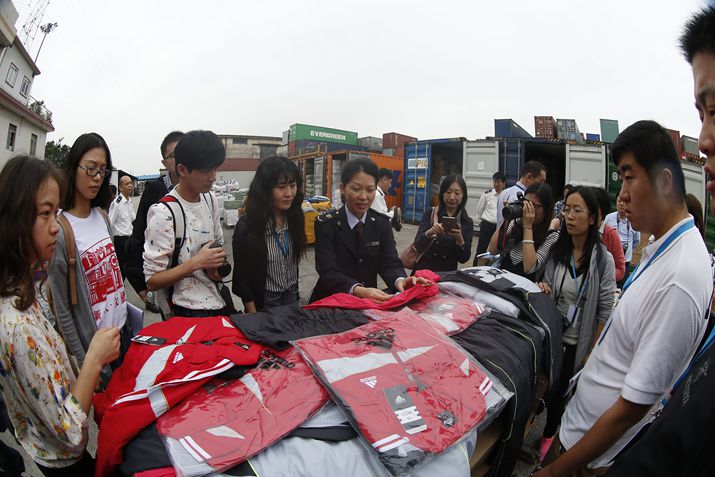 Liu Mei, Deputy Director of the Huangpu Entry-Exit Inspection and Quarantine Bureau of Huangpu District in Guangzhou instructs journalists on how to identify counterfeit products on November 10 (LI BAOJUN)
The Baiyun Motorcycle Parts Wholesale Market in Baiyun District of Guangzhou, south China's Guangdong Province, is the largest of its kind in China. The market, which was founded in 1999 has over 700 vendors, and most of its products are exported to Africa, Southeast Asia, South America and the Middle East. Yet, the market's reputation, like thousands around China, was plagued by the existence of fake and shoddy products.
The situation has improved dramatically since managers of the market started to work together with local government departments to crack down on fake products in recent years.
"On the one hand, we have joined forces with the local intellectual property and industry and commerce authorities to uncover bad products; on the other hand, we have invited officials from industrial and commerce and trademark authorities to teach vendors how to register their own brands in order to prevent infringement," said Zeng Rilang, a manager of the market, in an interview with Beijing Review .
"In the meantime, the rent contract signed between the vendors and the market stipulates that once the vendors are found to produce fake or shoddy products, the managers are entitled to end the contract," Zeng added.
Yu Guoping, a vendor who primarily sells to African customers, told Beijing Review that his business has greatly improved since he registered his own brand YGP. He now sells 300,000 to 400,000 ignition plugs alone every year and has over 20 stable customers in Africa. "In the past, many African customers did not know how to find my products. Now they can look for the YGP brand," said Yu.
Still, since Yu started to engage in the motorcycle parts wholesale business in 2002, he has encountered multiple cases of infringements upon his intellectual property rights (IPRs). Under such circumstances, he would resort to the market managers or local department of industry and commerce to safeguard his legal rights.
In April 2011, Guangzhou Intellectual Property Bureau investigated and solved a landmark case of counterfeit piston rings and punished the offenders involved. In this case, the rights of IPR owners were secured and the press around its success has shed light on the importance of IPR protection in the region. Honest vendors hope this will be the first case of many.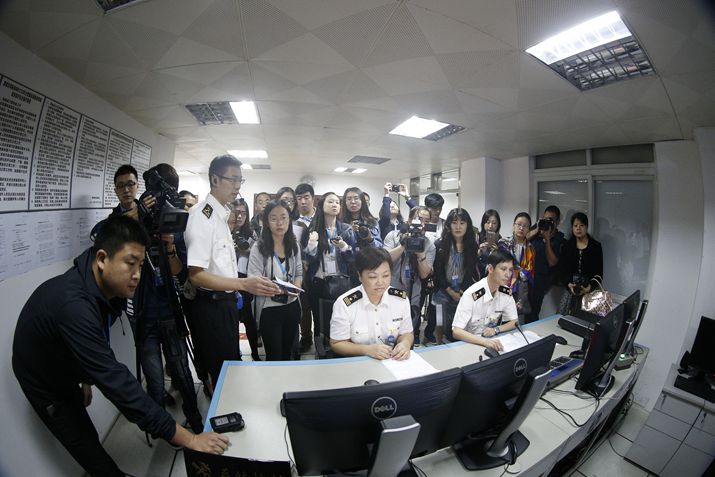 An official of the Guangdong Sub-Administration of China Customs explains the process of scanning containers on November 10 (LI BAOJUN)
Joint efforts
In recent years, China's foreign trade has registered rapid growth and the quality of exported products has improved. Made-in-China products have satisfied various needs in foreign markets in a range of sectors and product lines. At the same time, however, counterfeit products have not only harmed the interests of local customers, but also damaged the international image of Made-in-China products.
As a result, the Chinese Government launched a campaign against IPR infringement and counterfeits in April. The campaign requires relevant government departments to carry out special campaigns against fake products with a focus on exports to Africa, Arab countries, Latin America and other countries and regions along the Silk Road Economic Belt and the 21st Century Maritime Silk Road.
"The campaign is aimed at improving the image of Made-in-China products, expanding the international market for these products, and promoting the modernization and transformation of Chinese companies," said Chai Haitao, Deputy Director of the Office of the National Leading Group for Combating IPR Infringement and Counterfeiting.
Guangdong is a large manufacturing base in China and its value of export and import ranked first in China in the first half of this year. It consequently faces heavier pressure in fighting fake exports. Following the requirement of the Central Government, relevant departments in the province have stepped-up efforts to crack down on inferior exports.
Fan Wujiang, Director of the Huangpu Entry-Exit Inspection and Quarantine Bureau of Huangpu District in Guangzhou said, "As consumers in the emerging markets have limited buying power, low-priced counterfeit products of bags, clothes, home appliances and daily necessities are being exported to these markets in large volumes." Fan said that his bureau has placed an emphasis examining products exported to these markets and taken effective measures to discover and destroy illegitimate products.
From January to October, the bureau found 53 cases involving IPR infringements and counterfeits. Fan added that additional support should be given by multiple government departments to help fight imitations.
Guangdong Sub-Administration of China Customs has started to employ advanced technological devices to detect illegal goods: the H986 machine is used to scan the goods stored in containers. The customs staff then analyzes the images derived by the machine and checks suspicious goods themselves. Guangdong Sub-Administration of China Customs has dealt with 483 cases of IPR infringement and counterfeits since the campaign was launched and reports that it has successfully prevented fake goods from being exported to 45 countries and regions.
Improved awareness
Apart from government campaigns, a key to getting fake products out of the market is to develop a sense of IPR protection among producers and vendors. Guzhen Town of Zhongshan, Guangdong, has experienced this firsthand. As the largest production base for lights in China, Guzhen held an international lights exhibition several years ago and invited renowned designers from Italy to take part in the exhibition. However, many Italian designers complained after the show that their designs had been imitated and dismissed Guzhen as unqualified to host an international show.
As local government officials realized the significance of IPR to the development of the local lighting industry and its international credibility, the town established a center which offers fast services of brand registration and IPR protection in 2011. Wei Yuqiong, who works with the center, said that since the Zhongshan Intellectual Property Rights Bureau has entrusted the center with administrative rights and an IPR court has been established in the center, an IPR infringement case which used to take half a year on average to solve, now takes no more than a month.
A local lighting company called Kinglong has attached great importance to IPR protection. The company established an office in 2006 that is exclusively in charge of patent application and IPR protection. The company set up a team of lawyers last year to carry out a campaign against infringements of its IPR in the Guzhen lights market. Over 30 cases involving infringement of the company's IPR are now being handled at the aforementioned center and the Guangzhou Intellectual Property Court.
The strong awareness of IPR protection has enabled Kinglong to constantly come up with new products without fear that their designs will be stolen. The company has won multiple prizes in light design competitions internationally, and now sells more confidently in both domestic and global markets.
"Now many companies in Guzhen have employed designers from overseas. Because their awareness of IPR has been raised, foreigners are more willing to cooperate with them," said He Shengqiang, a local official who is in charge of IPR protection. "A stronger sense of IPR will help Guzhen lighting industry go global and brighten the international market," He added.