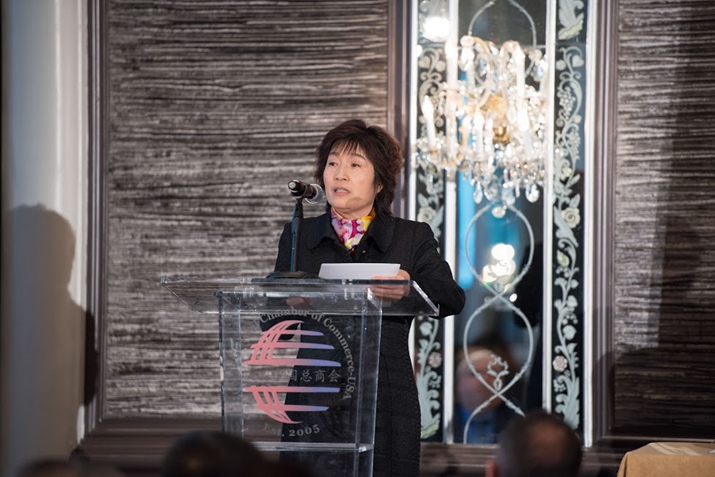 Ambassador Zhang Qiyue, Consul General of Chinese Consulate General in New York delivers a speech on the forum on April 11 in New York (COURTESY OF CGCC)
China's intellectual property right (IPR) protection has increased dramatically in recent years. Being the two leading economies of the world, China and the United States have agreed to deepen cooperation and collaboration on IPR to benefit brands from both sides.
On April 11, the China-U.S. Intellectual Property Cooperation Dialogue & the Chinese Brands Going Global Forum, hosted by the China General Chamber of Commerce – U.S.A. (CGCC) and CGCC Foundation, was held in New York. More than 250 Chinese and U.S. business executives, lawyers, and government officials attended the forum. The panelists exchanged insights on the latest developments in Intellectual Property (IP) protection in China and the U.S. and global branding strategies of Chinese companies.
Ambassador Zhang Qiyue, Consul General of the People's Republic of China in New York said, "One of the major goals of China's 13th five-year-plan is its economic transition, in which innovation is the key. Therefore, the Chinese Government strives for continuous improvementon intellectual property policies. It has also committed to creating a more transparent business environment to protect intellectual property rights."
On behalf of the CGCC, Xu Chen, Chairman of the CGCC and President & CEO of the Bank of China USA, said in his opening remark, "China's 'new-normal' economy is moving towards technological innovation and consumer spending. And, protecting intellectual property rights has become one of the largest challenges faced by Chinese multinational corporations." He pointed out the major IP-related problems faced by Chinese companies in the U.S., "many Chinese companies lack experience in managing complex IP-related businesses, and a clear understanding of the vast and complex U.S. intellectual property legal framework, which can lead to challenges in the daily operation of their businesses in the U.S.", He also stressed that dialogue and cooperation on IP issues between both governments will transform IP-related challenges into advantages for both Chinese and U.S. companies.
Patrick Santillo, Deputy Assistant Secretary of Commerce for China at the U.S. Department of Commerce, suggested that, "an open and fair investment environment" and "an improved IP protection system," are very important. He believed constructive dialogues between businesses and governments from both countries are also imperative in understanding the legal system and implementation of IP regulations.
Zhang Xiangchen, Deputy China International Trade Representative, said, "China is still in the primary stage of intellectual property protection, but the United States has much more experience in this field… An enhanced cooperation will provide Chinese companies with great opportunities to learn from their U.S. counterparts." He suggested that both parties should expand coordination on IP issues through current dialogue mechanisms, and finally promote China-U.S. economic and trade relations at the Government level." He also warned that overprotection of IP will hurt regular trade between the two sides.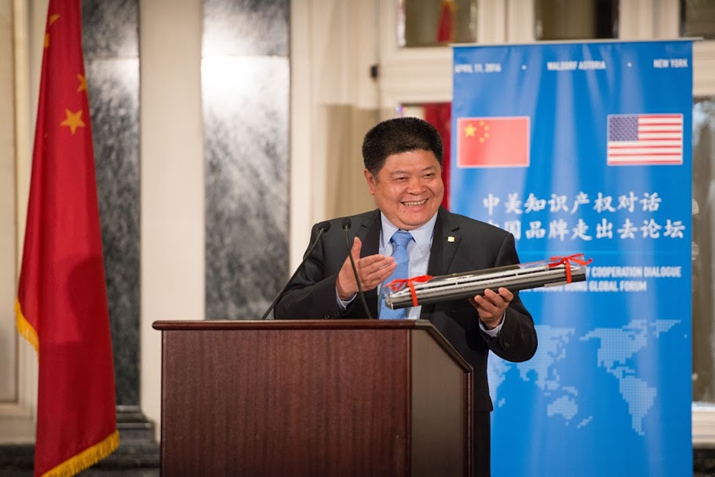 Yu Weiping, Vice President of China Railway Rolling Stock Corp Ltd. (CRRC) shows a model of CRRC's high-speed railway car to the attendees during the forum on April in New York(COURTESY OF CGCC)
Yu Weiping, Vice President of China Railway Rolling Stock Corp Ltd. (CRRC), sharedthe history of CRRC's business development in the U.S. market to the audience. According to Mr. Yu, CRRC's success is due to the company's strong competitiveness, good customer service and corporate social responsibility. In the end, he called for all Chinese and U.S. companies to work together on reconciling Chinese and American dreams, and to benefit the people of both countries. In March, CRRC won its second major contract in the United States, after the Chicago transport authority accepted its $1.3 billion bid to build 846 rail cars for the city.
Founded in 2005, the China General Chamber of Commerce – U.S.A. has been playing a fundamental role in helping Chinese investment in the U.S., supporting legal rights and interests of members, and enhancing cooperation between Chinese and U.S. business communities. The CGCC's extensive membership includes numerous companies from both China and the United States, including forty Fortune 500 companies.
(Reporting from New York)
Copyedited by Dominic James Madar
Comments to liuyunyun@bjreview.com