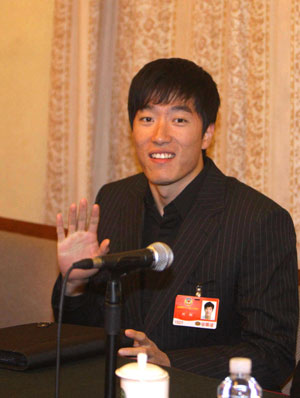 Chinese hurdler Liu Xiang, who is a member of the 11th National Committee of the Chinese People's Political Consultative Conference (CPPCC), attends a panel discussion in Beijing, March 11, 2009. (Xinhua/Xing Guangli)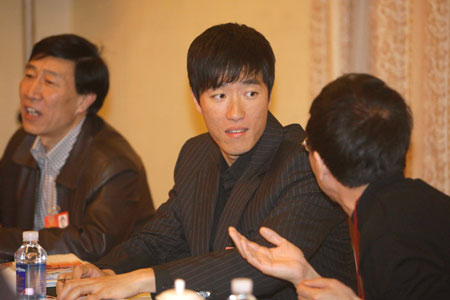 Chinese hurdler Liu Xiang (C), who is a member of the 11th National Committee of the Chinese People's Political Consultative Conference (CPPCC), joins a panel discussion in Beijing, March 11, 2009. (Xinhua/Xing Guangli)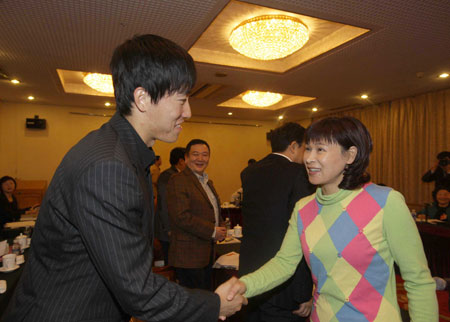 Chinese hurdler Liu Xiang (L) shakes hands with Ye Qiaobo, both members of the 11th National Committee of the Chinese People's Political Consultative Conference (CPPCC), prior to a panel discussion of the Second Session of the 11th National Committee of the CPPCC in Beijing, March 11, 2009. (Xinhua/Xing Guangli)
Liu Xiang is back at the ongoing National Committee of the Chinese People's Political Consultative Conference (CPPCC) in Beijing on Wednesday.
Although he was elected as a member of the CPPCC last year, it is Liu's debut at the conference, albeit one week late because he just flew back from Huston after three months because of surgery and rehabilitation in the United States due to a foot injury.
Surrounded by the expectant media outside the meeting hall where members of the sports field would join in a group discussion, the former Olympic champion and world record holder said he was a bit of nervous as a newcomer to the conference.
A copy of Liu's handwritten statement was distributed by a hostess to the waiting media when he was in the hall for his session. The paper explained why he was absent during the past week and described his recovery while thanking those who cared and supported him.
"I feel proud of being a CPPCC member to participate in the deliberation and administration of state affairs. I will fulfill my commitment with the joint effort with all the members," he said in the statement.
The 26-year-old, however, was modest enough to ask for help and advice from other members, saying "I am so young that I need to learn first."
Doubts over his membership with the CPPCC were in the air because of his absence since the opening of the conference last week. Responding to the question of "Did you come to the conference due to the external pressure," the athlete said no.
A hotel staff member said Liu looked tired and "spiritless".
The foot injury forced the defending champion Liu to withdraw from the 2008 Beijing Olympics last August after he limped out of the Bird's Nest in the first round of the men's 110m hurdles, bitterly disappointing home fans.
The hurdler returned his hometown Shanghai from the US last Sunday for a short treatment and rehabilitation training. The World Championships in Berlin is five months away and Liu's chances of appearing are still unknown.
(China Daily March 11, 2009)