Zhong Nanshan, a leading Chinese specialist in respiratory diseases and a deputy at the 11th National People's Congress (NPC), told Beijing Review on the sidelines of this year's session that he is once more going to address China's top legislature on healthcare system reform.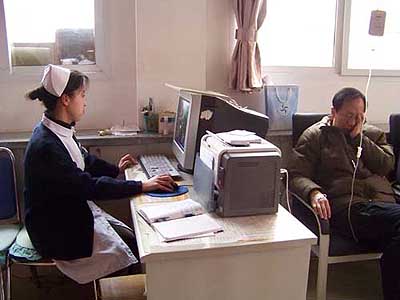 A patient (right) receives an infusion at a community medical center on Zhanlan Road in Beijing's Xicheng District 

Zhong made a speech at last year's NPC session advocating the improvement of Chinese medical services as preparation for China's medical reform.

During the interview with Beijing Review, Zhong listed five key issues for healthcare system reform, of which the most important is to improve medical services at the community level. He said that China needs to build a well-functioning community clinic network nationwide. "If this problem can be solved, a large number of other problems can be solved too," he said.

In China, big hospitals are often overcrowded while small hospitals usually have only a few patients. This problem has existed across China for a long time.

Chen Yue, a 27-year-old medical intern at Peking Union Medical College Hospital, said that facilities at community clinics are backward and their medical staff is substandard, which explains why many patients would rather queue in long lines than go to a community clinic.

"There are many tests that community clinics cannot perform," Chen said. "Some clinics can't even do blood tests." He also said some patients have no faith in the treatment they receive at community clinics, believing that doctors at big hospitals are more experienced and skilled. These patients figure it's better to pay a higher bill at a big hospital to avoid the trouble of visiting a community clinic three or four times for the same disease. Moreover, medical insurance policies allow people to choose among different hospitals and community clinics.

Patients are not the only ones to shun community clinics; graduates of prestigious medical schools are reluctant to work in them as well. "Community clinics provide limited room for development of one's medical career," Chen said. Based on his experience, Chen said, many doctors at community clinics in Beijing are either junior college graduates or graduates of lesser known medical schools in other cities. Another source of medical staff at community clinics is doctors whose hospitals require them to serve time in a community clinic before being promoted in accordance with government regulations.

Zhong said that the medical equipment in community clinics needs to be upgraded, plus medical staff need stable salaries and benefits and more training opportunities. Only by building a reliable medical service network at the grassroots level, he said, can the problem of "unavailable and unaffordable medical service" be addressed. He said Guangzhou City of Guangdong Province, where he works, has upgraded a large number of community clinics.

China's latest medical reform plan, which was adopted by the State Council in January, says that community clinics in cities are responsible for providing basic treatment for common diseases and chronic ailments.

Ge Junbo, a leading Chinese expert on coronary disease who works at Zhongshan Hospital in Shanghai, said that when he practiced medicine in Germany, he received seven patients in one morning while in China he sees more than 100 patients per day. He believes China badly needs to build a clinic-to-hospital transfer system so as to help top medical experts avoid wasting time diagnosing and treating common cases.

Chen said if community clinics could fulfill their designed role of screening patients, treating less serious cases and transferring serious ones to hospitals, it would relieve the outpatient pressure on big hospitals.

Chang Shuling, head of the community medical center on Zhanlan Road in Beijing's Xicheng District, said her center administers eight community clinics, which receive a total of more than 400 patients every day. The Baiwanzhuang clinic, for example, received 118 patients on March 3, mainly patients with chronic conditions such as high blood pressure, diabetes, lung disease, coronary heart disease and stroke.

Chang said her medical center will participate in a research project on chronic obstructive pulmonary disease presided over by Zhong, who has successfully lobbied the government to include it among the chronic diseases that can be treated in community clinics.

Yan Li, head of the Baiwanzhuang clinic, said patients transferred from a community clinic to a hospital could be received by a senior doctor without having to make an appointment.

Medical schools are yielding more general practitioners to meet the need of community clinics. Yan is a general practitioner who graduated from the medical school at Beijing Union University. As a rather well equipped community clinic, her clinic can perform regular tests on blood and urine as well as electrocardiography. The clinic has four doctors. Their patients are mostly senior citizens and younger patients with minor illnesses. Yan said patients prefer big hospitals to community clinics partly because of the stereotype that clinics are less qualified and partly because clinic pharmacies are not permitted to sell certain drugs. That drives away some patients since they have to go to big hospitals for medication anyway.

Chen said the medical staff at community clinics needs better salaries and benefits and more room for career development if they are to remain at the clinics. "They need incentive, like an opportunity to work in hospitals after serving in community clinics for a certain number of years," Chen said.

But Chang does not agree that doctors at community clinics are underpaid. She said salaries for community doctors are no lower than those for doctors at Grade-B hospitals and that they have all kinds of on-the-job training opportunities. Moreover, community medical centers are luring medical graduates with higher certificates. Chang said 20 percent of the newly recruited doctors at her center hold a master's degree. "Community clinics are a brand new career and attract people who are interested in it," she said.

In an online chat on February 28, Chinese Premier Wen Jiabao said the five priorities of healthcare system reform are expanding medical insurance coverage for urban and rural residents, establishing an inventory of generic drugs, further improving the medical service network, offering equal access to medical resources and reforming public hospitals. Talking about improvements to the medical service network, Wen said China plans to upgrade the facilities at 5,000 hospitals in townships, 2,000 hospitals in counties and 2,400 community clinics in cities within three years.