The government has introduced several new policies in the past few months to stimulate the economy and consumer spending in the face of slower economic growth and a marked drop in foreign exports.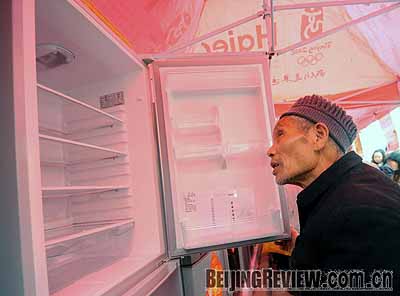 NEW FRIDGE: Hang Zhengming, a 70-year-old resident of a rural township in Chongqing, inspects a refrigerator that his family ordered as part of a government subsidy program for rural residents( ZHOU HENGYI) 

Its latest target group is farmers, a group that comprise about 70 percent of the country's 1.32 billion people, but have the lowest income levels.

To stimulate rural spending, the government will spend 5 billion yuan ($732 million) from March 1 to the end of this year on subsidies for farmers who replace their three-wheeled vehicles and outdated trucks with smaller ones that have an engine capacity of less than 1.3 liters. This is one of the measures included in the stimulus package for the auto sector introduced by the State Council on January 14. Further details are expected in early March, but it is likely that the subsidies will amount to 13-15 percent of the vehicle purchase prices. At present, three-wheeled agricultural vehicles sell for 5,000 yuan ($732)-10,000 yuan ($1,500) each, while small vehicles are priced at 20,000 yuan ($3,000)-30,000 yuan ($4,400). Jia Xinguang, chief analyst at the China Automotive Consultation Corp., told Beijing Review that the 5-billion-yuan subsidies will stimulate the purchase of at least 1.5 million autos.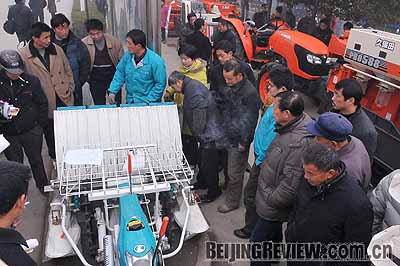 CROP HELP: Technicians introduce seedling planting machines in Quanjiao County in Anhui Province as part of the government's program to help farmers increase their incomes (WANG JIAGUO)

Because China's exports have dropped amid the global financial turmoil, the government now hopes to maintain steady economic growth by expanding domestic demand, and stimulating consumption in rural markets. While the government has encouraged farmers to spend money during the last several years, it recently has stepped up its efforts by drafting policies to entice them to spend more.

Before it started offering subsidies for small vehicle purchases, the government had provided subsidies to farmers for home appliance purchases. As part of pilot projects started in November 2007 in three major agricultural provinces, Shandong, Henan and Sichuan, the government provided 13-percent subsidies to farmers who bought color televisions, refrigerators, washing machines and mobile phones from qualified manufacturers. As of February 1, 2009, the government enlarged the project to cover all the country's rural areas until the end of November 2012 and added personal computers to the list of subsidized products. The Ministry of Finance estimates that within this time, 480 million home appliances will be sold, amounting to a total of 920 billion yuan ($134.7 billion).

By subsidizing farmers' purchases of autos and home appliances, the government also is strengthening logistics services in rural areas. This year's No. 1 Document, the government's official annual policy on agriculture, farmers and rural areas, says the Central Government will allocate special funds to develop logistics services and promote the development of a service industry in rural areas. It also will mobilize local government inputs and private funds to support the development of a rural sales system and urban service system.

The government announced on February 9 a new plan to create jobs in the rural retail sector by reducing sales costs, improving product quality and providing a wider variety of goods in rural communities. At a press conference held by the Information Office of the State Council, Jiang Zengwei, Vice Minister of Commerce, said that China would develop a retail network of 510,000 convenient stores in its vast rural areas by the end of 2010 so that farmers could buy qualified products. The creation of these is expected to provide about 775,000 new jobs.

A market of potential

Although farmers are poorer than most urban residents, their incomes have been steadily increasing thanks to the reform policy over the past 30 years. With the new round of government subsidies for farmers in place, many companies expect their sales to increase in rural communities.

Cell phone magnate Nokia Oyj and some other foreign companies have stepped up their efforts in tapping China's rural markets by setting up large numbers of sales outlets in small cities and townships and creating wider distribution networks.

Lenovo Group Ltd., China's largest personal computer manufacturer, also is targeting the rural market. Because of sluggish demand for its products in Europe and the United States, the company is refocusing on China. It expects the government's subsidy plan to increase sales of its personal computers on the domestic market by 10 billion yuan ($1.5 billion).

Haier Group Co., China's largest home appliance manufacturer, is another company whose products are included in the government's rural subsidy program. It says its sales in rural areas recently surpassed those in urban markets for the first time, thanks to the program. The company has even modified some of its products to meet rural conditions. For example, it has added a special device to some home appliances to cope with unsteady electrical voltages in rural areas.