Beijing Sanyuan Foods Co. Ltd., one of the few untainted survivors of last year's dairy industry upheaval, finally put its cards on the table and came up with a 798-billion-yuan ($117 billion) bid to buy the troubled assets of Shijiazhuang Sanlu Group Co. Ltd. The move is laid to rest rumors over the future of scandal-ridden Sanlu after months of speculation.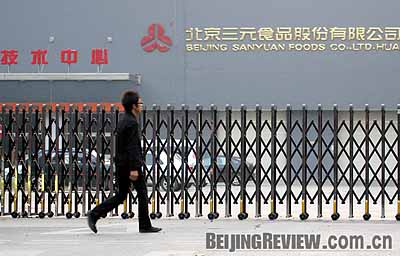 LUCKY OR NOT: Beijing Sanyuan Foods is regarded as the ideal buyer for bankrupt Sanlu's assets, but it remains to be seen whether the company could make use of the assets to launch its expansion nationwide (NAN SHAN)

The Shanghai-listed dairy producer said in a statement on February 13 that it intends to raise about 800 million-1 billion yuan ($117 million-$146 million) through a private stock offering to expand its Hebei operations and bid for the assets of Sanlu Group. The day before, Sanlu was formally declared bankrupt by the Intermediate People's Court of Shijiazhuang, capital of Hebei Province. The court will auction Sanlu's assets on March 4.

Sanlu was at the center of a melamine scandal involving 22 domestic dairy companies last year. After losing its clients and having its brand image ruined, Sanlu found it difficult to keep operating and entered bankruptcy proceedings on December 23.

According to the statement, Sanyuan intends to raise the funds to buy some of Sanlu's assets by selling 200 million-250 million non-public shares at 4 yuan ($0.58) per share to Sanyuan Group, the parent company, and a major shareholder, Beijing Enterprises (Food) Co. Ltd. Its Hebei subsidiary and Sanyuan Group will jointly bid for the assets.

Investors welcomed the news, and Sanyuan's shares surged by the 10 percent daily stock exchange limit to 6.15 yuan ($0.90) when the company resumed trading on February 16. Its shares were suspended from trading on September 25, 2008, following reports that it was planning to buy Sanlu.

"Sanlu Group has already built up its sales networks, completed its dealer portfolio nationwide, and established itself as a dominant supplier of dairy products in Hebei Province and neighboring regions," Sanyuan's statement said. "Sanyuan will consolidate and integrate Sanlu's existing operation assets, sales channels and management team to reduce our reliance on a single market and expand quickly into different regional markets."

The purchase of Sanlu's assets is an opportunity for Sanyuan to gain market share elsewhere and become a national brand despite uncertainties surrounding the prospective deal and Sanyuan's future prospects for further growth, said Huang Mao, a food and beverage industry analyst at Guosen Securities Co. Ltd.

Quality prime assets

Sanyuan plans to spend 798 billion yuan ($117 billion) to buy Sanlu's assets in the auction package worth 726 billion yuan ($106 billion), which includes Sanlu's quality core assets, six plants in Shijiazhuang, and its investment rights and interests in three other dairy companies.

As part of the government's efforts to split Sanlu and sell it to different potential bidders, the auction package includes about half of Sanlu's assets, while the other part includes Sanlu's remaining 17 percent stake in Junlebao Dairy Co. Ltd. and its Xingtai and Heilongjiang subsidiaries. The Heilongjiang subsidiary very likely could be acquired by local milk producer, Wondersun Dairy Co. Ltd., Huang said.

Sanyuan has been negotiating with Sanlu about the acquisition since last October after the Ministry of Industry and Information Technology invited five dairy companies to discuss Sanlu's breakup.

The core value of the takeover rests much more with Sanlu's sources of milk supplies and sales networks, although they were not reflected in the package, Huang said.