Many rural migrant workers chose to cut their lunar New Year holiday short this year, in an effort to find employment in an increasingly difficult market.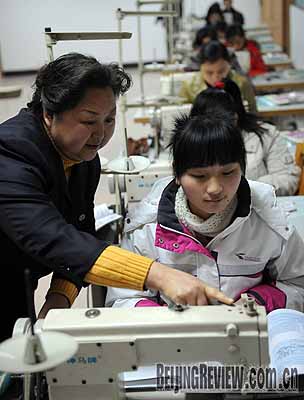 FREE TRAINING: On February 5, returned rural migrant workers attend a free sewing class in Yongchuan District, Chongqing (LI XIAOGUO)

"Three days after the Spring Festival, I went to the railway station to buy a ticket. I want to find a job, even a low-paying job," said Chen, 22, from Jiangxi Province. During the Chinese New Year holiday, Chen did not idle. He asked many people about job opportunities.

Compared with last year, rural migrant workers left home earlier this year to look for jobs in the cities. Most of them believed that if they started their job search earlier, they would have a better chance. Many rural migrant workers left home before the national holiday ended.

"While many people are enjoying the reunion with their family, the competition for jobs should be less fierce, so I wanted to give it a try," Chen said. Chen did not have high expectations; he just wanted to ease the burden on his family.

At a press conference held on February 2, Chen Xiwen, Director of the Office of the Central Rural Work Leading Group, said that because of the financial crisis, some export-oriented firms in the coastal area were in trouble, and that as a result, about 25 million of the 130 million rural migrant workers could lose their jobs.

In January, the International Labor Organization released a report on world employment trends, saying that the world economic crisis could cost about 50 million jobs in 2009. It also predicted that total global unemployment could reach 230 million this year, turning the global economic crisis into a job crisis.

Statistics show that the situation in China is serious, with more than 20 million rural migrant workers facing job loss. Such high unemployment is not only an economic problem but also a social one.

"In recent years, salary income accounted for about 40 percent of the net income of farmers," Chen said. "So job loss among rural migrant workers will slow down the growth of their total income." To Chen, the most pressing issue for the government is to ensure the stable growth of agricultural production and farmers' income.

Addressing the social problem

Export-oriented industry and labor-intensive industry have been the backbones of China's rapidly developing economy, while surplus rural workers have been the major work force fuelling the growth of these industries.