February 4 marked the beginning of spring on the Chinese lunar calendar this year, indicating the start of another busy farming season. But when farmer Yang Yumin gazes at his barnful of grain, he has no desire to plow his fields.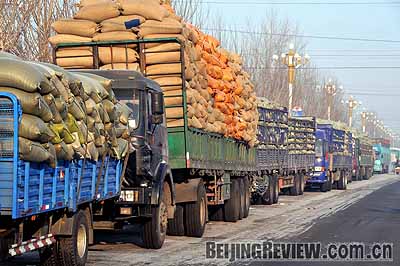 GRAIN CONVOY: Trucks line up to sell their grain to a state grain reserve in Inner Mongolia (WANG ZEWEI)

"What is producing more grain good for?" Yang sighed. "Last year's grain is still in the barn, and it's troublesome to take care of all the inventory."

Yang is one of the scores of grain farmers who live in the villages on the vast loess plateau in central China, where farmers have planted their grain crops since ancient times. For him and others, grain is the major source of income.

Yang said he still had some grain that he had harvested in 2007. When grain prices rose last year, he sold a portion of his inventory and kept the rest in the barn in hope of a further price hike. Unexpectedly, grain prices started to fall last October, after which wholesale buyers who used to purchase grain from farmers in the villages seldom stopped by for business.

Large numbers of farmers in thousands of villages around the country are facing the same pressing problems.

Chen Xiwen, Director of the Office of the Central Rural Work Leading Group, said at a press conference in Beijing on February 2 that the falling prices of farm produce were an impending problem for the economic development of rural areas.

Chinese had reaped bumper grain harvests for five consecutive years until 2008. Last year, the country produced a total of 528.5 billion kg of grain, surpassing its previous record-high production level in 1998. After 1998, Chinese farmers underwent five painful years of low grain prices and hard sales, leading to the lowest grain output in 14 years in 2003. Chinese farmers appear to be reliving the same scenario this year as selling their grain has become extremely difficult.

Protecting farmers' confidence

In order to boost farmers' enthusiasm for producing grain, the government has adopted a "protected price" purchase policy. When the market price of grain is higher than the government-set protected price, farmers can sell their grain in the open market. If it is the other way around, farmers can sell the grain to state-owned depots at the protected price.

When the government foresaw the tough situation after the annual grain harvest earlier last year, it decided to increase the protected price for purchasing wheat and rice in February 2008. In the meantime, it set up central reserve and state interim reserve purchases of rice, corn and soybeans in major grain-producing areas.

Last October 20, the State Administration of Grain (SAG) decided to purchase the first amount of grain reserves of 16.5 million tons. On December 1, the government announced it would purchase another 14 million tons. The SAG required local grain administrative bureaus to increase their purchase networks and make the sales of grains convenient for farmers.