A piece of farmland and several dilapidated houses used to stand at the entrance of Xiahui Village of Lanxian County, Shanxi Province. Now they have disappeared and have been replaced by some newly built two-story buildings. The new buildings house a supermarket and convenience store where villagers can buy daily necessities.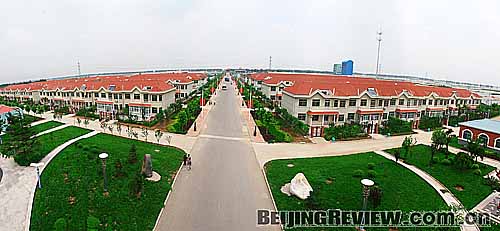 NEW LOOK: The residents of Sanyuanzhu Village of Shouguang, Shandong Province,are making a good living growing vegetables (XINHUA)

The dirt road in front of the buildings used to be muddy, but is now covered by cement, and pine trees are planted alongside it. Children play on the dozen sets of various outdoor fitness equipment in the village's main square, the same type of equipment that is often found in urban communities. Every family has tap water in their homes, and posters advocating civic virtues can be seen throughout the village. The entire village appears much cleaner and tidier than last year.

"These are all benefits of new countryside construction," resident Lan Tianzhen said. "The government has allocated hundreds of thousands of yuan for the construction of facilities in the village."

Stressing infrastructure

As a state-level impoverished county, Lanxian is a three-hour bus ride northwest of Taiyuan, the provincial capital. Because of poverty, almost every village in Lanxian looks the same, with backwardness and messiness being the image for decades.

Many villages in the county unexpectedly have undergone big changes during the past year.

"The goals of the strategy of new countryside construction put forward by the Central Government include agricultural development, a well-off and civilized society, tidy image and democratic management," said Liu Aimin, a county official. "We must finish these goals according to our ability by changing the image of the villages and focusing on the transformation of infrastructure, because 'tidy image' is the easiest goal to realize for the countryside at present."

According to figures from Lanxian's statistics bureau, the county government raised more than 33 million yuan ($4.82 million) for infrastructure construction in 2008. For a state-level impoverished county, this is not a small figure considering the county's annual fiscal revenue of 100 million yuan ($14.62 million).