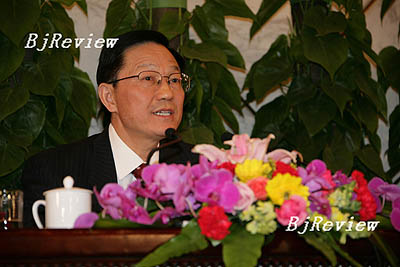 In Premier Wen Jiabao's recent government work report, he said that the major task this year would be to prevent overall prices from rising rapidly. Along with this, he accentuated a prudent fiscal policy and a tight monetary policy.
Following the premier's work report, Ma Kai, then Minister of the National Development and Reform Commission and now State Councilor and Secretary General of the State Council, Xie Xuren, Minister of Finance and Zhou Xiaochuan, Governor of the People's Bank of China, jointly held a press conference on the sidelines of the First Session of the 11th National People's Congress (NPC), to answer questions related to macroeconomic policies.
Effective macroeconomic controls
"During the last five years, annual or quarterly gross domestic product (GDP) growth rates have all been around 10 percent without major fluctuations," said Ma. "More importantly, economic efficiency has greatly increased, the economic structure has been further optimized, and the citizens have received more benefits."
However, Ma admitted that the country's economy is facing several problems, including overheated investment in fixed assets, an oversupply of money and credit and the increasing trade surplus. "The reasons behind these are multi-faceted and complicated," said Ma. "We cannot just attribute them to the failure or ineffectiveness of macroeconomic control measures."
With regard to the soaring consumer price index (CPI) and mounting inflationary pressure, Ma pointed out that the current price rise is partial, mainly caused by growing agricultural produce prices, which is different from serious inflation accompanied by overall and continual price hikes.
China's CPI grew 4.8 percent last year. Growing food prices contributed 83.3 percent to this rise, said Ma. The CPI growth rate in January recorded a 11-year high of 7.1 percent, with food price rises contributing 83 percent.
According to the figures from the National Bureau of Statistics, CPI growth in February hit 8.7 percent, with food prices contributing over 80 percent to that growth.
Taking grain and pork prices as examples, Ma said that both prices suffered fluctuations during the past decade, with grain prices rising only 0.08 yuan ($0.01) or 5.3 percent, and pork prices rebounding to the level of 10 years ago in May and June 2007. But prices of materials for agricultural production have increased greatly during the last decade, Ma said. Meanwhile, climbing prices of grain and vegetable oil in the international market have also had a great impact on grain prices of related products.
"This doesn't mean that we can neglect the pressures of rising prices," said Ma. "On the contrary, we're very aware that pressures are increasing." The cost of land, labor and capital, as well as energy and resource costs, is going up, and the cost of polluting the environment has to be taken into consideration. The pressure of cost-push price hike is heavy. In addition, there are factors like excessive liquidity and abundant capital, said Ma.
"Price hikes and inflationary pressure are mounting, and we should attach high importance to solving these issues," said Ma.
People-first fiscal policy
A prudent fiscal policy will be continued, and its coordination and combination with monetary policy and industrial policies will be strengthened, said Xie.
"This year's central budget will further support agriculture, the countryside and farmers, education, health care and social security (see page 16), to improve the livelihood of the people," Xie emphasized.
Xie also detailed the measures of this year's fiscal policy.
First, reducing central budget deficits and issuing less treasury bonds for investment (see page 16).
Second, optimizing economic structure. Rural economic development, agriculture and farmers' income; scientific and technological innovation, energy saving and emission reduction; development of the western regions; manufacturing of equipment, transforming old northeastern industrial bases, and sustainable development of resource-exhausted cities are all areas where central budget will increase input. Policies related to export tax rebates, processing trade, and import and export tariffs will be improved to restrain energy-consuming, high-polluting and resource-depleting products from being exported and to encourage exports of high value-added products, as well as imports of energy-saving and resource products. Preferential policies on import tariffs will be used to encourage energy conservation, environmental protection and independent innovation. Overseas investment and operation will also be shored up.
Third, ensuring and improving the people's livelihood. The central budget expenditure structure will be optimized, ensuring that education will be first developed, input to health care will be increased, the social security system will be completed, and the housing problems of low-income urban residents will be solved.
Fourth, stabilizing prices. More support will be given to agricultural production, securing the supply of basic maintenance, to restrain rapid price hikes. In addition, imports of some necessities and supply of reserve materials will be ensured in order to balance market demand and supply and stabilize prices. Meanwhile, subsidy policies to low-income urban groups will be improved and implemented.
Fifth, strengthening taxation administration, adjusting and optimizing expenditure structure, cutting administrative costs and improving the efficiency of central budget.
Monetary policy challenges
"China has maintained steady economic growth over the past five years, which also means that the monetary policy has had good effect," said Zhou. "But now, new challenges, such as domestic price hikes and the influence of the U.S. subprime mortgage crisis, are appearing."
To curb inflation, faster yuan appreciation may help, but cannot become the major means, said Zhou. "Inflation control mainly relies on domestic policies, including a tight monetary policy as well as various measures."
Zhou denied that checking inflation would become a major reason for fluctuations in the yuan exchange rate.
Zhou also said that there is still room for further interest rate hikes, but the costs and benefits of these-as well as the timing and degree of the adjustment-need to be considered.
The U.S. interest rate cuts did affect China, but only partially, Zhou said. China has to consider many domestic factors, such as stimulating domestic demand and encouraging direct financing in the capital market.
With regard to the U.S. subprime mortgage crisis, Zhou said that although its direct impact on China's financial institutions was not severe because of their small investment scale, further indirect impact on the Chinese economy could not be underestimated.
He said changes within the global economy and in international trade caused by the downturn of the U.S. economy may affect China's economy. "Interest rate cuts by the U.S. Federal Reserve will also affect China's interest rates or its monetary policy since interest rates of all countries are more mutually dependent than before," Zhou said.