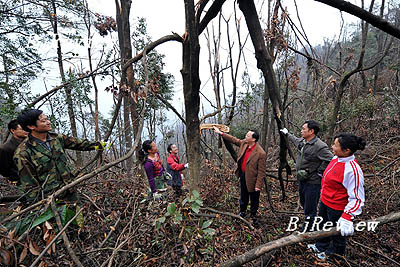 China's southern regions, hit earlier this year by the worst blizzards in half a century, are gradually recovering.
"Power in Hunan was fully restored on March 8, and we are transmitting electricity to all parts of the province, including remote rural areas," Zhou Qiang, Governor of Hunan Province, told Beijing Review when attending this year's full session of the National People's Congress (NPC).
Lin Shusen, Governor of Guizhou Province, also predicted that recovery and repair work in Guizhou would be completed by the middle of this year. Both Hunan and Guizhou were the worst affected regions from the snow disaster.
When delivering this year's government work report, Premier Wen Jiabao said that the country must accelerate the development of its infrastructure-including electricity, transportation and telecommunications-to improve its capacity to resist disasters and maintain normal operations. Wen also said the country must improve systems and mechanisms for crisis management. Wen reiterated that the country also needs to step up research to better understand the features and patterns of natural disasters under modern conditions and improve its ability to prevent and mitigate them.
Many deputies to the 11th NPC, especially those from the snowstorm-hit provinces, put forward various suggestions on how China should improve its ability to respond to natural disasters.
"From this disaster, we realize the importance of strengthening infrastructure such as highways and the construction of power grids," said Zhou.
"We're considering building another expressway alongside the Hunan section of the north-to-south artery-the Beijing-Zhuhai Expressway," continued Zhou. "The design standard of the power grid will also be enhanced."
With regard to the emergency rescue system, Zhou said the country does have an emergency rescue system, but its capability of meeting emergencies should be improved. Chen Shulong, Mayor of Wuhu, Anhui Province, agreed with Zhou, saying that this rescue mechanism must be improved, that emergency plans to combat all kinds of disasters should be formulated, and that an inter-department and inter-regional coordinating mechanism should also be established.
The disaster struck farmers the hardest. According to statistics from the Ministry of Civil Affairs, about 12 million hectares of farmland were affected by the calamity.
"How to increase farmers' income is a difficulty," said Zhou. "Their vegetables, oranges and other fruit trees all froze to death."
"Once the farmers are hit by disasters, all they can do is to anxiously wait for relief," said Wang Renzhou, Director of the Development and Reform Commission of Ningbo, Zhejiang Province. "China's agriculture needs to be covered by insurance."
Ren Jianguo, Director of the Hubei Bureau of China Insurance Regulatory Commission, suggested that an insurance system be included in the national emergency rescue system and a disaster insurance system be erected.
"Introducing insurance into agriculture and establishing a stable natural disaster prevention and salvation system to replace direct subsidies will become a necessity," said Wang Huifang, an agricultural expert from Quzhou, Zhejiang Province. The government can subsidize farmers to help pay for insurance premiums and to relieve the pressure of budget expenditure through direct subsidies, which is a long-term effective mechanism.
The blizzards also devastated vast forest areas. Around 22.67 million hectares were damaged, accounting for more than 10 percent of the country's total forest coverage, according to the State Forestry Administration.
"Forests need a long time to recover," said Zhou. "Some need several decades. That's the key but most difficult point."
Liu Lizu, Director of Jiangxi Provincial Department of Forestry, suggested that forestry insurance should also be included into agriculture insurance. Fires, disease, insects and natural disasters affecting agricultural forestry should all be covered.
To prevent natural disasters, research on the features of disasters should also be strengthened, said Peng Aihua, head of Shuangfeng County of Hunan. Warnings and forecasts should be further improved.
Peng Boyuan, head of the Guizhou Provincial Department of Communications, said that climate change is having more impact on production and life. It is not only related to the changes in nature, but also to humanity's increasing recognition of meteorology and their ability to deal with natural disasters. The government should also timely organize public services when the climate changes, to prevent and reduce losses caused by the calamity.