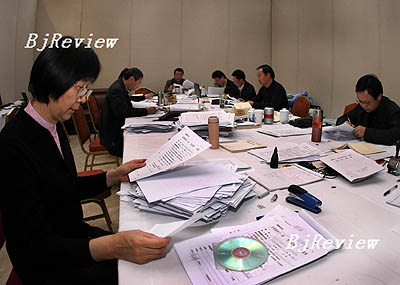 During the annual session of the 11th National Committee of the Chinese People's Political Consultative Conference (CPPCC) that concluded on March 14, 1,992 of the total 2,236 members at the beginning of their five-year term in China's top advisory body submitted 4,772 proposals.
Members of the CPPCC National Committee put forward proposals to offer comments and suggestions on major political and social issues of the country. A proposal can be raised by one member or a group of members; by one or more groups jointly; in the name of a party or non-government group that has joined the CPPCC; or in the name of a sub-committee of the CPPCC National Committee.
Out of the proposals that were classified during the conference, 1,863 or 41.16 percent were on economic matters; 1,405 or 31.04 percent were on education, scientific research, entertainment, health care and sports; and 1,258 proposals or 27.8 percent were on legal affairs and social security.
During the past five years, the CPPCC National Committee handled over 23,000 proposals, of which 21,843 were sent to government branches in charge of the matters for solution.
Following are summaries of some selected proposals.
Helping graduates returning to China from overseas to start up their own businesses
The proposal revealed several problems that hinder the enthusiasm of Chinese students graduating from foreign institutions of higher learning to come back to China, even if their research arena is badly needed in the country. One problem is the poor implementation of government incentives to these people, such as the delay in handing out startup funds. Second is the difficulty in raising money. Third is the trouble in getting visas to travel between China and their adopted countries. Fourth is that the international schools most expatriate parents want to send their children to are too few in under-developed western and central regions and the tuition is too expensive.
Suggestions in the proposal were to set up national and regional service centers for overseas graduates; to give more incentives to start-up companies founded by them; to set up national funds for startup companies of overseas graduates; to facilitate financing of these firms by introducing venture capital and government-warranted loans; to extend the visa validity periods for these people; to allow more schools to open an international school department and encourage foreign and private companies to set up international schools; and to provide even more preferential policies for those who want to set up companies in western and middle provinces and regions.
Curbing desertification in western provinces
The proposal said that desertification in the heavily desertified provinces, such as Qinghai, has shown signs of escalation, which has caused heavy economic losses to farmers.
The proposal suggested that the Central Government should initiate new desert-curbing national programs, increase its investment in the construction of its mammoth "three-north" (north, northwest and northeast China) shelterbelt and intensify scientific studies on the prevention of desertification.
Providing incentives to producers and buyers of hybrid vehicles
The proposal said that although China has been able to produce energy-saving and environment-friendly hybrid vehicles since 2006, sales have been nominal due to their high prices. The proposal says in many industrial countries, such as Japan, the United States and France, governments provide taxation incentives to purchasers of hybrid vehicles and auto sales companies, while China still hasn't designed any taxation incentives to hybrid auto producers or consumers.
Suggestions of the proposal included: formulating technical standards on saving energy and reducing pollution discharges for hybrid vehicles; offering subsidies and tax incentives to developers, sellers and users of hybrid vehicles; and running publicity campaigns on the environmental benefits of driving hybrid cars.
Imposing environmental tax on enterprises
To check the environmental degradation caused by fast economic growth in China, the proposal suggested the introduction of environmental taxes to reflect environmental costs in the production of goods and slow down consumption of resources. The proposal said that the lack of environmental taxes on enterprises in China has motivated foreign companies in polluting industries to move their investment from other countries to China.
The proposal urged related government agencies to come up with guidelines for environmental taxes by considering both domestic and global environmental problems and to impose the environmental tax on different industries step by step.
Helping boost the international competitiveness of private companies
The proposal suggested that the number of top multinational companies a country produces is an important manifestation of its comprehensive strength, and helping to nurture the competitiveness of large companies has become the strategic choice of many governments.
Concrete measures include selecting leading private companies from different sectors and giving them taxation incentives, financial support for building research and development centers and facilitating their financing efforts by giving them long- and middle-term loans, as well as allowing them to issue corporate bonds and supporting their transnational merger and acquisition deals. The government should give these companies legal aid when they are involved in legal litigations, the proposal added.