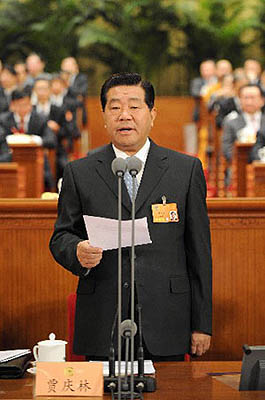 The First Session of the 11th National Committee of the Chinese People's Political Consultative Conference (CPPCC) concluded on Friday, adopting resolutions and stressing the leadership of the Communist Party of China (CPC) over the CPPCC.
Jia Qinglin, who was reelected chairman of the CPPCC National Committee, the top political advisory body, presided over the closing meeting.
A political resolution adopted at the meeting hailed China's development over the past five years, saying that the CPC Central Committee with Hu Jintao as general secretary had led the people of all ethnic groups in advancing reform, opening up and modernization drive.
"Members of the CPPCC National Committee are much inspired by the splendid achievements of our country over the past five years," it said.
The resolution called on all CPPCC members to study and implement the guiding principles of the 17th CPC National Congress and firmly hold high the great banner of socialism with Chinese characteristics.
It also called on CPPCC members to raise more proposals on macro regulation, agriculture and people's livelihood, the State Council institutional restructuring plan and other issues.
Hu Jintao's recent remarks on the relations with Taiwan are significant in guiding the work concerning Taiwan, the resolution noted.
Hu, addressing political advisors attending the CPPCC session last week, said that the mainland would make utmost efforts to do a good job in anything that is good to the Taiwan compatriots and conducive to safeguarding peace in the Taiwan Straits and promoting the peaceful reunification of the motherland.
The 11th CPPCC National Committee has 2,236 members, with 2,148of them attending the closing meeting of the annual session that kicked off on March 3.
Top Communist Party of China and state leaders Hu Jintao, Wu Bangguo, Wen Jiabao, Zeng Qinghong, Li Changchun, Xi Jinping, Li Keqiang, He Guoqiang and Zhou Yongkang were present at the closing meeting.
The CPPCC is a patriotic united front organization of the Chinese people, serving as a key mechanism for multi-party cooperation and political consultation under the leadership of the CPC, and a major manifestation of socialist democracy.
The CPPCC consists of representatives of the CPC and non-Communist parties, personages without party affiliation, and representatives of people's organizations, ethnic minorities and various social strata.
It also has the representation of compatriots of Hong Kong, Macao and Taiwan, returned overseas Chinese, and specially invited people.
(Xinhua News Agency March 14, 2008)