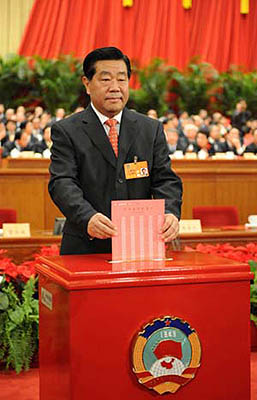 Jia Qinglin was reelected chairman of the National Committee of the Chinese People's Political Consultative Conference (CPPCC), the top political advisory body, here on Thursday afternoon.
Jia was reelected at the fourth plenary meeting of the First Session of the 11th CPPCC National Committee. The meeting also elected 25 vice-chairpersons, a secretary-general and 298 Standing Committee members of the 11th CPPCC National Committee.
The CPPCC is a patriotic united front organization of the Chinese people, serving as a key mechanism for multi-party cooperation and political consultation under the leadership of the Communist Party of China (CPC), and a major manifestation of socialist democracy.
The CPPCC consists of representatives of the CPC and non-Communist parties, personages without party affiliation, and representatives of people's organizations, ethnic minorities and various social strata.
It also has the representation of compatriots of Hong Kong, Macao and Taiwan, returned overseas Chinese, and specially invited people.
(Xinhua News Agency March 13, 2008)