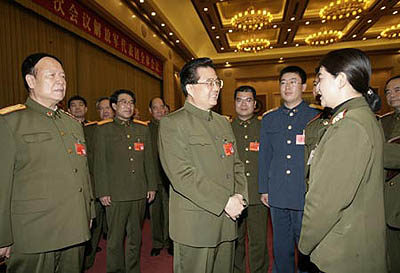 Chinese President Hu Jintao on Monday called for redoubled efforts to step up defense and army building to guarantee national security and make greater contribution to world peace.
Hu made the remarks when he attended a meeting of the delegation of the People's Liberation Army to the ongoing annual session of the National People's Congress, or China's parliament.
"We must intensify our effort to strengthen national defense and step up army building while going all out for economic, political, cultural and social development, so as to support and guarantee the progress of socialism with Chinese characteristics and make greater contribution to world peace," said Hu, also chairman of the Central Military Commission.
The modernization of the armed forces should be aimed at combat readiness, and military training should be conditioned to the age of information technologies, he said.
"We must aim at improving the capability to win high-tech regional wars and keep enhancing the ability of the military to respond to security threats and accomplish a diverse array of military tasks," the president said.
While describing reform and innovation as strong impetus to national defense and army building, Hu underscored the policy of upholding coordinated development of the economy and national defense.
"We should step up the establishment and improvement of the research and production system for weapons and dual-use equipment, the education system for military personnel training and the military logistics system, promoting defense and military modernization based on the achievements of China's economic and social development," the president said.
(Xinhua News Agency March 10, 2008)