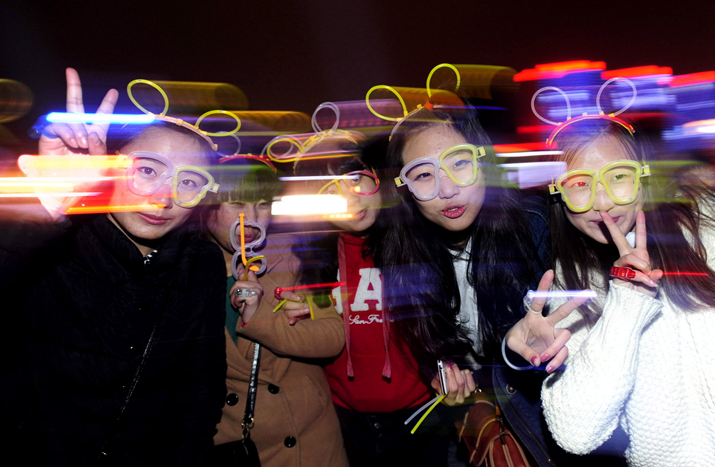 College students attend a neon run activity to celebrate Singles' Day in Shenyang, northeast China's Liaoning Province, on November 11, 2014 (XINHUA)
Shopping, dancing, hanging out with friends, jogging. Single for more than two years after an exhausting breakup, Wei Meng, a marketing specialist, has never felt freer, happier and more engaged.
The 26-year-old doesn't know what pangs of loneliness are and relishes any spare time she gets. "Sometimes, on weekends, I simply nestle on the sofa, drinking coffee and reading. It's so cozy," Wei said with a grin. "But when I was in a relationship, I hardly ever had the time to do that."
Wei's is not an exceptional case. More and more young people in China, especially in large cities, are learning to savor the bliss of single life.
Savoring freedom
According to the Ministry of Civil Affairs, by the end of 2015, China had 200 million single people, with more and more people staying single by choice.
This is a community largely formed of college students and white-collar professionals, who are particular about the quality of their life and self-improvement. "I feel now I can live life at my own pace," Wei said. "I have more time to read, and more time for myself." She is reading four books a month on average when she barely had time for one during those relationship days. She also finds time to go to the gym, to stay healthy and make herself attractive.
Yuki Li, a graduate student in Manchester, is another independent spirit. "We can do things for ourselves instead of having a boyfriend to do them for us," the 23-year-old said, shrugging dismissively. "Besides, when I'm single, I'm not confined to just one person. I have more chance to meet new people, maybe better ones. My options are open."
Zachary Sun, a businessman and author of the book To My Ex: Smart Is the New Sex, echoes Yuki. "If I want to go and feed pigeons in London, I can get a ticket and start packing right away," Sun said. "If I want to drink beer and chat with my buddies, I can call them myself without having to ask for permission. If I want peace, I can just switch off my phone without any worries."
Not having a stable partner is common for a growing number of people in their 20s and 30s in many cities in China. There are many reasons behind this phenomenon. For instance, a great number of young people these days live far away from their parents and relatives and consequently, there is less social pressure on them to find a significant other half. Besides, the segment of people entering the workforce later in life, after completing graduate school—when they are in their mid-20s or even close to the 30s—is expanding. It takes a while for them to adjust to a new career and a new life before seriously considering marriage.
The tradition of early marriage followed by having children in quick succession is being challenged. "It is a [sign of] progress that young people are enjoying more freedom, are more independent, and are no longer bound by the familial duties of getting married and having children too young," said Zheng Lu, an associate professor at Tsinghua University's sociology department.
Jing Jun, another professor at the department, added that many well-educated people are now opting to stay single, which showed the rising social status of women and their access to better job opportunities.
A worrying development?
Some media have been calling it the "fourth singles' wave" in China after three earlier ones in the 1950s, '70s and '90s. The gloomy prognosis is that the new wave might lead to low fertility, aging problems and a decreased labor force.
However, Zheng sees it differently. "I don't find any convincing data establishing such a 'wave'. If there had been three such waves actually, we would be surrounded by a lot of old or middle-aged singles by now, which is not the case," he said.
According to him, people may stay single for a long time before getting married. On the other hand, divorcees or the widowed can remarry. Many people can be single for a period of time in their adult lives. The meaning and importance of marriage as a social institution has changed a lot over time. People may live with a long-time partner or even have children without getting married for various reasons and yet technically qualify as being single, which is often synonymous with "unmarried.
"Society has become more open to alternative ways of living," Zheng pointed out.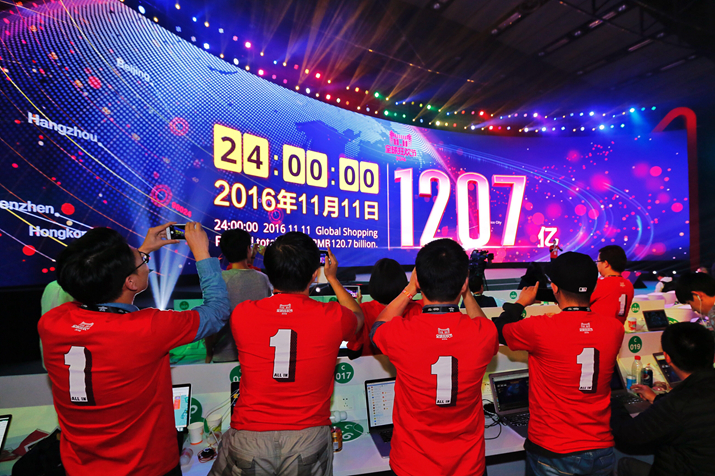 Staff cheers in front of a giant screen displaying the gross merchandise volume (GMV) of Alibaba's online marketplace Tmall after Singles' Day shopping spree in Shenzhen, south China's Guangdong Province, on November 11. By midnight, the GMV had exceeded 120.7 billion yuan ($17.8 billion) (XINHUA)
An alluring market
As the number of single people increases, the "single economy" is also gaining momentum.
The Economist put forward the term "Bridget Jones economy," or "single economy," in 2006, noting: "Well-educated, single professionals in their 20s and 30s are the main consumers and producers of the creative economy that revolves around advertising, publishing, entertainment and media. More than any other social group, they have time, money and a passion for spending on whatever is fashionable, frivolous and fun."
China is witnessing similar changes. A perfect demonstration of that occurs on November 11, celebrated as Singles' Day. Started by university students in the 1990s to celebrate their singlehood, it has since evolved into a shopping frenzy following Chinese e-commerce giant Alibaba launching its annual online sale on Singles' Day in 2009.
This time, by 24:00 on the day, Alibaba notched up a gross merchandise volume (GMV) of 120.7 billion yuan ($17.8 billion). "Have you got anything in your shopping cart on Taobao and Tmall (China's largest consumer-to-consumer and business-to-consumer online marketplaces)?" has become a frequent conversation topic when people meet one another before the "big day."
Single people, who tend to buy more than they save, are the mainstay of this shopping splurge, with more than half the contributors to this humongous GMV being women. People from Shanghai, Beijing and Shenzhen are the biggest buyers. The three cities also have the largest number of single people with per-capita disposable income of over 8,000 yuan ($1,166) per month in China, according to a report on Chinese single people by Zhenai.com, a popular Chinese online dating website, this year.
"Single people focus on food, fashion and technology product consumption," said Zhao Ping, a researcher at the China Council for the Promotion of International Trade. Many single people tend to buy more innovative and less practical things. "I bought a camera drone online so I can take nice selfies and videos when I travel by myself. It's a lot of fun," Yu Xinjia, a 29-year-old office worker, told Beijing Review.
Businesses are trying to seize the opportunity and create more items catering to single people's needs, such as financial products and small apartments. More restaurants are offering separate tables and seats as well as single-serving meals. Small-size household appliances are gaining in popularity.
Single people, whether they are so due to a conscious will to make life better or due to unavoidable reasons, have now become entrenched as a new economic force and an unstoppable trend.
Dominic James Madar contributed to the story
Copyedited by Sudeshna Sarkar
Comments to luyan@bjreview.com