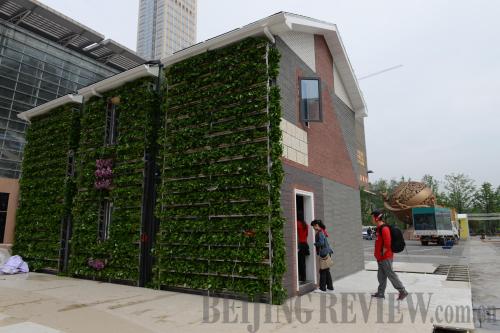 LIVING IN STYLE: Low-carbon houses shown at the Sixth China International City Construction in Green and Low-carbon Expo recycle all the construction materials and water resources they consumed and satisfy no less than 30 percent of their energy needs with renewable energies. The exhibition was held in Chongqing from April 11 to 14 (CFP)
At the Sixth China International City Construction in Green and Low-carbon Expo in southwest China's Chongqing from April 11 to 14, visitors were intrigued by three tiny "low-carbon houses," two-story buildings covered on one side by lush green vegetation.
The floor space of each unit is only a bit more than 80 square meters. However, the structures erected for the expo adopted more than 60 low-carbon technologies to make them thoroughly green at heart.
More than 90 percent of the houses use the recyclable light steel structures and their frames are totally reusable, which can eliminate construction garbage. The roof-top gardens serve as the insulation layer for the house as well as increasing carbon sinks. Vegetables grown in the gardens can absorb carbon dioxide as well as satisfy food demand for people living in the houses. Instead of tap water, plants covering the houses rely on rainwater collected by a "smart" irrigation system, which reduces the houses' carbon emissions through water reliance. Moreover, the houses also have photovoltaic panels installed on the roofs for electricity generation.
The walls around the living rooms are made of wheat straw fiberboard, which has minimal formeldehyde content. Moreover, the windows use self-cleaning glass. A coating of titanium dioxide gives the glass photo-catalytic properties, using sunlight to break down dirt particles for rainwater to effortlessly wash away any remaining residue.
Many visitors were amazed by the prospects of future homes. "The architectural creations by Chinese and British designers inspire people to think about the current human habitat system and will lead the trend for Chongqing's green architecture," said Wu Bo, an expert with the Chongqing Construction Technology Development Center.
Marcos Rosello, Director of All Design, a British firm that designs the "low-carbon houses," said that design concepts are more important than the use of cutting-edge technologies or advanced materials.
"All the technologies applied in these buildings are mature technologies while no hi-tech materials were used. However, we used materials differently and applied proper guiding concepts, which ended up saving energy by more than 20 percent," Rosello said. He also emphasized that all the construction materials are mass produced and most are made in China.
Figures from the expo's organizing committee show that such a low-carbon house can recycle all the construction materials and water resources it consumed and satisfy no less than 30 percent of its energy needs with renewable energies.
Greener buildings
On January 1, the Chinese Government promulgated the Action Plan on Green Buildings, making the construction of green buildings a national strategy.
Following the document, the Ministry of Housing and Urban-Rural Development issued a development plan for green buildings and eco-friendly urban areas for the 12th Five-Year Plan (2011-15) period in April.
According to the 12th Five-Year Plan, China will achieve an urbanization rate of 51.5 percent by 2015. Such a goal mandates that new construction totaling 4 billion to 5 billion square meters will be built in urban areas within the same period. Both the scale and speed of the construction are unprecedented in the history of urban development. Now China's annual construction area accounts for around half of the world's total.
Meanwhile, China's construction-related energy consumption accounts for 30 percent of the country's total energy consumption and this figure has been growing every year. For a long time, China's economy has been following an extensive growth mode, which has resulted in overuse of resources and environmental degradation. However, the new urbanization campaign offers a precious opportunity to transform this growth mode.
"The urbanization campaign will be guided by the concepts of green, low-carbon, livable cities and sustainable development, which will help the country to fulfill its commitment to reducing its carbon dioxide emissions per 10,000 yuan ($1,618) of gross domestic product by 40 to 45 percent from 2005 levels by 2020," said Li Xun, Secretary General of the Chinese Society for Urban Studies.