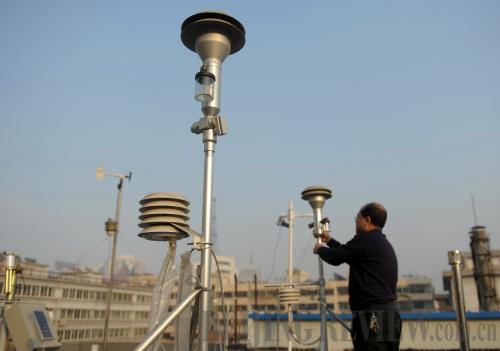 MONITORING THE AIR: A technician checks an air-monitoring device at a station in Lanzhou of Gansu Province. The city regularly releases air-quality statistics to the public (NIE JIANJIANG)
The Chinese Government is accelerating its plans to allot trillions of yuan toward protecting the environment, following decades of degradation during a period of rapid development.
A 3.4-trillion-yuan ($542.26 billion) investment scheme will take hold during the country's 12th Five-Year Plan (2011-15) period for the environment, said Wang Jinnan, Deputy Director and Chief Engineer of the Chinese Academy for Environmental Planning, which is affiliated with the Ministry of Environmental Protection (MEP). Wang made the announcement at the 2013 International Forum on China's Environmental Industry held in Beijing on March 28-29.
In 2013, the investment in pollution control will account for 3 percent of the country's total fixed assets investment, which is 1 percentage point higher than in 2012.
According to Wang, the MEP is considering listing PM 2.5, or airborne particles measuring 2.5 microns or less in diameter that can deeply penetrate the lungs, as a compulsory indicator when evaluating performance of local officials. Furthermore, environmental protection industries will have broader room to develop in the Chinese market.
China's eastern region is suffering massive foggy weather, which has aroused plenty of public criticism and spurred the Central Government to hasten investment in protecting the environment. According to MEP figures, during the 12th Five-Year Plan period, the Central Government's investment in pollution control will grow by 57.4 percent compared to the previous five years. This year will be a crucial year for China's plans to meet its goal of reducing emissions of major pollutants by 8 percent from 2010 levels by the end of 2015.
Money-making opportunity
The Chongqing-based Jiulong Electric Power Co. Ltd., a power generator listed on China's stock market, is transforming itself into a company engaged in environmental protection. The company has detected business opportunities from the government's latest efforts. However, Jiulong faces many challenges in transforming itself from a heavy polluter to a company focused on environmental protection.
With thermal power as its major business, Jiulong launched a project for flue gas desulfurization in order to meet the government's strict standards, becoming one of the first companies in China that have such desulfurization projects.
According to a Jiulong report, the China Securities Regulatory Commission has approved its application for selling its power-related assets. Centering on desulfurization business, the company will develop denitration and water disposal businesses and pay close attention to new businesses such as the disposal of radioactive waste from nuclear power plants, hence focusing solely on environmental protection.
Huang Qinghua, Jiulong's Vice General Manager, says the company aims to become a leader in the business of protecting the environment.
Song Ying, a researcher with Wanlian Securities Co. Ltd., says Jiulong's transformation is the right move given the government's acute attention to cleaning up the environment. A major focus of investment will be directed toward air-quality monitoring. Sailhero Environmental Protection Hi-Tech Co. Ltd., also listed on the country's stock market, became the first company in Hebei Province, which surrounds Beijing, to receive orders by the national ambient air-monitoring network project.
The national ambient air-monitoring network project contains monitoring stations in major cities covering Beijing-Tianjin-Hebei area, the Yangtze River Delta and the Pearl River Delta. The MEP plans to start its air-monitoring operations in 113 cities within the year and extend the number to 388 cities across the country by 2015. Sailhero is allowed to receive orders monitoring PM 2.5, ozone and carbon monoxide in polluted areas and urban areas within Hebei.
According to calculations by Liang Yumei, a researcher with Shanxi Securities Co. Ltd., if there are 20 monitoring stations in every city and each station costs 200,000 yuan ($31,897) to build, the national ambient air-monitoring network project will need an investment of 1.5 billion yuan ($239.23 million). "The air-quality monitoring sector will bring considerable revenue growth to related companies," Liang said.
Wang says during the 12th Five-Year Plan period, the country will make all-around investments in pollution control. The respective investment in air-quality monitoring, denitration and desulfurization is expected to reach 100 billion yuan ($15.95 billion), thereby offering huge opportunities for environmental protection companies and the stimulation of long-term development in the manufacturing of environmental protection equipment and pollution-control services.
Major investment areas
Wang Shiwen, President of the China Environmental Investment Union, says environmental protection investments are two pronged: those for postponing or preventing pollution, and those for combating the damage wrought by pollution. For 2013, the Central Government's budget for pollution alleviation is 210.13 billion yuan ($33.51 billion), a year-on-year increase of 18.8 percent. Most investments in environmental protection in 2013 will be made along the above two lines.