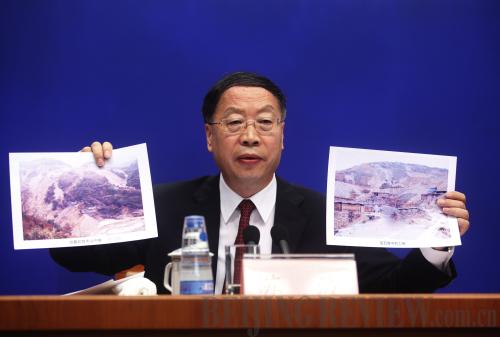 DEVASTATING POLLUTION: Su Bo, Vice Minister of Industry and Information Technology, showcases pictures of a polluted rare earth mining site at a press conference on June 20 (XINHUA) 
Inner Mongolia's Dalahai Village was a place of utopian beauty. With a landscape of lush green hills, exuberant grasslands and herds of sheep and cows, the village used to be the quintessential image of a nice place to live.
Today, the quaint village is gone, replaced by a barren landscape void of life. Cancer cases among the remaining local populace have been on the rise.
What's the reason for the cataclysmic change? Li Guirong, a Dalahai villager, puts the blame on the discovery of rare earths.
"We knew something was wrong sometime in the late1980s when the trees and local vegetation blossomed but didn't bear any fruit," Li said. "Later, they stopped growing at all."
Rare earths, a group of 17 elements, are valuable, non-renewable resources essential in the manufacture of a range of hi-tech products, including wind turbines, laptops and hybrid cars.
China has the richest rare earth reserves in the world, with Baotou in the north and Ganzhou in the south as major reserve zones.
Growing awareness of the dangers of mining rare earths has galvanized the Central Government to act.
At a press conference addressing new government measures to control errant rare earth mining operations, Su Bo, Vice Minister of Industry and Information Technology (MIIT), outlined a series of new government regulations to rein in the sector.
In March, a team led by Su took an inspection tour of a rare earth exploitation site in Ganzhou, Jiangxi Province. The team was shocked by the environmental pollution and the cost to clean up the area, a whopping 38 billion yuan ($5.97 billion).
"China shoulders 95 percent of global rare earth output, at the cost of polluting its environment. This needs to change," said Su.
Disputes on the rise
To improve the local ecological environment, the Chinese Government began to take restrictive measures two years ago, intensifying control over the exploitation, processing and export of rare earth.
Nevertheless, China's regulation on rare earth triggered groundless opposition from the European Union, the United States and Japan. On March 13, the trio lodged a joint complaint to the WTO, accusing China of breaking WTO rules on rare earth exports. On July 27, the three turned to the WTO's dispute-settlement system to have an expert panel investigate the issue.
The United States, EU and Japan said China's exports controls, including export quotas and export tariffs, unfairly favor China's domestic manufacturers.
Shen Danyang, spokesman of China's Ministry of Commerce (MOFCOM), says differently.
"China has reiterated that curbing rare earth mining operations and output was done for the sole purpose of protecting the environment. We didn't mean to protect domestic industry by twisting trade," said Shen. "This is going to take time and we're going to face a lot of pressure, but we're going to fight this to the end."
Reasons for friction
Although China has emphasized that its export management measures are designed for environmental protection and sustainable development, foreign buyers continue to oppose the controls.
"Their goal is to continue importing cheap rare earth from China," said Gao Yunhu, Deputy Director of the Rare Earth Office under the MIIT.
The United States has its own rare earth reserves but has shut down most rare earth mines. The EU lacks rare earth and relies on China to supply its demand. Japan hopes to import rare earth minerals at low prices to maintain its competitiveness in the hi-tech sector.