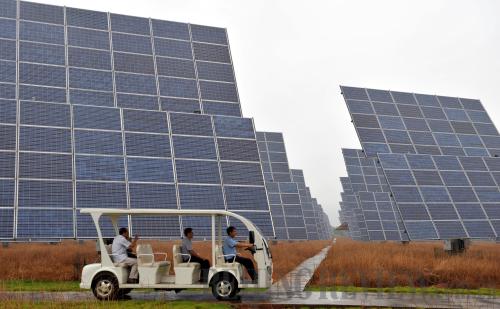 SOLAR PARK: Visitors tour China's first PV power generation ecological theme park in Xinyu, Jiangxi Province, on July 16. Since it came into operation in October 2011, electric energy production of the park has reduced carbon dioxide emission of 1,362 tons and dust emission of 432 tons (SONG ZHENPING)
China has been a major player in changing the global photovoltaic (PV) landscape in the past decade. In 2002, Japan, the United States and Europe topped the list of solar cell producers. Today, China is the world leader.
But being the world's biggest maker and exporter of solar panels does not make China a real winner. Heavy pollution, high energy consumption, overreliance on overseas markets and a low profit margin are forcing China's PV industry to upgrade and focus internally.
Target: China
Strong demand from the European and U.S. market have allowed China's PV industry to witness a rapid growth since 2004.
The average annual growth rate of China's PV sector was higher than 100 percent between 2004 and 2008, according to the China Renewable Energy Association. China became the world's largest PV battery producer in 2007. In 2011, China's PV battery supply accounted for more than 50 percent of the world's total, and the PV sector employed some 300,000 people.
A slew of Chinese PV manufacturers have become leaders in the industry—China is now home to five of the world's top 10 solar PV manufacturers, according to NPD Solarbuzz, a global market research and consulting firm based in the United States.
Estimates hold that more than 80 percent of China's solar cell-related exports go to the European market. In 2010, shipments of Chinese solar panels reached $30.5 billion.
With Chinese companies increasing their competitiveness and gobbling up a bigger market share, China's PV industry has become the target of more trade-remedy cases from the EU and the United States.
In October last year, the U.S. Department of Commerce said that it would conduct an investigation to determine whether Chinese companies had been selling solar panels in the United States at unfair discounts and receiving illegal government subsidies. On May 16, 2012, it announced affirmative preliminary determinations in anti-dumping duties on Chinese PV cells, imposing levies of 31.14-249.96 percent on Chinese producers and exporters.
The EU has followed suit with tariffs of its own.
Solarworld AG, Germany's biggest solar panel maker, said on July 3 that it planned to file an anti-dumping case against Chinese competitors.
Countries in the West aren't the only ones jumping on the China-bashing bandwagon. India is also in the process of launching an investigation into Chinese solar imports, said Shi Zhengrong, Chairman and CEO of the Suntech Power Holdings Co. Ltd., the world's largest crystalline silicon photovoltaic module manufacturer.
Export burns
China's Ministry of Commerce (MOFCOM) voiced deep concerns over European solar panel makers' bid for a trade remedy investigation against Chinese photovoltaic products.
Europe is the leading market for Chinese solar cells. If the EU launches trade remedies against photovoltaic products imported from China, it will hurt cooperation between European and Chinese enterprises, MOFCOM spokesman Shen Danyang said.
The move will also weigh against the development of both upstream and downstream industries of the eurozone's photovoltaic sector, and in turn hinder low-carbon development efforts, Shen said.
Although China has sent a delegation to consult with the EU to convince involved parties that Chinese companies haven't been dumping goods in Europe, the EU is highly likely to place the case on file for investigation shortly, said Li Zhi, Director of the MOFCOM Bureau of Fair Trade for Imports and Exports.
"Once EU levies anti-dumping duties on China's PV products, the result will be devastating for Chinese PV makers," said Zhao.
According to Shi Lishan, Deputy Director of the New Energy and Renewable Energy Department with the National Energy Administration (NEA), too much reliance on exports could put the Chinese photovoltaic industry in danger.
"Based on the impact from the financial crisis and the resurgence of trade protectionism, advanced countries will undermine the export competitiveness of developing countries via formulating more strict emission rules and technological and labor standards in addition to traditional trade remedy actions," said Shi.
Weakening external demand and the small domestic market have left Chinese solar manufacturers struggling to survive. Major players including Suntech Power Holdings, LDK Solar and Yingli Green Energy Holding all posted larger-than-expected profit losses in the first quarter of 2012.