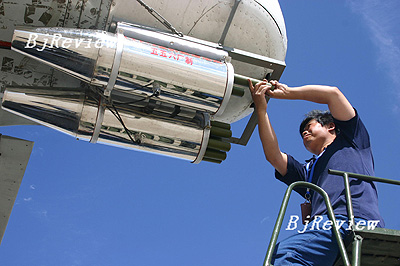 Zhang Yimou, Chief Director of the opening and closing ceremonies of the Beijing Olympics, is a worried man. His concern is the weather, and how it will be on August 8 when the Games begin. His worst fear is heavy rain that could wash out the whole event.
Analysis of Beijing's meteorological data from the last 30 years might provide Zhang with some confidence. The probability of extreme weather conditions such as heavy rainfall in August is very small. It has happened only once in the past 30 years.
However, no heavy rain does not mean no rain at all. Data provided by Beijing's Weather Manipulation Office might make Zhang Yimou more anxious: The probability of rainfall on August 8, according to historical data, is 47 percent.
The date for the opening ceremony of Beijing Olympics was originally set on July 25, but the period from that day to August 10 is the main wet season of Beijing, and the concentration period of "sauna days" (high temperature and humidity). Therefore, after winning the bid to host the Olympic Games, Beijing raised the idea of postponing the event for one to five weeks. Finally the International Olympic Committee (IOC) set the date of opening ceremony as August 8.
After that, meteorological institutions of Beijing helped relative departments to arrange the competition schedule according to the weather conditions, in order to ensure that everything runs smoothly.
Beijing has also conducted experimental research on artificial hail suppression and rain elimination. "At present, Beijing has relatively advanced technology for artificially influencing weather conditions," revealed Zhang Qiang, Deputy Director of the Weather Manipulation Office. Based on domestic and foreign experimental results in this field, Beijing can better control small-scale and weak rainfall using artificial rain elimination technology. "That is to say, small or moderate rain can be eliminated artificially," said Zhang.
According to Wang Yubin, Associate Engineer in Chief of the Beijing Meteorological Bureau, there are several ways to influence weather conditions artificially, one of which is to adjust rainfall mechanisms by adding a catalyst to the clouds to stop rain. Another is to make the clouds rain in advance. "There are many very important factors in the implementation of the two methods," said Wang.
As for the question of whether the catalyst added to the clouds will do harm to the environment, Wang said that what is added to the clouds is either liquid nitrogen or silver iodide. "Liquid nitrogen does not pollute the environment at all and we use just 1 gram of silver iodide per square km," he said. "We monitored the main water system from 2003 to 2007 and found no situations that failed to meet the environmental quality standards."
In any case, weather forecasts will determine whether China's rain prevention technology will be used. According to a request from the IOC, the Olympic meteorological departments must provide a weather forecast that rolls every few hours, and is designed for specific venues. Beijing experiences heavy rainfall compared with recent host cities on the Games. Meteorological data from recent years shows that Beijing's weather conditions in this period are the most changeable, and there is likely to be rainfall every two or three days, which makes forecasting the weather difficult.
However, many experts have full confidence in Beijing's ability to provide a high-quality weather forecast service during the Olympic Games. "We will never be certain in forecasting the weather, but we can work to reduce uncertainty," said Wang Jianjie, Deputy Director of Beijing Meteorological Bureau.
Another Deputy Director of the bureau, Wang Yingchun said, "Although the unexpected always happens in nature, to accurately forecast the weather is a mission that must be completed." Wang is former Director of the Beijing Institute of Urban Meteorology under the China Meteorological Administration. A project to detail weather forecast technology research for the Olympics directed by her has provided strong scientific and technological support in solving various problems in Olympic weather forecasting.
The premise of detailed weather forecasts is meteorological observation. Meteorological departments have already set up automatic weather stations in many Olympic venues since 2003. In addition to observing the temperature, pressure, humidity, wind direction and wind speed, the stations also observe atmospheric data that are specifically important to sporting events. Up to now, Beijing has set up almost 200 meteorological observation stations, which are evenly distributed in urban areas at one for every 5 km, and in suburban areas at one for every 10 to 15 km.
Apart from the host city, the Beijing Olympic Weather Service Center has set up meteorological observation stations in co-host cities and important areas for the torch relay, forming a video service system that links many places.
The Beijing Meteorological Bureau has also provided an assurance that meteorological support for the Olympic Games is now well prepared, and a detailed weather forecast system for the Olympics has been established.
Deputy Director Wang Jianjie indicated that in light of the different characteristics of various sporting activities, the relative departments could provide climate analysis, live service technology, emergency support and other comprehensive forecasting services. "Apart from the conventional observation, the transmission time of the observation data of the automatic meteorological stations surrounding the Olympic venues has been shortened from day-to-day to hour-to-hour and even every 10 minutes," he said.
"Before May this year, Beijing will set up information kiosks, display screens and warning towers in some streets and blocks. Meteorological departments will display information on a screen, providing citizens and tourists with scientific, useful and easy-to-understand meteorological information that is up-to-the-minute," said Wang Jianjie.