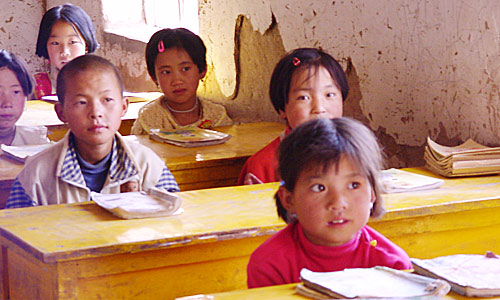 SUPPORTING EDUCATION: As part of the World Bank's Basic Education project in west China, the northwest Ningxia Hui Autonomous Region has received $21.5 million in loans from the bank (COURTESY OF THE WORLD BANK)
China's achievements have attracted the attention of the world, and many developing countries are turning to China for knowledge and ideas, Zoellick said.
Now, the World Bank can draw from China's experience—whether in infrastructure, education, rural development, forestry or energy—and employ this knowledge with other countries to overcome poverty in the world, he said.
The annual China-Africa high-level experience sharing conference jointly hosted by China and the World Bank is now a platform for China and African countries to share lessons and facilitate project coordination.
"Some Chinese manufacturers are relocating to Southeast Asia where labor and land costs are more affordable," Zoellick said. "So we are exploring the possibility of attracting those enterprises to Africa and building special economic zones for them."
Upgraded status
China's role at the World Bank has also changed over the years. In December 2007, China contributed $30 million to the International Development Association (IDA), which provides grants and no-interest credit to the world's poorest countries. The donation was China's first contribution to the IDA. Since 1981, China has received more than $9.9 billion in IDA credits to support priority projects and strengthen capacity and institutions. China stopped being an IDA client in 1999 when its growing prosperity qualified it for more market-based terms from the World Bank.
In 2009, China purchased $1.5 billion in private placement bonds of the International Finance Corp., a private sector lending arm of the World Bank, in an effort to boost global trade financing.
This transition was followed by yet another important milestone in April 2010 when China gained a louder voice at the bank. Under the bank's reform, China's voting power was increased to 4.42 percent from 2.77 percent, the third largest in the 186-nation anti-poverty lender.
"This new role comes with many opportunities, responsibilities and expectations," said Zoellick. "China will need to weigh how it can best contribute as a responsible stakeholder in the international system."
China's influence will be felt in designing effective climate change policies, ensuring steady global growth, and providing development resources and investment to overcome poverty in other countries, he said.
"This increased representation reflects China's growing economic clout and paves the way for the country to assume greater responsibility in world economic affairs," said Justin Yifu Lin, chief economist of the World Bank.
The next steps
Looking ahead, the World Bank vowed to tighten its partnership with China and help it tackle new challenges, including poverty reduction, economic rebalancing and environmental protection.
"China's quest now is to join the ranks of high-income countries in the next 15 to 20 years while also protecting its environment and natural resources," said Zoellick. "But experience shows that transitioning from the middle income to high income status can be harder than from low income to middle income."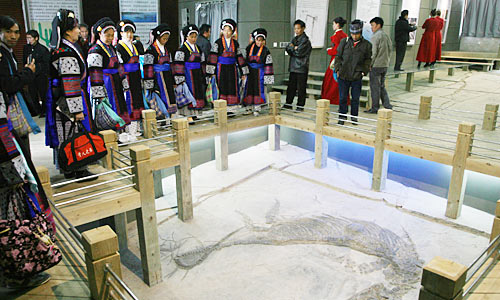 CULTURAL COMMITMENT: A group of Buyi ethnic minority women visited the Guizhou Guanling National Fossil Geopark on December 8, 2009, where a World Bank project was initiated to protect southwest Guizhou Province's cultural relics and restore ancient buildings (LIU JILING)
During the 12th Five-Year Plan period (2011-15), China will focus more on developing its greatest asset—its people—by emphasizing education, open innovation and social security and health care systems, he said. "At the same time, we are likely to see more emphasis on energy efficiency and emission reduction."
Zoellick said that the World Bank would work with China to help it find a better balance between domestic demand and export-led growth, consumption and investment, rural and urban development, and the growth of its interior and coastal economies.
Minister Xie said China has a long way to go toward prosperity, and still needs help from the World Bank in terms of technological assistance and knowledge transfer.
The next step of the partnership is to strengthen cooperation efficiency, place the focus on quality instead of quantity of project loans, and help other developing countries through the World Bank, he said.