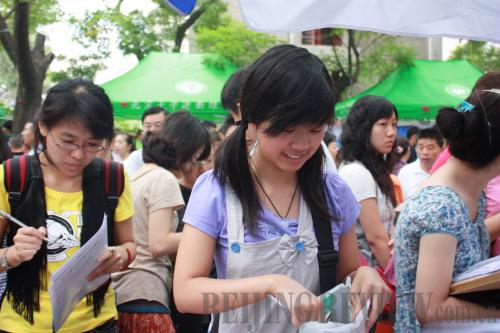 A NEW DAY: Students enroll at the Department of Chinese Language and Literature at Peking University on September 1 (COURTESY OF DOCLL)
September 1 brings throngs of new students to Peking University. Across the campus, information booths for every department stand waiting to receive the freshmen and freshwomen.
The Department of Chinese Language and Literature (DOCLL) is one of them. The department is celebrating its 100-year anniversary and is busy welcoming 294 new students. All of them will receive a special gift to commemorate being a part of the college centennial.
Qi Zhaonan is a new undergraduate student in the department. She graduated from No. 5 Middle School in Beijing. As a student who likes writing very much, she picked the DOCLL first.
In China, students in high school are normally separated into two groups: one specializing in science and another in arts. The majors they choose in college are mostly determined by which group they are in during high school.
Qi, in her first year in the high school, chose science. Despite good grades, after one year, she changed to arts. "Peking University is my dream university," said Qi. "And DOCLL is the best program of its kind. It's a legend to me."
Quite a few students choosing this subject could not give specific reasons for making the choice. "It is just like a complex," said a student surnamed Liu from Liaoning Province. "Part of which comes from this university, and part comes from this major."
Liu traveled to Peking University with her parents when she was in high school. "The old houses of ancient style and trees, as well as the atmosphere in the university, were a big attraction to me," said Liu. "From then on, I made up my mind that I will spare no effort to enter this university. I like writing, so DOCLL is perfect for me."
Liu's mother, who accompanied her daughter to the university, is very happy that her daughter entered the best university in China. Meanwhile, she also expressed her concern saying, "I am just not clear what jobs the students from this major can find."
"It is a common question and concern for not only the parents, but also the students, due to the increasing employment pressure on college graduates over recent years," said Chen Pingyuan, a professor at the department. "The education at DOCLL is not employment-oriented, but there are a variety of job choices for students of this major, such as journalists, teachers and public relations."
Many people believe that students majoring in Chinese language and literature will become writers, or at least head in that direction.
"It is quite a misunderstanding for this major," said Liu Chun, who just graduated from Peking University's DOCLL in 2010. "Chinese study includes many aspects, and writing is just one aspect of it. It focuses more on cultivating a thinking method, not how to be a writer. From language study, students can have a deeper understanding of Chinese culture, which is very important for students."
Song Huanying chose to continue her studies at DOCLL after she earned her master's degree. "The past three years I spent here are very happy days. The professors are all very kind and Chinese learning has become a big enjoyment," said Song. "I want to be a college teacher in the future, so I think it is better for me to stay here longer and solidify my professional knowledge in this field."
Chinese learning attracts not only domestic students, but also those from other countries.
Ya Li is from Malaysia. She received her bachelor's degree at the University of Malaysia and came to DOCLL for her master's degree. "Chinese is a very beautiful language, especially ancient Chinese, which sounds very rhythmic," she said. "After I finish my degree, I will go back to Malaysia to be a Chinese teacher."
German Martin Lo is quite familiar with Peking University as he visited it many times before with his mother, Mechthild Leutner, a famous sinologist from Free University in Berlin. He even studied Chinese in a kindergarten and primary school affiliated with Peking University.
"I am very interested in Chinese as well as the marvelous Chinese culture," said Lo. "It is why I come back again and again. China is developing very fast now and I believe that in the near future, the Chinese language will become more and more popular all over the world."