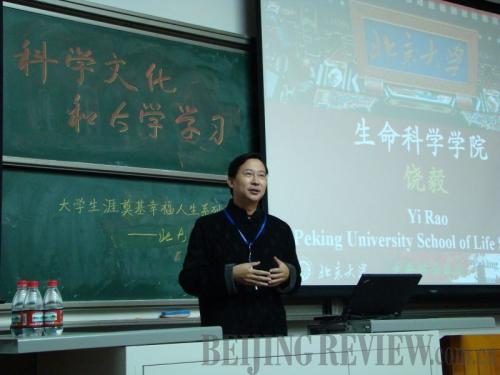 DEDICATED TO TEACHING: Rao Yi, Dean of the School of Life Sciences at Peking University, gives a lecture (COURTESY OF RAO YI)
When Rao Yi, once a chair professor of Northwestern University in the United States, returned to China to become the Dean of the School of Life Sciences at Peking University in 2007, he said it was because he didn't want to "just look on the epoch-making changes that are taking place in his homeland."
The engagement of Rao, who enjoys a good reputation for his molecular biological research in the international scientific community and has spent more than 20 years abroad, also reflected the determination of both Peking University and Chinese educational circles to reform.
Rao believes people should not only ask what problems China has, but also what problems they can solve for the country.
"Some problems can't be solved all at once, but I hope there are students who care about them, as they might be the policymakers 20 years later," he said.
The predecessor of the Peking University School of Life Sciences was the Department of Biology, which was established in 1952 by merging the departments of biology of three famous universities. It was named School of Life Sciences in 1993.
Added to the initial majors of zoology and botany were plant physiology, animal physiology and animal genetics in the early 1950s. Over the years, other programs such as biochemistry, biophysics, environmental biology and ecology were added. The school currently enrolls more than 500 undergraduates and more than 400 graduate students.
Right after Rao took the position, he started to communicate with students of different grades and alumni to solicit their opinions about more reforms. Although students have felt the impact of the "subversive" changes he has made, Rao set his targets as far as 20 years in the future.
"After several generations of effort, there will be some internationally top-class students in China," said Rao.
In his eyes, Peking University should train leadership-type talents, instead of technicians.
Rao and other professors first made some changes in undergraduate courses. They conduct a new course on thinking and the concept of biology because they believe the most interesting and important thing about biology is how new thinking and discoveries are made and proved.
While greatly improving laboratory conditions, Rao's school continues integrating and updating a batch of old courses and adding new courses representing the latest development trends of life sciences.
When it comes to the hiring of laboratory principal investigators, Rao believes they should get the best candidates from all over the world. "That's the best place for state funding to go," he said.
Reforms have never stopped in this school and its alumni includes such outstanding scholars as Pan Wenshi, China's premier panda biologist, Chen Zhangliang, who won the Javed Husain Prize for Young Scientists, which is called the Nobel Prize for researchers under the age of 35, as well as Xu Zhihong, former President of Peking University.
Students in the School of Life Sciences have started to prepare for summer internships. In recent years, more and more students are able to practice at laboratories or companies in the United States and Europe through personal connections of Rao.
Thanks to the reforms, Rao's school has become the premier award-winning life sciences school in China. One course given by Rao and other professors was credited as the best graduate course in 2008.
"We win because some schools care less about teaching," Rao said.
He said at present many Chinese universities emphasize scientific research instead of teaching, because those research projects enable them to get large sums of government funding.
Rao also encourages students to have fun in their studies. At the school's commencement ceremony last year, Rao made a speech consisting of merely one sentence, "I think, I try and I'm happy."