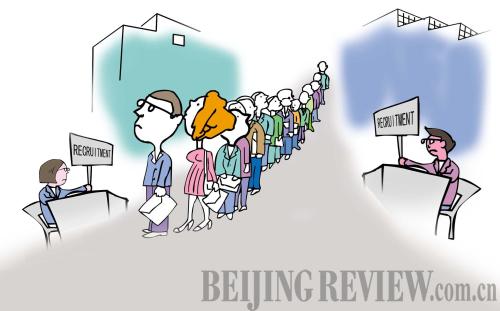 (LI SHIGONG)
According to a recent report in Changjiang Daily, Chen Chuande, Deputy Director of Hubei Provincial Education Department, said at a conference on March 30 he "deeply regretted" college graduates' mistaken ideas about finding work. Chen said some graduates insisted on finding high-paid jobs or working in certain cities, while others chose to stay out of the labor market where they could not find "satisfying jobs," still others changed jobs frequently by breaking contracts with employers.
People have reacted to Chen's remarks rather differently. While some agree with Chen and think his comments timely and necessary, others believe college graduates shouldn't be criticized for being selective about salaries, cities to live in or changing jobs too often. Many critics even blamed some officials for using the excuse of graduates' "picky" attitude to conceal their inability to boosting employment.
Before 1982, Chinese college graduates were assigned to work by the government immediately upon graduation, which meant an almost 100-percent employment. The following more than a decade saw a reform of the state-controlled system. After it completed in 1994, college graduates have to seek work by themselves.
Since China started a program of enlarging college enrollments at the end of the 1990s, the number of annual college graduates has been growing sharply. Meanwhile, it has been increasingly difficult for graduates to find jobs. It is estimated that 6.4 million students will graduate from colleges and universities in 2010, who might face gloomy employment prospects, as a large number of graduates from the last few years are still looking for jobs.
Setting realistic goals
Zhang Yusheng (Guiyang Daily): Graduates are often too ambitious after spending several years studying in an institution of higher learning. They tend to overestimate their capacities and skills. This is one reason why some graduates have impractical expectations about their future jobs and salaries. Some graduates rule out jobs that are not in big cities or with big companies or high salaries. They do not adjust their goals in accordance with reality in the labor market and refuse to work in grassroots positions.
One of the reasons for the problem is insufficient career planning education for college students, who end up not knowing what jobs suit them or how to look for those jobs. In the planned economy before the reform of state-assigned employment for college graduates, they didn't have to look for a job.
The situation is now totally different. Obviously some college graduates have failed to adapt to the change.
College graduates have to find realistic paths to achieve their self-value. I suggest they should accept not-so-ideal first jobs, where they could increase their knowledge of society and improve their professional skills, while looking for better opportunities. The college education should not only give people knowledge but also increase their adaptability to society.
Many successful people started by working hard in a low-position job. In such a tough labor market, I suggest graduates take whatever jobs they are offered and try to learn new things in work.
Lei Hongpei (Beijing Morning Post): It is true there is a shortage of jobs for new graduates. In such a competitive labor market, college graduates should learn to be more flexible in job hunting. However, they haven't.
Everybody, including college graduates, needs to learn to adjust their expectations in line with reality. We are in the middle of a global financial crisis, which means individuals have to make sacrifices. As for college graduates who are looking for first jobs, they should settle for whatever they can find for now and switch to a better one when the economy recovers.
Boosting the employment of college graduates should not rely on government support alone. Graduates themselves should also lower their expectations about their first jobs.
Li Shaokui (www.chinacourt.org): Although the government has put various policies into practice to help college graduates find jobs, the overall oversupply of college graduates in the labor market is the reality. Meanwhile, China's education is mainly exam-oriented, and its shortcomings are reflected by a lack of capacity in some college graduates. Take some graduates with a bachelor's degree for example. They don't have the physical strength of migrant laborers or the practical skills mastered by vocational high school graduates. If they only want to land a good job, they might stay out of the labor market and continue to live indefinitely on allowances from their parents.
It is a waste of one's own efforts and the family's money if a college graduate can't get work after receiving higher education. It is also college graduates' social responsibility to repay society with their own work and take up their mission to promote social development.
Having freedom to choose
Zhu Sibei (Workers' Daily): From the perspective of college graduates, there are at least three reasons why they choose to stay out of the labor market.
First, they come to the labor market with certain expectations. Even if they choose to skip job vacancies whose working conditions and salaries fail to meet their expectations, it is understandable. Graduates shouldn't be criticized for that.
Second, higher education is actually a form of investment in self-development. As with any form of investment, the investors seek the maximization of their personal gains. Considering many families spend a considerable part of their savings to pay their children's college tuition, it is reasonable that graduates hold certain ideas about standards for their first jobs.
Third, college graduates can't obtain enough information on job vacancies in a segmented labor market.
Therefore, while advocating a realistic attitude while job-hunting for college graduates, we should also put ourselves in their shoes and understand their difficulty. More importantly, government departments should establish well-functioning information platforms to release job vacancies in all sectors in a timely manner so graduates can obtain enough information and take their own initiatives to alter salary expectations. Of course, institutions of higher learning should also adjust the design of disciplines to match different and changing demands in the labor market.