China also has high-speed railways with seamless tracks, such as the Beijing-Tianjin Intercity Railway. On the 120-km railway, there is not a single seam. He Huawu, chief engineer of the MOR, said using seamless tracks in China is a thorny problem due to its vast territory and range of temperatures between different regions and seasons. After years of research and a hefty financial commitment, China has developed the most advanced technologies in the world in both ballastless and seamless tracks.
High-speed innovator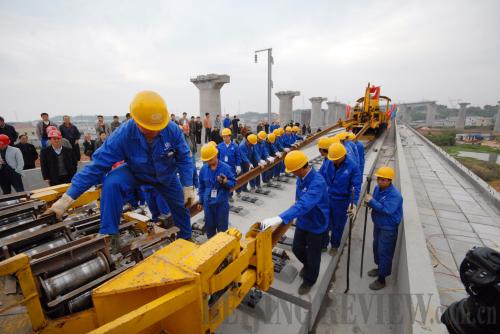 LAYING DOWN THE LINE: Workers lay seamless tracks on the Wuhan-Guangzhou High-Speed Railway, which was put into operation on December 26, 2009 (LIU SHANGWEN)
The MOR release said China's high-speed train technologies have reached the world's most advanced level. Based on mastering core technologies for high-speed trains capable of traveling 200-250 km per hour—the same as those abroad—China has solved the difficulties that restrict speed increases. With innovations in key technologies and manufacturing technologies of its own, China has successfully established a technology platform for trains with a speed of 350 km per hour.
China-made CRH high-speed trains now operate widely on high-speed lines nationwide. The CRH trains have risen to the advanced level among world high-speed trains for their demonstrated excellence on the Beijing-Tianjin, Wuhan-Guangzhou and Zhengzhou-Xi'an high-speed lines, in addition to the operating speed, large transportation volume, energy-saving and environmentally friendly capability, and comfort of each train.
Overseas competitors, He said, have yet to match the speed of China's trains. The Super Express, or Shinkansen, is the masterpiece of Japan, but runs at only 300 km per hour, while French and German high-speed trains run at around 320 km per hour and 300 km per hour, respectively.
China, while producing the world's fastest trains, hasn't ceased efforts to produce even higher-speed rails. To meet the demand for a Beijing-Shanghai high-speed corridor, China has completed the design work for trains capable of traveling at more than 350 km per hour, and progress is being made on the production of such trains.
The Chinese Train Control System (CTCS)—the mechanism used to coordinate China's massive rail network—has also surpassed the present world advanced level. Currently, most Chinese rails apply the CTCS-2 technology, which is similar to the high-speed train control system used abroad. In addition, a CTCS-3 system has been developed to ensure the safe operation of high-speed trains of 350 km per hour with train intervals of three minutes. The CTCS-3 system has been applied to the Wuhan-Guangzhou High-Speed Railway and the Zhengzhou-Xi'an High-Speed Railway with positive results.
Since China is still in the primary stage of high-speed railway development, many railway stations serve both high-speed and standard trains, which presents varying safety requirements, especially when trains are entering and leaving the stations.
"We have solved this problem and unveiled all the hidden perils caused by pulling in trains from multiple tracks," He said.
China's routine maintenance system for high-speed railways integrates some of the most advanced technologies in the world. This technology combines sub-systems such as CRH trains, telecom signals, operation controls and passenger transportation. Specialized personnel are responsible for checking the integrated data and then making subtle adjustments to the equipment based on the collected data in order to optimize the whole system.
The integrated technology will not only allow China's high-speed rails to reach their goal of breaking speeds of 350 km per hour, but also provide new levels of comfort and safety where not even full beverage glasses will spill during the course of any trip.
The MOR release also outlined plans for comprehensive high-speed checking trains to monitor the infrastructure with automated equipment. In addition, the MOR has developed early-warning technologies to monitor natural disasters in real time.
Exporting technologies
China has reached a series of agreements with the United States, Russia, Brazil, Saudi Arab and Venezuela on cooperation in high-speed railway construction. Some of the projects are making significant headway.
The MOR release says it will share advanced and mature high-speed railway technologies with other countries in line with the principle of mutual benefit and win-win cooperation to promote high-speed railway development worldwide.
As chief engineer of the MOR and mastermind for designing and manufacturing China's high-speed railways, He is quite proud of the independent innovation and breakthroughs his country has made.
He said China has complete independent intellectual property rights over its high-speed railways, with 946 patents pending. And so far, there have been no intellectual property right disputes between China and any foreign companies in the high-speed railway sector.