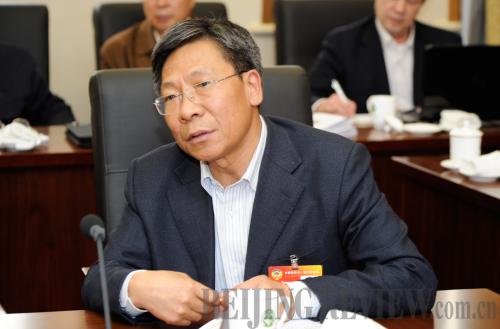 Sheng Lianxi, a member of the Third Session of the 11th National Committee of the Chinese People's Political Consultative Conference (CPPCC), China's top political advisory body, discusses education policy on March 5, 2010 (SHI GANG)
Administration management of institutions of higher learning should not interfere with academic research work, said members of the Third Session of the 11th National Committee of the Chinese People's Political Consultative Conference (CPPCC), China's top political advisory body.
"Reform of institutions of higher learning should focus on advocating academic freedom and fairness," CPPCC member Sheng Lianxi, who is also secretary of the Party committee of Northeast Normal University in north China's Jilin Province, said in an interview with Beijing Review.
In recent years, an increasing number of professional educators and science and technological personnel, especially young professionals, have given up their specialties to vie for administrative rankings at universities. Bureaucratic college management has been seen as an obstacle to education renovation and personnel training.
"One person should not shoulder both academic research work and administrative work," said CPPCC member Ke Huixin, who is also the head of the Communication Research Institute at Communication University of China in Beijing. "Take a principal for example. As the head of a university, he or she should concentrate on managerial work, and should no longer research subjects or tutor graduate and doctoral candidates."
It is popular in China's universities these days for some people to act as both teachers and administrators, in addition to conducting research projects. "Actually, these principals have to assign their tasks to others, which leads to fewer opportunities for many ordinary teachers," Ke said.
This opinion was echoed by CPPCC member Liu Yan, who is also the director of the pre-school education department of the School of Education at Beijing Normal University. "Professionals should be allowed to give up their academic work, but once they have engaged in administrative work, they should apply themselves only to administrative business and not vie for research projects or apply for professional evaluation," Yan said. "Otherwise, it would be unfair to common teachers."
Bureaucratic college management has long been a topic of discussion. Dong Jian, a professor at Nanjing University, said in 2008 that university principals have joined the ranks of government officials. "They are officials, no longer educators," Dong said. "In this situation it is easy to breed corruption."
Premier Wen Jiabao said early this year when he solicited public comments on his government work report that "some universities are utilitarian, with everything they do connected to money, which is a fatal problem." On February 27, while visiting Xinhuanet.com, he called for changes in the education bureaucracy and said that administrative rankings of colleges should be eliminated.
On February 28, at a press conference to openly solicit comments on the draft of the National Outline for Medium and Long-term Education Reform and Development (2010-2020), Education Minister Yuan Guiren came up with "removal of bureaucracy-like management in colleges."
College administrative problems have two aspects, according to Yuan. The first is direct government management, and the second comes from internal college bureaucratic administration.
He said that the current pattern in which the government runs colleges directly should be changed, and unnecessary government interference should be reduced. "Education tasks in the near future are to explore practical ways to formulate a managerial system and related policies that are in line with college characteristics," said Yuan. "The aim is to gradually remove the existing administrative ranks and bureaucratic administrative model, as written by the Outline for the coming 10 years."