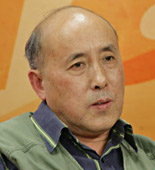 Zhang Xiaoshan, Director of the Rural Development Institute under the Chinese Academy of Social Sciences
As China accelerates the shift to rely more on domestic demands, the rural market definitely presents a rich bonanza of consumers, though it will take some time to explore its full potential.
The No. 1 Document for 2010 has mandated subsidies for rural purchases of construction materials, a measure widely considered a powerful catalyst for farmers to bump up spending. It will also encourage them to build better houses and improve their livelihoods.
Since early 2009, the government has distributed subsidies, allowing farmers to purchase appliances and vehicles. The document said the program would be continued and widened to cover employees of state-owned farms and forestry firms.
Many migrant workers have returned to the countryside, bringing back urban consumption habits. This will surely pump some steam into the rural consumer market and help widen domestic demands.
But subsidies are still far from enough, and China still has a long way to go to drive up rural consumption. In 2006, consumption by Chinese farmers contributed 5.8 percent to the rural economy, compared with 34.3 percent of urban households.
As a result, the country should double its efforts to increase the income of farmers and offer them more job opportunities. Efforts are also needed to further perfect the social security net, including medical insurance, education and pensions, to add incentives for them to spend.
China has every reason to continuously spark buying interest of farmers, the country's largest group of potential consumers. A thriving rural consumer market would effectively wean the country off its dependence on exports and investments, and also absorb the industrial overcapacity, a serious conundrum for the Chinese economy.