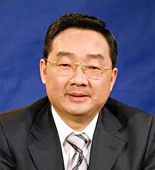 Tang Renjian, Deputy Director of the Office of the Central Rural Work Leading Group
The No.1 Document has sent out a strong signal that the country is increasingly looking to the rural markets as a sustainable source of growth.
China has no reason not to put the focus on the vast countryside where the enormous population and rising incomes present the potential for a consumption boom. Most importantly, a stable and vibrant agriculture sector could lay a solid foundation for an economic take-off and help cool down simmering inflationary fears.
Agriculture in China has shrugged off the ripple effect of the financial crisis and picked up steam. But it is obvious that the outdated traditional agricultural production methods, which forced the country to rely heavily on imports of soybeans and cooking oil products, cannot keep up with rising demands.
A viable solution is to forge ahead with the aspects of modern agriculture that enjoy higher grain yields and energy efficiency. This would require heavy government support for agricultural talent, advanced technologies and capital.
To ease the financial distress facing the rural economy, the document aimed at strengthening financial services in rural areas, including small credit, village banks and insurance, and requires the Agricultural Bank of China and other policy banks to extend long- and medium-term loans for rural infrastructure projects.
The overall goal is to make banking services available in all villages and townships across China in the next three years, according to the document.