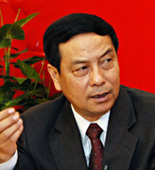 Chen Xiwen, Director of the Office of the Central Rural Work Leading Group
This year's No.1 Document will have far-reaching implications for the countryside and the national economy. This was the seventh time the central leadership dedicated the first document of the year to an agriculture-related issue. It vows vigorous efforts to improve the income for farmers and rural infrastructure, press ahead with modern agriculture and technological innovations, as well as raise grain yields and quality.
Coming off a rock bottom in early 2009, China's rural economy has shown significant resilience, with grain output holding up and numerous unemployed migrant workers regaining their jobs. Nevertheless, a number of uncertainties still lie ahead for the sector to fully prosper. After years of torrid growth, the agriculture sector has come under increasing pressure from shrinking farmland and poor weather conditions. In addition, the country has felt the budget stresses of pumping money into rural businesses.
There are four highlights in the document that hold the key to rural development this year.
First, the country aims to boost farmers' incomes and bridge the expanding rural-urban divide. To achieve this, the policymakers will strengthen state purchases of corn, soybean and oil seeds, and support rural businesses with easier access to credit and other social resources.
Second, more efforts will be made to stimulate demands from rural markets, such as providing cash subsidies for home appliance, automobile and agricultural equipment purchases.
Third, the government has recognized the urgent need to push for an energy-efficient and innovative modern agriculture as the country reorients itself toward healthier growth. The country, for example, consumed a staggering 50 million tons of fertilizers in 2009, most of which was made from coal and natural gas.
Fourth, China is gearing up to hasten the integration of rural and urban areas and remove system barriers that are weighing down the prospects of the rural economy.
Around 60 percent of China's 150 million migrant workers were born in the 1980s or 1990s, referred to as the "new generation of migrant workers" in the document, and are less acquainted with farming and wish to settle in cities. It is therefore necessary for policymakers to help integrate them into urban life and give them equal rights as urban residents.