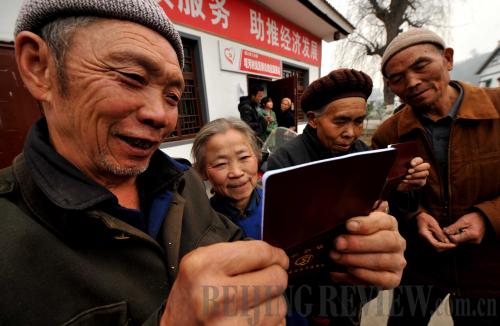 WELFARE IMPROVEMENT: Yang Guochun (left), a farmer in Yanhe Village of Zunyi County, southwest Guizhou Province, and his fellow villagers over 60 years old have started receiving pensions since the beginning of this year (YANG YING)
Coming as a much-needed boon for the countryside, this year's No.1 Document, jointly released by the Central Committee of the Communist Party of China and the State Council, pledges a series of concrete measures to propel improvements in the rural economy and the livelihood of farmers. Nevertheless, rural prosperity in line with the success of urban areas will prove to be a challenge. The foundation of the
agriculture sector remains fluid, and farmers lack a stable source of income and a reliable social safety net. So how can China promote the sustained development of its agriculture sector and social improvements to the countryside? Experts and economists provide suggestions to achieving these goals.
Forging rural prosperity
Chen Xiwen (Director of the Office of the Central Rural Work Leading Group): This year's No.1 Document will have far-reaching implications for the countryside and the national economy. This was the seventh time the central leadership dedicated the first document of the year to an agriculture-related issue. It vows vigorous efforts to improve the income for farmers and rural infrastructure, press ahead with modern agriculture and technological innovations, as well as raise grain yields and quality.
Coming off a rock bottom in early 2009, China's rural economy has shown significant resilience, with grain output holding up and numerous unemployed migrant workers regaining their jobs. Nevertheless, a number of uncertainties still lie ahead for the sector to fully prosper. After years of torrid growth, the agriculture sector has come under increasing pressure from shrinking farmland and poor weather conditions. In addition, the country has felt the budget stresses of pumping money into rural businesses.
There are four highlights in the document that hold the key to rural development this year.
First, the country aims to boost farmers' incomes and bridge the expanding rural-urban divide. To achieve this, the policymakers will strengthen state purchases of corn, soybean and oil seeds, and support rural businesses with easier access to credit and other social resources.
Second, more efforts will be made to stimulate demands from rural markets, such as providing cash subsidies for home appliance, automobile and agricultural equipment purchases.
Third, the government has recognized the urgent need to push for an energy-efficient and innovative modern agriculture as the country reorients itself toward healthier growth. The country, for example, consumed a staggering 50 million tons of fertilizers in 2009, most of which was made from coal and natural gas.
Fourth, China is gearing up to hasten the integration of rural and urban areas and remove system barriers that are weighing down the prospects of the rural economy.
Around 60 percent of China's 150 million migrant workers were born in the 1980s or 1990s, referred to as the "new generation of migrant workers" in the document, and are less acquainted with farming and wish to settle in cities. It is therefore necessary for policymakers to help integrate them into urban life and give them equal rights as urban residents.
Modern agriculture benefits China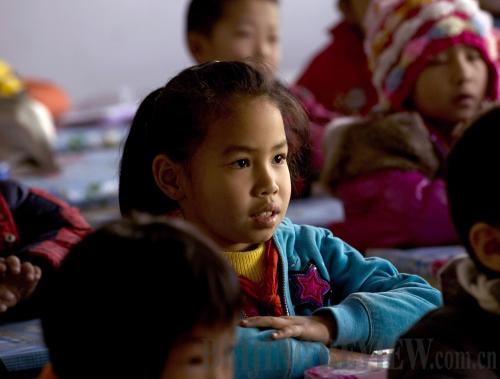 FREE EDUCATION: Starting in 2010, children of migrant workers in Yuli County, Xinjiang Uygur Autonomous Region, receive free compulsory education in public schools (JIANG WENYAO)

Tang Renjian (Deputy Director of the Office of the Central Rural Work Leading Group):

The No.1 Document has sent out a strong signal that the country is increasingly looking to the rural markets as a sustainable source of growth.

China has no reason not to put the focus on the vast countryside where the enormous population and rising incomes present the potential for a consumption boom. Most importantly, a stable and vibrant agriculture sector could lay a solid foundation for an economic take-off and help cool down simmering inflationary fears.

Agriculture in China has shrugged off the ripple effect of the financial crisis and picked up steam. But it is obvious that the outdated traditional agricultural production methods, which forced the country to rely heavily on imports of soybeans and cooking oil products, cannot keep up with rising demands.

A viable solution is to forge ahead with the aspects of modern agriculture that enjoy higher grain yields and energy efficiency. This would require heavy government support for agricultural talent, advanced technologies and capital.

To ease the financial distress facing the rural economy, the document aimed at strengthening financial services in rural areas, including small credit, village banks and insurance, and requires the Agricultural Bank of China and other policy banks to extend long- and medium-term loans for rural infrastructure projects.

The overall goal is to make banking services available in all villages and townships across China in the next three years, according to the document.