According to Liu Zhigeng, Secretary of the Party Committee of Dongguan, the city has a registered household population of 1.73 million out of a total population of 10 million.
Among 1,500 migrant worker respondents questioned by the survey team led by Huang, none had obtained their household registrations in the city where they worked.
Although the migrant workers work and live in the city, their dreams are all the same—building a house in their hometown, said Lu.
"I don't have a Beijing household registration. That means my son could not take the college entrance exam in Beijing. My hometown in Hubei has much higher cutoff scores than Beijing. If my son attended school in Beijing and took the exam in Hubei, he could not go to a good university," said Ding Rongzhong, a book seller from central China's Hubei Province who has to leave his son in his mother's care back home.
Ding is still living in a rented room with his wife. "On my salary, I can't afford a commercial house," Ding said. "I am not qualified to buy housing for low- and medium-wage earners because I don't have a Beijing household registration."
Ding plans to return home when he retires.
"China's urbanization in the past has always excluded farmers outside the cities," Lu said.
More efforts are needed to implement policies to relax the household registration, or hukou, system to allow more rural residents—mainly migrant workers—to settle in small and medium-sized towns and cities and grant them the same rights as those enjoyed by city dwellers, said the document.
"This is the first time that the hukou system reform has been written into the policy document explicitly as a core emphasis," said Zheng Fengtian, Vice Dean with the School of Agricultural Economics and Rural Development of Renmin University of China.
China will also improve housing conditions for migrant workers, said the document. Migrant workers, who have worked in the city for a number of years, are encouraged to be included in the urban housing security system, said the document.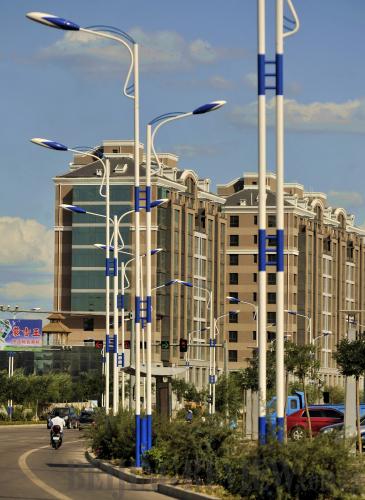 BEAUTIFUL PREFECTURE: In 2009, Zhunger County in Inner Mongolia Autonomous Region topped China's list of 100 strongest prefectures in terms of economy drawing on its advantages in energy and power generation. It also perfected its social security system for the population of 112,000 (LI XIN)
China's urban population surged to 607 million with an urbanization rate of 45.7 percent at the end of 2008, an increase of 148 million from 2000, which makes the urban population almost level with the rural population in the world's most populous nation, the blue book said.
The urbanization rate in China is now 45 percentage points lower than in developed countries and 4 percentage points lower than the world's average level, said Yao Jingyuan, chief economist of the National Bureau of Statistics.
China's urbanization, which will be a powerful engine for the country's economic development, still has room for improvement, Yao said.
According to Chen, China's urbanization will be a source of job creation and domestic demand, which will allow the Chinese economy to maintain a rapid and steady growth in the coming decades.
Urbanization with Chinese characteristics
While counting on urbanization as a means to boost the economy, China is keeping a clear mind on pursuing an urbanization mode of its own.
For long, China's urbanization has neglected the development of small towns and small and medium-sized cities, weighing heavily toward big cities, super large cities or metropolitans, said Chen.
According to the National Bureau of Statistics, the urbanization rates of Shanghai, Beijing and Tianjin are the three highest in China, at 88.7 percent, 84.3 percent and 75.7 percent, respectively. The urbanization rate in southwest China's Guizhou Province, by contrast, is only 27.5 percent—the lowest in China.
In recent years, big cities have accumulated the bulk of industries, wealth and population, putting strains on their limited resources and space, said Chen.
In this sense, China should put the focus of its urbanization on towns and small and medium-sized cities, Chen said.
According to Chen, emphasis will be placed on prefecture-level cities with populations of no more than 200,000 to 300,000 in this round of urbanization.
It will be much easier for farmers to settle in prefecture-level cities, since the house prices and living expenses in big cities are too high for them, said Chen.
County economies will be enhanced by accepting industrial transfers from advanced areas and promoting the collection of projects in counties and key towns, said the document.
More measures will be taken to support the development of small towns, including fiscal and investment policies and land allocation, said the document.
"Small towns, connecting urban and rural, agriculture and industry, should be the key point in the systematic innovation of China's urbanization," said Peng Zhenhuai, Director of the Chinese Local Government Academy at Peking University.
When a new generation of migrant workers joined the huge labor force pool, their situation also caught the attention of the Chinese Government.
Most of the new generation of migrant workers were born in the "1980s and 1990s," and make up more than 60 percent of the 150 million migrant workers who work in places elsewhere in China other than their hometowns.
Differing from their parents' generation, most of the new generation went to junior or senior middle schools, but did not do farm work and want to live in cities.
Efforts will be made to make the new generation of migrant workers a large labor force reserve, including offering free vocational training, said Tang.