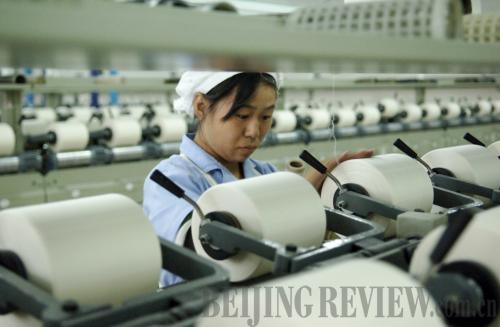 FARMER TURNED WORKER: Farmer Chen Huiping of Daqiao County, central China's Anhui Province, now works in a local textile factory. More farmers are washing mud off their legs in favor of becoming industrial workers amid the urbanization surge in China (LI JIAN)
The labor force shortage in China's southeast coastal cities had many factory managers and owners wound tight with anticipation prior to the Chinese New Year, with many hopeful for an influx of migrant workers later in February. But when the Spring Festival that fell on February 14 this year concluded, enterprises and factories in the advanced coastal region did not experience the large inflow of migrant workers that had been expected.
According to the labor force and social security administrations of Shenzhen, Guangzhou and Dongguan, the three cities had a labor force shortage of more than 2 million this year.
Although employers lowered their cutoff standards in hopes of recruiting more workers, their efforts hardly paid off.
Twenty-eight-year-old Li Yuhui, from central China's Hunan Province, and his wife stayed in Dongguan during the Spring Festival. But it was not out of choice, but instead, by necessity. After working in Dongguan for almost 10 years, his wife's illness and giving birth to multiple children last year put a substantial squeeze on his savings—making a trip home for a New Year's reunion impossible.
"Neither my wife nor I have medical coverage because we are not registered residents of the city," said Li. "Although I want to become an official member of the city, that's just not possible."
Li's dream of becoming an urban citizen may well find a response in this year's No.1 Document.
China will push the urbanization process forward in an active and steady manner while reforming the household registration system to offer farmer-turned-city residents equal rights and benefits, the No. 1 Document stated.
The two key points in China's urbanization should be the development of towns and small and medium-sized cities, and turning those qualified farmers into urban residents, said Chen Xiwen, Deputy Director of the Office of Central Financial Work Leading Group and Director of the Office of Central Rural Work Leading Group, at a press conference on January 30 in Beijing.
Decades in the making
As a storekeeper, Li earns 1,600 yuan ($235.3) each month, more than double his monthly income 10 years ago when he first arrived in Dongguan. His income is still low, and after paying for rent and daily necessities he is hardly able to save anything.
While Dongguan has stood out as an international factory hub in the past decade, Li and his migrant peers seemed alienated from the advancement.
In 2008, Dongguan's per-capita disposable income for urban residents reached 30,275 yuan ($4,452.2), ranking first among Chinese cities. This beacon of hope for increasing incomes did not include Li and other migrant workers.
According to the Blue Book of Cities in China released by the Urban Development and Environment Research Center under the Chinese Academy of Social Sciences (CASS) in June 2009, the urban-rural income ratio averaged about 5 in 2008, in contrast with the gap in 2000, when the ratio was 2.79.
"If farmers' incomes remain low, they will not be able to consume, which will restrict industrial production," said Lu Xueyi, former director of the Institute of Sociology under CASS.
China boasts 900 million farmers (including 230 million migrant workers) and their income and consumption exert a gross influence on the country' macroeconomy, said Yasheng Huang, a professor of international management at the Massachusetts Institute of Technology Sloan School of Management.
Although China has taken a series of measures to boost rural consumption, such as home appliance incentives for families in rural areas, all have failed to hit the target, said Huang.
"The most essential point to expanding rural consumption and rural income should be urbanization," Huang said.
As early as 2000, the Central Government noted China should take the road of urbanization with Chinese characteristics, said Chen.
But urbanization did not come as easily or quickly as initially expected.