More funds required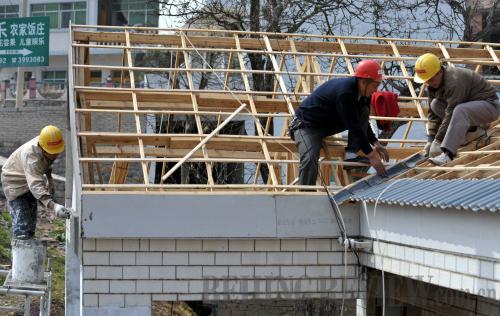 BETTER LIVING: Farmers in Guiyang, Guizhou Province, renovate their houses. The No.1 Document will dedicate funds allowing farmers to fix and build their own houses (YANG YING)
Li Fanmin is head of a village Party committee, a grass-roots official who directly interacts with farmers. Li is a farmer himself. Besides cultivating his own land, he also needs to consider the village's public affairs.
"This year's No.1 Document says the amount of fiscal contributions to rural areas should increase and its proportion among the total fiscal input should also be raised," Li said. "This is good news."
In 2009, the Central Government spent 716.14 billion yuan ($104.85 billion) on agriculture, the countryside and farmers, which was 120.59 billion yuan ($17.66 billion), or 20.2 percent, higher than the previous year. However, most of the expenditures went to rural infrastructure construction. Direct subsidies to grain, comprehensive subsidies to agricultural capital goods, purchasing subsidies to farming machines and subsidies to improved strains—the four most important subsidies directly offered by the government for farmers in agricultural production—received 123.08 billion yuan ($18.02 billion), up 19.4 percent year on year in 2009.
"However, fiscal support to rural areas is far from enough. For many villages, it's not that they have no way to develop. They want to develop but have no money to do so," said Li.
Li's village is a typical poverty-stricken village. "There are abundant marble reserves in our village. Marble is a good kind of building material, but the roads connecting our village are inconvenient," Li said. "Most of the financial support from the Central Government is used for agricultural production, but the support is often times not enough."
The No.1 Document of 2010 tries to ensure three things: that fiscal expenditures should support the development of agriculture and the countryside; that budgetary fixed assets investments first be focused on agricultural infrastructure construction and projects to improve farmers' livelihoods; and that land transferring income first be used for farmland development and rural infrastructure construction. Moreover, the document also expands the scope of tomato subsidies, launches improved barley strain subsidies, carries out pilot projects for improved peanut strain subsidies and incorporates forestry, animal husbandry, as well as drought fighting and water-saving machines into the scope of subsidies.
According to the Ministry of Finance, in 2010 it will continue to increase its rural financial support, increase the scale of agriculture-related subsidies, improve agricultural subsidy and price supporting policies and help farmers to increase their incomes. The ministry will also strengthen agricultural and rural infrastructure construction, accelerate development of modern agriculture, regulate major farm produce markets and promote the steady development of agricultural production.
A lack of money in the countryside has long been a problem hampering rural development. Some places have the resources for projects but not the finances. The country hopes to solve this problem through rural financial services, specifically by granting credit to rural residents.
The No.1 Document stresses the importance of strengthening support to major fields in rural reform and development. It also requires that financial services should cover all townships within three years.
Statistics show that at present, 2,945 townships (8.6 percent of the total) in the countryside have no financial institutions and 708 townships have no access to any financial services.
Wanting urban status
Li Xinwang, a 26-year-old farmer, prefers death to his rural lifestyle.
"I would rather die than continue farming," he often said to his father who forced him to work in the fields. Eventually, the father, who has been farming all his life, could do nothing to motivate his son and gave up.
Li later went to Taiyuan, capital of Shanxi Province, searching for a job with friends from his village. "I heard the government will relax restrictions on household registrations in small and medium-sized cities, allowing migrant workers with stable jobs and incomes to get urban household registrations. I hope this policy can be implemented so I can live in the city," he said.
Li's concern is addressed in the No.1 Document this year. According to a provision of the document, migrant workers who acquire urban household registration will also be incorporated into the public service system, such as social security and housing security.
Finishing secondary education in the countryside and having no affection for farming, but being unable to call cities "home," a group of "migrant workers of the new generation" such as Li most yearn for their urban household registration.
Tang Renjian, Deputy Director of the Office of Central Financing Work Leading Group and Deputy Director of the Office of Central Rural Work Leading Group, said that among China's 150 million migrant workers, the "new-generation" group accounts for about 60 percent, or 100 million people.
"They are longing to enter and establish their lives in the cities and enjoy modern urban lifestyles, but in general we are not ready to accept them just yet," Tang said. "This is a significant problem, especially with changes taking place to China's rural economic and social structures and even to the overall Chinese social structure."
Although he now works and lives in a city, Li still has no urban household registration, causing his classification to remain as a rural resident and preventing him from enjoying medical insurance, employment, endowment insurance, a minimum living security and education of children in the future reserved for urban residents.
"We contribute to the development of cities, and since we are living there I think the difference between rural and urban household registration should be eliminated soon," Li said.