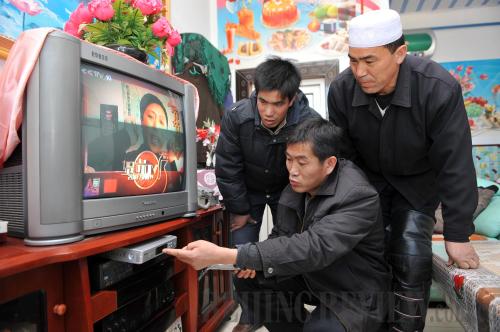 TUNING IN: Farmers in Yongning County, Ningxia Hui Autonomous Region, learn to use satellite TV. Television has become a major source with which Chinese farmers can learn about news nationwide and abroad (WANG PENG)
Liu Limin, a farmer living in Lanxian County, Shanxi Province, knows the ins and outs of the No.1 Document. From memory, Liu can recite major portions of the most crucial parts of the paper.
"We are more concerned about the No.1 Document than anyone else, because this document involves our interests," Liu told Beijing Review.
That the No.1 Document is dedicated to issues of agriculture, the countryside and farmers has become as common knowledge among Chinese farmers as planting techniques and basic agricultural know-how.
According to Liu, farmers have two channels to receive information pertaining to the No.1 Document: TV reports and group studies organized by the Party committee of each village.
Television now covers all of China's vast rural areas. And as farmers receive dozens of programs from China's mainland and, in some places, with the use of satellite TV, from Hong Kong, television has quickly become a major source for those living outside the urban centers of the east coastal area with which to become familiar with the outside world.
Group studies organized by the Party committee offer another unique method of disseminating information quickly and efficiently in China.
Members of the Communist Party of China (CPC) must study documents and policies of the Party, including the No.1 Document. After CPC members have studied the document, they hold small talks with other villagers where the document's contents are explained. The talks give villagers the chance to voice their opposition and support.
So far, the document has received positive feedback from the farming community.
"We certainly welcome the document. The central leadership is supporting us and we are benefiting from their actions. The more such policies are issued, the better-off we all are," Liu said.
A helping hand for housing
Liu's primary concern about the No.1 Document is the availability of government subsidies for farmers seeking materials when building houses.
Built eight years ago, Liu's current house is not too old. But since the kitchen, bedrooms and living room are not separated well, Liu thinks the layout of the house is unreasonable.
"When building this house, we didn't fully consider the functions of different rooms. But now farmers are learning from people in cities about housing construction, so I'm also preparing to renovate the house," he said.
In 2009, China began offering subsidies to farmers to purchase automobiles, motorbikes and home appliances. Many farmers have taken this opportunity to buy or change vehicles, refrigerators, TV sets and computers. Particularly, the growth of computer sales in rural areas is faster than that of other home appliances. The number of rural Internet users is increasing as well. Thanks to government policies, consumption growth in rural areas surpassed that of urban areas for the first time last year. According to figures released by the National Bureau of Statistics, in 2009 the growth of retail sales of consumer goods in rural areas was 0.2 percentage point higher than that of urban areas.
Following vehicle and appliance subsidies, the No.1 Document this year supports farmers who want to build houses as an important measure to expand domestic demand. The government will adopt effective measures to promote sales of building materials in the countryside and encourage local governments to support housing construction.
At present, the Ministry of Finance, the Ministry of Housing and Urban-Rural Development and the Ministry of Commerce are jointly discussing the detailed scheme to carry out this policy.
Liu hopes the scheme can be formulated as soon as possible. "Building houses may use up the savings of many farmers. Subsidies to building materials can relieve our burden," he said.
Li Guoxiang, Deputy Director of the Rural Development Institute of the Chinese Academy of Social Sciences, thinks that offering subsidies for farmers to buy building materials can relieve burdens in building houses and is also a new growth point for rural consumption. Whether renovating houses or rescuing crumbling houses, farmers need large amounts of building materials—hence the opportunity for stimulating consumption is abundant.
"If the strong consumption potential of building houses in rural areas is stimulated, its growth will be almost the same as in the cities and may last at least 10 years," Li said.
He also hopes the country can improve the rural building materials market as soon as possible to promote materials sales in rural areas. More importantly, the government should prevent fake and inferior products to avoid any "future troubles" in the quality of houses, Li added.