Much still needs to be done to develop and market those resources with appropriate protections, said Tang.
Sunshine and speculation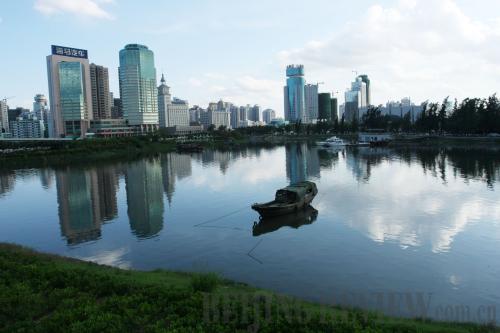 ECONOMIC PROSPERITY: Haikou, Hainan's capital, is expected to benefit from the tourism stimulus program (ZHANG MAO) 
Hainan's march toward prosperity is not without concerns. Long before receiving approval, the tourism stimulus program seemed to ignite a real estate frenzy. Betting on further price surges, buyers across the country rushed to snap up houses, especially those with a front-row view of the ocean, while cash-swash property developers paid peak prices for land to lock up future returns.
This echoes happenings in the early 1990s when the island's real estate bubble burst, leaving thousands of projects unfinished and banks saddled with bad debt. The only difference is the storm may come even more violently this time. Fang Zhou, a manager with Hainan Alibaba Investment Management Co. Ltd., estimated that at least 470 billion yuan ($68.8 billion) is moving into Hainan for property speculation—10 times that in the 1990s.
A dangerous sign is the staggering house vacancy, said Liu Shuguo, Secretary General of Sanya Real Estate Association. "Around 90 percent of new flats in Sanya were bought by investors from the mainland as their second or third house."
"In some city communities, where homes are sold out, you can see very few lights on at night," said Xu.
But Luo downplayed the worries, citing that house price increases in Hainan have been less severe than they were given credit for.
He said the province will step up affordable house supplies for local low-income residents and keep a close watch over the market to ensure healthy growth.
Besides this, the fast-growing local economy will also put a solid floor under the buoyant property market, he added.
Promoting the Tourism Economy
To transform Hainan into an international tourist hot spot, the Central Government will:
Take heavy measures to promote the tourism industry by creating theme parks, recreational facilities, cultural activities, sports lotteries, free-duty shopping centers, and widening its visa exemption scheme.
Strengthen the market management and supervision of the tourism industry and improve service qualities, as well as improve training for tour operators.
Improve logistics infrastructure, press ahead with environmental protection and emissions reduction on the island and increase its forest coverage rate to 60 percent by 2015.
Spur rapid development of modern tropical agriculture, information technologies, the tertiary sector and energy exploration in the province.
Start a pilot program of cross-border trade in renminbi settlement and explore off-shore financial businesses on the island, as well as provide support for qualified tourism companies to become listed on domestic stock markets.
Ensure the stable growth of the real estate industry and increase supplies of affordable houses for local low-income groups.
Continue to perfect the medical insurance system of the province and accelerate integrations between cities and the countryside.
Take full advantage of the Boao Forum for Asia to promote Hainan as an important platform for international economic cooperation and cultural communications.
Economic Figures of Hainan in 2009
GDP
The GDP of Hainan grew 11.7 percent year on year to reach 164.66 billion yuan ($24.1 billion) in 2009.
Exports and Imports
Hainan's exports in 2009 stood at $1.9 billion, increasing 2 percent year on year. Imports declined 18.5 percent to $7.06 billion.
Fixed-asset Investment
Investment in fixed assets totaled 100.25 billion yuan ($14.7 billion) in 2009, representing an increase of 41.4 percent year on year.
Retail Sales
Retail sales of consumer goods increased 19.2 percent from one year ago to reach 53.45 billion yuan ($7.8 billion) in 2009.
Residents' Income
Per-capita income of urban residents in 2009 was 13,751 yuan ($2,014), growing 9.6 percent year on year, and per-capita net income of farmers increased 9.2 percent to 4,744 yuan ($695).
Number of visitors
Hainan received 22.5 million visitors, including domestic and foreign travelers, an increase of 9.2 percent from one year ago.
(Source: Hainan Provincial Government)